The Bayern Munich supporters club (FCB NYC) is one of the more recent additions to the burgeoning number of such groups in the city. They formed in 2012 as a way to connect all the Bayern Munich fans in the tri-state area. Their President Matthias Schmitt chose Smithfield Hall as the base to watch their games. From here he has witnessed the club grow from a mere handful of fans. Recently they took over the whole floor for their Champions League semi-final victory over Barcelona.
Profile Of The Bayern Munich Supporters Club In New York City
By Lorna Evio
The club's web site explains that they are welcoming to all-comers and have a socially engaging spirit. Indeed, member Gary Hart claims that sometimes it feels like as much of a drinking club as a football one. He is suitably impressed at how Smithfield serves their German beer in proper steins! It's the little things that make a big difference sometimes.
Another supporter called Eddie confessed that like many Americans he grew up hating soccer. However, he was converted during his time studying in Germany. He is now one of the regulars who rises as early as 6:30am to cheer on the Bundesliga giants in the Big Apple.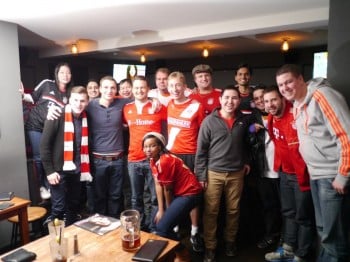 "It feels good right now to be a fan," proclaimed Eddie. That may be because Bayern have just clinched another Bundesliga title and are favorites to win Saturday's first ever all-German Champions League final against rivals Borussia Dortmund at Wembley.
Word of the New York chapter is also starting to spread in Munich. Fans from the homeland will sometimes drop in on a match while visiting New York.
Visit the Bayern Munich supporters website

Follow Lorna on twitter