Thanks to the power of innovative technology, stateside Liverpool fans can immerse themselves in the world-famous Anfield match day experience, from downtown New York.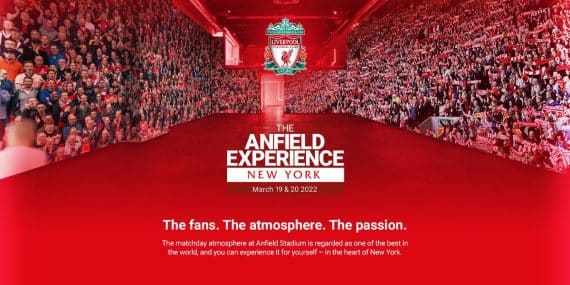 A free two-day event in the Big Apple will see Liverpool FC harnessing the power of digital mapping to bring a truly unique virtual experience to supporters in the city, emulating what it's like to be a part of the special Anfield atmosphere.
From Saturday 19 – Sunday 20 March at Lightbox, 248 West 37th Street, fans will be transported to the iconic stadium in less than 60 seconds, through the use of dynamic 360-degree light mapping, innovative multi-room digital staging, immersive video technology and programmable lighting – recreating the journey as it would be on matchday.
They'll also get the chance to see what's happening around Liverpool city centre, travel to Anfield, and take in some of the sights and sounds around the ground.
Or walk around the exterior of the stadium and visit statues of the club's greats, including Bob Paisley, or see the instantly recognisable Shankly Gates. Plus, there's the chance to discover what it feels like to walk down the Players' Tunnel and touch the legendary 'This is Anfield' sign.
Fans will finish off their journey with an 'awe-inspiring view from the famous Kop', where they will join in the singing and chanting alongside 54,000 fans on the screen.
From today, supporters can book their free one-hour slot to visit The Anfield Experience on a first come, first serve basis for Saturday 19 March 2022 from 10am to 6pm and Sunday 20 March 2022 from 2pm to 6pm. To register for The Anfield Experience, please click here.