World Cup 2022 Diary: Day 15. France 3 Poland 1, England 3 Senegal 0: Just who is the best player in the World right now? Kylian Mbappe, Cristiano Ronaldo and Lionel Messi are all looking to prove a point as the world sends best wishes to Pele, the king of football.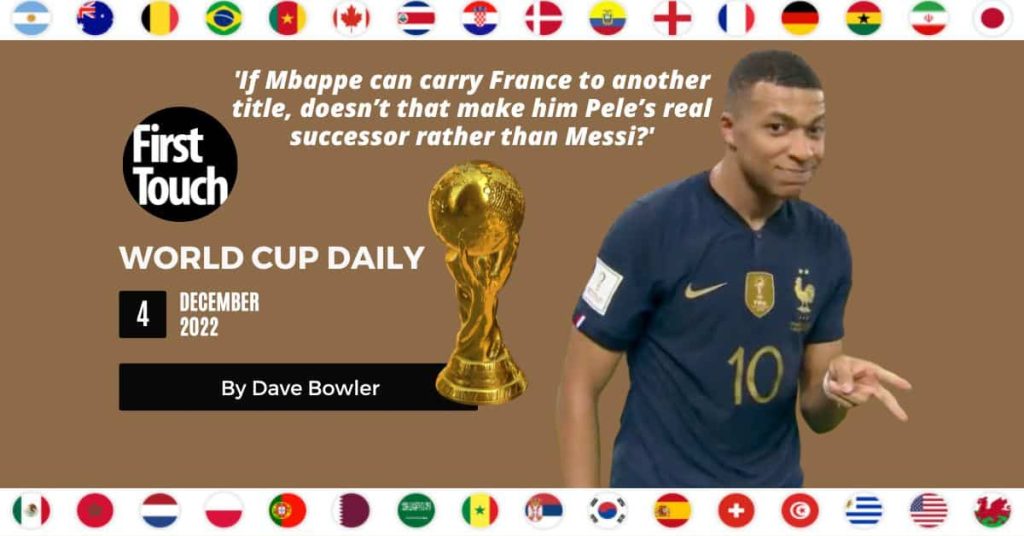 By Dave Bowler
It didn't take long for the 'World Cup of surprises' to become the 'World Cup of the blindingly obvious' did it? Four knock-out games so far and four eminently predictable winners, some after a bit of a struggle, some very comfortable.
England were, eventually, in the latter category, after a first 35 minutes against Senegal where they looked very average and where, had it not been for Pickford in goal, they might have been facing a very different game. Pickford, like Maguire, is a player who saves his best form for the national side and while there has been a clamour for both to be dropped on the basis of some decidedly ropey club form, neither has ever let Southgate down and quite rightly get the nod as a result.
One terrific save and another very good one, both from Dia, kept England on terms. It's axiomatic that the emerging nations need all their best players to be available, and one wonders if Mane had been fit and on the end of those chances just where the game might have gone. But Senegal simply don't have the depth to miss a star like him and carry on regardless.
HARRY KANE SCORES
England finally found their rhythm, Bellingham impressing once again, and once Henderson had put them in front after 38 minutes, the game was already a foregone conclusion. Kane scored his first goal of the competition at just the right time to finish the game as a contest in the added time just before the break. Saka completed the rout early in the second half, after which the game was little more than a training exercise. England rarely had to get much above walking pace as they passed the ball around at will, making Senegal chase shadows.
England did all they needed to do to progress and looked efficient in doing it. They have not had the most taxing of competitions thus far, only the USA giving them a real game, and the jury is out on whether that is good for them or not. It should have left plenty in the tank physically and mentally, but has the lack of real opposition dulled the edge? Only time will tell, but thus far they have looked strong without ever needing to approach top gear.
Poland did at least give France a game for a while, producing by far their best display of the tournament in defeat to the holders. Much more proactive than in the group stages, Zielinski had a great chance at 0-0, Lloris producing a fine save, but even then, it felt like only a matter of time before France would find a goal.
It duly came for Giroud on the brink of half-time, manufacturing a fine finish to open the scoring and notch his 52nd international goal, taking him beyond Henry.
KYLIAN MBAPPE LEADS FRANCE
It then became the Mbappe show as once again, this attacking force of nature took centre stage. Pace, intelligence, physical power, calmness and a rapier sharp finisher's instinct, Mbappe is already beginning to dominate this World Cup as he did the last.
There is something in his movement, in the way he carries himself, even his facial expressions that recalls another footballer who dominated consecutive World Cups when he was just a kid. As we all send our best wishes to the ailing Pele, the greatest of them all, Mbappe is a worthy World Cup heir.
And that raises a fascinating question for the footballing scholars to ponder. While Messi is understandably regarded as the finest player of the 21st century for the consistency of his brilliance over a decade and more, he has yet to be the dominant personality at a World Cup – although perhaps he may be in the process of putting that right. But if Mbappe can carry France – a side decimated by injury in the build up – to another title, and if he dominates the competition again, doesn't that make him Pele's real successor rather than Messi?
Read Dave Bowler's World Cup round up every day
---
Sir Alf Ramsey: England 1973 focuses on the final full year of Sir Alf's reign as England boss. The nation that won the World Cup in 1966 failed to even qualify for the 1974 tournament. Ramsey was suddenly a man out of time, both on and off the pitch. The failing fortunes of the England team mirrored those of a post-Empire nation heading for its own a fall.
A must read for all fans. Order your copy in time for the holidays. 
---