World Cup 2022 Diary: Day 16. Japan 1 Croatia 1 (Croatia win on penalties) Brazil 4 South Korea 1. Brazil samba through South Korea while Japan take Croatia to penalties.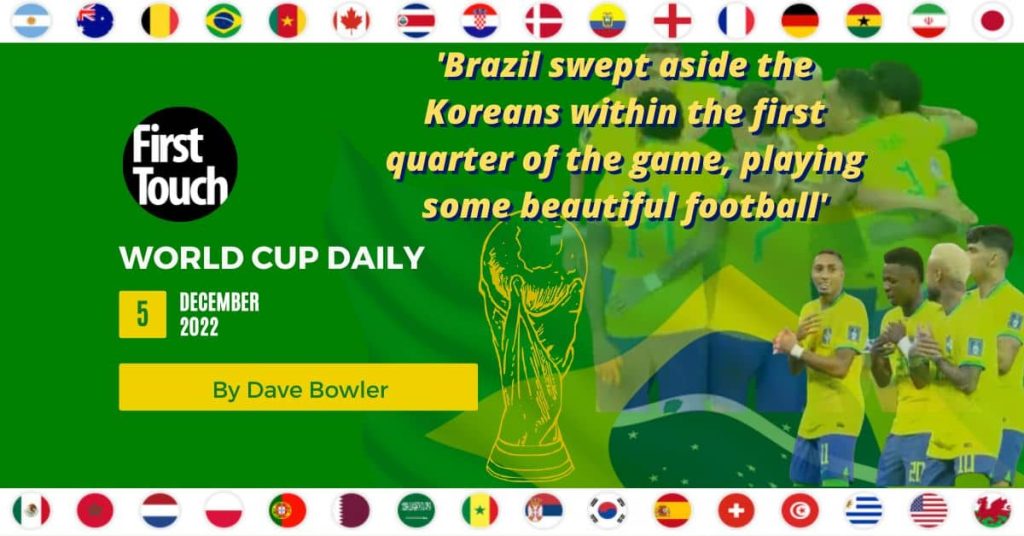 By Dave Bowler
The third of four days dedicated to the last 16 again provided largely predictable winners, even if you could have made a reasonable case for Japan prior to their match with Croatia.
On paper, that was easily the most closely matched if the six games we've had this far and it turned out to be the same on grass. Japan's energetic style has won them a lot of friends at this World Cup and it was on display again against a Croatian side for whom energy is no longer a prime mover.
What Croatia do still have is guile and intelligence and that was tested to the max by Japan in a game where the two teams exchanged chances across what ultimately stretched to 120 minutes. Extra-time was unable to settle things after Maeda and Perisic had scored goals either side of half-time in the 90, a reflection of the closeness of the game.
Japan were not unlike Australia and the US, a good side in so many of the basics, disciplined, organised, thoroughly modern in approach – but in and around the penalty area, the rear end of the cow remained untroubled by the banjo. Chances came and went and, as noted so often already, at this level that is generally fatal.
Japan defeated by penalties
Ultimately, they had the chance to redress that balance in the penalty shootout that was required. But even from the 12 yard mark, they lacked real conviction in front of goal, producing a terrible set of spot kicks to lose 3-1 after missing three of theirs.
Croatia lack the pace of four years ago and have had to adapt a more studied methodology in search of results. They managed the game well and survived to fight another day, the yards in their head making up for the yards they've lost in their legs. It hasn't been as good to watch, but as they secured that quarter-final berth, they won't be worried by that.
They will be rather more worried by the thought of facing Brazil. They brushed aside South Korea within the first quarter of the game, playing some beautiful football, albeit against a side that had adopted a suicidal approach to the match.
Brazil class shines through
Football supporters always profess the notion that they will always forgive a losing team if they "give it a go". They add that "you might as well lose 5-0 as 1-0". Which is all fine talk in the pub, but when was the last time you heard any supporters applauding their team off after a 5-0 defeat? The sad truth is that success often requires a pragmatic streak, especially if you are facing superior forces.
The South Koreans set up to play Brazil in a 4-3-3 system which you might get away with if you are France. But the rather more limited, if engagingly enthusiastic South Koreans found themselves up against a Brazil side that stuck four men up front, went one on one with the defenders and regularly came out on top in a relentless first half.
Yes, South Korea tried to be enterprising, but if they had wanted any chance of winning, two banks of five stretched across the pitch might have given them some hope. Or at least delayed the inevitable.
Showing flashes of brilliance that will have had every other side in the competition scratching their heads, Brazil would probably have had too much in hand for any side to cope with, but South Korea did contribute to their own downfall. With this evidence to mull over, I doubt any other nation will make that same mistake.
Read Dave Bowler's World Cup round up every day
Looking for a bar to watch today's World Cup games in New York? We have you covered.
---
Sir Alf Ramsey: England 1973 focuses on the final full year of Sir Alf's reign as England boss. The nation that won the World Cup in 1966 failed to even qualify for the 1974 tournament. Ramsey was suddenly a man out of time, both on and off the pitch. The failing fortunes of the England team mirrored those of a post-Empire nation heading for its own a fall.
A must read for all fans. Order your copy in time for the holidays. 
---