Keep Calm & Pick a team? If Only It Were That Simple. After spending the big bucks to bring the EPL exclusively to their network, NBC paints the town red (and blue) with their advertising campaign.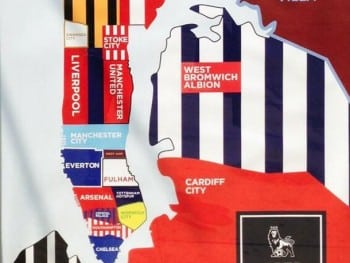 By Jon Langford
Last week I had occasion to ride the shuttle train from Grand Central to Times Square.  When the carriages pulled in to the bustling station I was somewhat pleasantly surprised to see they had enjoyed a little makeover courtesy of the folks over at NBC.
Gone were the usual dreary grey tones of the New York City subway and in their place were shades of brilliant reds and blues.  Emblazoned on either side of every carriage was the crest of a Premier League big boy: Manchester City, Manchester United, Arsenal, Tottenham and so on.  Smart marketing, I thought as I embarked a Liverpool carriage.
Onboard there were customized maps of New York City with every Premier League team designated to a particular neighborhood or borough.  I paused for a moment to try and work out if there was any logic to where each team had been located. There wasn't.  It would be reasonable to think that putting Chelsea FC in Chelsea would've been an obvious choice, but Jose Mourinho's men were in Tribeca.  The entire borough of Brooklyn belonged to Cardiff City, but their Welsh rivals Swansea weren't in Queens; they were all the way over in Morningside Heights.
Geographical Nonsense
Meanwhile, Newcastle were down in Staten Island while Sunderland were up in the Bronx.  It was a geographical nonsense. The slogan for this advertising campaign is "Keep Calm and Pick a Team."  If only it were that simple, I thought.  If only you got to pick a team with the kind of carefree breeziness one might demean while choosing from a dessert menu.
The reality is that you don't pick a team; you get stuck with one.  This was making it sound like you could pick a team and then change later on to whoever happened to be top of the league that week, like the glory supporting kid at school used to do before saying, all defensive, "Shut up!  I've always liked Man U."
Now, I'm not just being a judgmental Englishman here, rolling my eyes with a tut and saying, "Those Americans…"
U.S. soccer fans know all of this too.  I have American friends who have supported clubs such as Manchester City, Newcastle and Portsmouth for years through both good times and bad.  If I were them I would take exception to the "Keep Calm…" slogan.
Bale As Times Square Poster Boy?
It seems to imply that coverage of British football is a brand new concept in the U.S. and that nobody here could possible already have an allegiance to a team.
When I got to Times Square the promotions continued.  A huge billboard depicting Gareth Bale celebrating a goal dominated the corner of Broadway and West 49th Street.  It was interesting to consider that the Welshman is being used as the poster boy for the league, for two reasons.
Firstly, I don't believe Bale's global commercial reach is yet as big as several other players: RVP, Rooney, Suarez, Torres, Gerrard, Silva, Aguero, to name a few.  Secondly, Bale might not even be playing in the Premiership this season.
Team Picker
Later that night I went on the NBC Sports website.  On the homepage of the Premier League section was an application called the Team Picker.  Here, through a process of seemingly unrelated questions and bizarre reasoning, virgin fans of the Premier League can take a questionnaire that will tell them which team they should support.
Out of curiosity I took the test and learnt that I should support Chelsea (because I picked Led Zeppelin as my favorite band and Jimmy Page is apparently a Blues fan). I took the quiz a few more times, just out of curiosity, answering a variety of questions like:  Who is your favorite Pirates of the Caribbean character?  Do you prefer golf or tennis?  What is your favorite breed of bird?
How any of these questions are related to football and why preferring Jack Sparrow to Will Turner means you should support Crystal Palace is anyone's guess.  Every time I did it I arrived at a different conclusion: You should support Norwich City.  You should support Manchester United.  You should support Southampton.
Ted Lasso
Further down the page I happened upon a promotional video of Jason Sudeikis playing fictional American soccer coach Ted Lasso at his first day on the job with 'The Tottenham Hotspurs'.  Lasso is hopelessly out of his depth; thinking the game is played in four quarters, that the league goes into play-offs, and that you can score three points by punting the ball over the crossbar.
The skit, while undeniably hilarious, plays on the outdated stereotype of the ignorant American.  I couldn't help but feel that whoever's in charge of NBC's Premier League coverage wasn't taking this thing seriously.  It's like even though they're showing football; they still don't consider it a real sport and can't resist the temptation to poke fun at it.
Confused Marketeers
While I sat stewing over all of this I received an email from NBC.  I opened it and read the first line:  "Now that you've declared your allegiance, tune in every weekend to watch your team compete for the League Cup."
I was pretty sure they meant the Premier League trophy, and not the Capital One Cup, but I emailed them back anyway, asking for clarification.  At the time of writing I have received no reply.
Despite the befuddling advertising, however, there is much to look forward to with NBC's actual coverage.  For the first time ever, fans will have access to every single game being played.
A solid presentation team of Arlo White, Rebecca Lowe, Lee Dixon, Graeme Le Saux, Gary Lineker and Robbie's Earle and Mustoe will mean we no longer have to suffer Warren Barton's hangovers with him while he patronizes Eric Wynalda and bullies Brian McBride. NBC are even going to air a show on Saturday evenings called Match of the Day modeled on the BBC show of the same name.
Are The Execs Taking It Seriously?
There will also be a Match of the Day 2 airing on Sundays, as well as a feast of other programming.  In short, there will be more football than you can possibly watch during one weekend.
The acquisition of the Premier League by NBC and its affiliates confirms the growth of the popularity of the game in the United States.  As interest continues to flourish, the MLS is growing steadily and the U.S. national team would really have to screw up to not qualify for next year's World Cup.
So even if the NBC advertising executives aren't yet taking the game seriously, the rest of the country certainly is.