There is much work to be done before the New York Cosmos return to the playing field next summer to compete in the NASL (North American Soccer League). No players have been signed yet, no tickets have been printed, but one important position was filled recently as ex-Metrostar legend Giovanne Savarese was named as the head coach.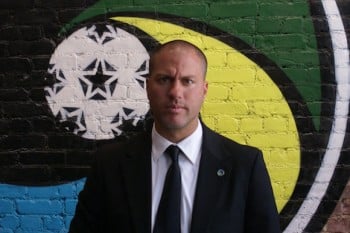 Matthew Nelson sat down with Gio for an in-depth chat in one of his first one on one interviews since the announcement was made.
How does it feel to be named the new manager of such an iconic club as the NY Cosmos?
The first thing I must say is, great excitement, because being able to be selected to a position to lead a club that has so much history in US Soccer is a great honor and I take all the responsibility that it deserves and I'm delighted to be able to be part of it.
But right away it's a sense of responsibility and obligation to the people that have expectations, so from that moment that I was excited there was another side of me that was already ready to work and make sure that we roll our sleeves up and start working to provide the best possible scenario for the people that are going to be coming to watch our games.
You mentioned expectations there, and this is of course a club where some of the all-time great players have worn that famous green kit. Is that a help or a hindrance when it comes to putting together a side?
I think it helps in many ways because we start already with a fan base. We don't have to create a fan base and this name represents a lot in their life, and you get to hear that this name brings so many great things because there are so many times I've been in the street and I see people that are non-soccer people come up to me and say 'I remember when my father used to take me to the games and I want to do the same thing for my son or daughter to get the feeling that I had at that time.
What's important, as we have been communicating, is that the Cosmos back then also was built step by step, and this is the same situation that we have at the moment.
We need to build step by step and we need everybody to be part of it, and as long as everybody understands where we stand at the moment, that we are starting from scratch, respecting a huge tradition, then I think we are in the right place to do good things and I don't think it gives us any pressure – the fact that we have a great tradition.
And how far along are you with that building process?
The announcement was done last week (laughs) so I think we have to make sure that we take things one step at a time, and we have been having ongoing conversations with the different people that are going to be part of the staff as well to help out to build up the team.
We are already in ongoing conversations with some players that are interested. We want to make sure that our first signing is an important signing from the standpoint of respecting the community and we are advancing in terms of trying to figure out the way to put a good team, a competitive team together for next year.
How are you going about recruiting new players?
Beckham said he was interested so I think we are going well (laughs) at the moment. Kidding aside, it is a process; it is not an easy process. We have variables that we need to take into consideration. We have a lot of competition with some clubs in MLS and to be quite frank with you it's not like there is a huge amount of, how can I say it, product yet to be able to field so many teams.
So we have to be intelligent, we have to be smart, we have to use our contacts and connections to be able to build up the team but definitely one of the things that's going to be important to us is to look at the talent that is local talent first of all.
We want to be a New York team with New York players. We want to see some talent that was grown here, have gone away or are still in the area to have the chance to come and participate, so there is a plan to look at as many players as we can, especially the ones who are in this area.
So you joked about David Beckham there, but in all seriousness, he has been heavily linked with the club. If you could have him in your line up would you take him?
I don't think there is anybody who would tell you otherwise. I mean he would be such a huge improvement for any club, most of all for the professionalism that he brings to the club. I'll never forget when he was at Real Madrid and he had troubles with (Fabio) Capello and he wasn't playing.
I remember him being in the stands not playing at all because he had made a decision to go to the Galaxy. Because of his professionalism and work ethic he ended up getting back into the team starting, and in the end scoring the goal that won the championship that year. That in a nutshell gives you a resume of who he is as a professional. I think everybody would be very excited to have a player like that.
Obviously Beckham is advancing in years and you are very well respected as a youth coach. Should fans of the Cosmos expect to see a young line-up taking the field next season?
We'll see. One of the things I can say is that I'm not afraid to put a youngster on the field. I don't have any pressure in regards to trying different things. In the end I'm not going to jeopardize trying to play good soccer. I'll try to give a chance to a good player, even though they're young. Yes, we want to get results but I think there is more than only that in soccer. We want to provide a good product on the field, and if they are young, old, or middle aged it doesn't matter.
A lot of fans in the area will be familiar with Gio Savarese the player, but not so much Gio Savarese the manager. What kind of manager are you going to be? Are you going to build an ethos from the ground up, like a Guardiola type, or will you cater things to the opposition?
I don't like to mention any coaches that I would be like, because I think then you are always trying to fill big shoes. I think I am going to be myself and learn from the different coaches that I have had experience with. But I think the most important thing is to have a good relationship with the players. The players will know, with me, how I feel directly. If it's good or bad they need to know where they stand.
I need to make sure that we create a good environment where everybody is pushing in the same direction and everybody understands the importance of the shirt they are wearing and the tradition they are representing. Creating that environment is going to be very important. Having that group that is going to step on the field and give 100% every time.
I'm a firm believer in trying to play good soccer, trying to have teams that can play the ball well and try to come out playing from the back, so that's something that I'm not going to divert from and continue trying to do the same thing.
What kind of shape do you anticipate lining up with?
You know, it's difficult. You have your ideas at the beginning but they are conditioned by the players that you find, and then they might vary depending on each game you have to play. In my life I've mostly been using the 4-3-3 system either with one defensive midfielder or two defensive midfielders but I'm open to the different possibilities that are going to work for what we are looking for, depending as well on the quality of the players that we have.
You cannot force a system if you do not have the players. So we have to see the roster that we are able to build and at that point we'll decide what system we are going to use.
Next season of course it's going to be a fresh team built from scratch. How much can you really expect from them? Is it feasible that you can mount a title challenge?
What I can expect first of all is that everybody who is going to be participating with us is going to try to have fun. We're going to take this ride and enjoy it as much as we can, and game by game build up something that will last. It's not about just winning one or two games and that's it, it's about building something that will last with players that will be here for the long term and feel comfortable in an experience that is a good one.
It's the same with the young players I have coached. They come back and say that time was one of the best times in my soccer experience, so that's what I'm looking for, to be able to have that with the team.
If we win a championship it's the cherry on the cake. Definitely this is the professional level so we have to deliver results and it would be great to be able to win, but I think people will be more keen on the fact that if we don't win but we really are looking to do things the right way then I think they will respect that more than if we do things half way and end up winning a title.
Do you anticipate, given the heritage of the club, that there will be an expectation to win?
I think that when you enter, you know you are the Cosmos, so you enter to try to do your best and be the best. That's the mentality right away going into it, but it is a process. We're building from scratch and we hope that things are going to go our way, but again, we're not going to divert from the belief that we are building a good base for the future.
That's definitely our main goal at the beginning, and that the base is well respected by the community and that the community feel that they want to come back to see more games.
Who do you see as your main challengers in the NASL?
I think everybody is a challenge to us; everybody will play against the New York Cosmos like it is a final. It is going to be the most important game of the season a lot of times for some of the teams. So who do I see as a challenge? Everybody. They all want to win, they all want to do well, players want to show what they have, coaches want to use the games they play against us to show how they build up a good team.
So I think it's going to be a case of game by game we respect each opponent and be able to work within our ideals of what we are looking for.