Back in the days of the original NASL, English players made up a hefty chunk of the playing rosters of many teams across North America, often players coming towards the end of their careers. One such was Tony Brown, record goalscorer and appearance maker at West Bromwich Albion. He had two years with the Tea Men in Boston and then Jacksonville and he spoke to us about his times in the States: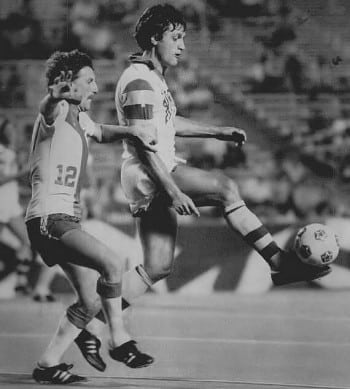 By Dave Bowler
Those of us who went and played out in America, we were the pioneers in the late '70s and early '80s, not that there was much of a gold rush! For me, it all came about at a period when I was still under contract to the Albion, but I wasn't really in the first team picture any more. If I'm totally honest, it was that point where my legs were going a bit, the strain of First Division football was just that bit too much – it comes to us all in the end!
Big Ron Atkinson looked after me ever so well in that period, I have to say that. He asked me if I fancied playing out in the States through the summer in 1980 and to be honest, first off it didn't really appeal to me. We didn't know a huge amount about it at the time, and what we did know wasn't all that complimentary. It was all a bit glitzy and we'd heard the standard wasn't that great, even with some of the big names we had out there.
But over a few weeks, there were a few of the teams in the States asking about me because a lot of older players were going over there. They based the league on bringing in older players from abroad while they were trying to bring through their own players at the clubs.
Big Ron
So Ron asked me a few times, and the thing that helped most to make up my mind was that I could take the family over there and, according to him, "Enjoy yourself, have a holiday!
That tipped the balance and I ended up with a choice between two different teams. One of them was Detroit Express, which was run by Jimmy Hill. They'd had Trevor Francis go over there to play when he was coming back from an injury if I remember right, and that was a real coup for them because he was absolutely in his prime then, just before he went to Forest for £1million from Blues. Jimmy was the chairman at Coventry City at the time as well so I went down there to Highfield Road to see him and have a chat.
New England Tea Men
The other real option was the New England Tea Men – they were owned by Lipton's Tea – and they were managed by Noel Cantwell and Denis Viollet, the old Manchester United players, which had a bit of pull with me I suppose because I'd grown up as a United fan in Manchester, so after I had a bit of a think about it, I signed there.
They'd done ok actually, they started in 1978 and won their league, so they had a bit about them. When I went there in 1980, we were based in Boston, and I really enjoyed it. There were quite a few other English lads there, mostly from the lower divisions over here, but they had Kevin Keelan in goal, from Norwich, Alan Green who had played at Coventry as well. Keith Weller was there, after being at Chelsea and Leicester. Unfortunately, I just missed out because the season before, Eusebio had played there apparently!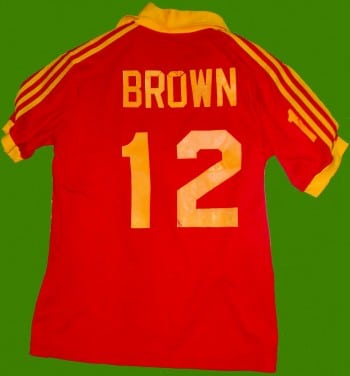 I'd have loved to have been able to say I'd played alongside him, because he genuinely was a world class player. In your personal life, everything was all laid on for you. They put you in an apartment in the suburbs, but we used to enjoy going into Boston too because it's a lovely place.
Schaefer Stadium
The stadium we played in was nice too, the Schaefer Stadium, the Foxboro Stadium it is now. It's a fair way out of the centre, so that was the area we lived and it was a beautiful place to be, great countryside and scenery.

We had day trips out from there – a few of us borrowed the club van and drove down to New York for the day. We went up the Empire State Building, on to Broadway, took in the sights, so it was a good experience. So we had a great time and after the two years we had out there – the following year I was in Florida, in Jacksonville, after they moved the franchise – my wife didn't want to come back!
Florida
I must add, it was another great season in Jacksonville to be honest, a great place to live again. It wasn't far from Disneyland, so we used to pop off there every now and again, my son Paul was only very young then, so it was great to be able to do that. They loved it, so you can see why they wanted to stay out there!
But even after two summers there, I was still under contract at the Albion. I wasn't playing in the first team at the time but I was still involved. Ron Atkinson said that as long as he was there, he always wanted me in the dressing room and around the squad, and he said he wanted me to have a second testimonial for 20 years service to the club.
Departure
Unfortunately, when I came back the second time, Ron had left that summer while I was away, and it all changed. The idea of the testimonial went out the window, which was a big disappointment to me and I finished up leaving the club soon after we got back. It wasn't the best way to leave after all those years I'm afraid.
Like I said, Ron told me to treat it as a holiday, but I'm telling you, it was no holiday! It really was hard work because of the heat and humidity in particular and then, on top of that, the travelling that was involved was unbelievable. You're based in Boston, and it takes seven hours to fly from England to there, but then we'd have a game in Los Angeles, and it would take just as long to get there!
Miami Heat
To try and ease it a bit, we would play two games on the road together, so you might play twice in California on the same stretch, but  then that meant spending a fair amount of time away from home. But I hate flying anyway, I dreaded the trips, so that side of it didn't appeal much to me! You get by, I had sleeping tablets and tried to sleep through the journeys, so I coped with that, but it was never a part of the experience that I enjoyed unfortunately.
But you couldn't do much about the heat and that could be overwhelming. To try and cope with it, we used to train very early in the morning but for games, you'd be playing in the afternoons at the weekend and it was 106 degrees, just sweltering. Then when we went to Florida the year after, it was even hotter still!
In footballing terms, it was a great experience because I played against a lot of world class players. They were really trying to push it that first year, they spent a lot of money, and I ended up playing against Cruyff, Beckenbauer, Carlos Alberto, Rensenbrink, George Best was out there, all these big names, and that was a thrill.
Cosmos
I played against the Cosmos in New York, the big star for them at the time amongst the fans was Chinaglia, the Italian striker. He was a big hero because he was scoring goals for fun. Playing in New York, against the Cosmos with all the focus on them, that was something to remember.
But I also remember that Cruyff and Best both destroyed us when we played them, they were getting on, but they still had that control and balance about them. Cruyff was a player I really admired from seeing him on television, so to get to see him up close was terrific. He was magnificent against us, as was George. I'd been tell the American lads before the game just how good George was and I'm sure they took it with a pinch of salt really, but they knew what I meant by the time the game was over!
Bestie
It was a real highlight to meet up with Bestie before one of the games and just to sit down and have a chat with him. It was the first real chance I'd had to do that, despite the number of times we played against each other. I was surprised how quiet he was, there was no big time attitude to him, nothing to make you think he was one of the greatest players there's ever been, no side to him. He was just a really nice lad and we had a great chat.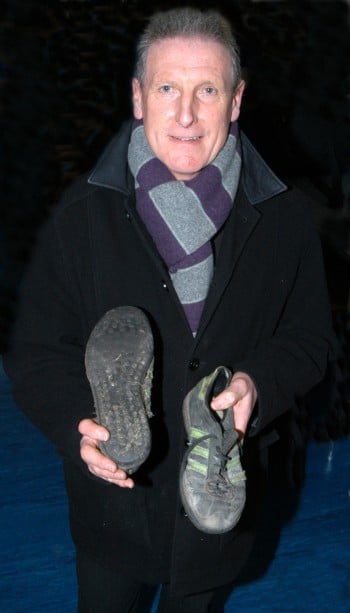 As far as the crowds go, it was hard to try and get their attention away from all the more traditional American sports like baseball, and that was why they moved out of Boston and down to Jacksonville, to try and stimulate things. It didn't really work to be honest, they were just struggling to make any impact at that time and a couple of years after I finished there, I think the NASL folded completely.
USA
I think what they've done since, building on the World Cup with the MLS, that has got a lot more longevity to it and it's gradually becoming a bigger sport in America from what I can tell.
Part of the problem was that they had no national team to speak of. I remember a couple of years before, there'd been a bicentennial tournament out there to celebrate 200 years of independence and to try and use that to generate support for the game. The USA had a team there, but to make it competitive, they were able to call on a lot of the players that were already playing in the NASL. If I remember rightly, you ended up with Bobby Moore playing for the USA against England!
World Cup 1994
International football gets a bad press at times, rightly so on occasion, but I think if you are trying to introduce virtually a brand new sport to a country, having a successful national team is a good way of doing it. Getting the right to stage the World Cup in 1994 was a big step forward for them, that created a lot of interest even among people who didn't know anything about the game.
From there, they've done reasonably well at the World Cups that have followed, they always qualify – they won England's group last time! – and that has helped them grow the game a bit. Back in 1980, there was nothing like that, the sport was just trying to create a place for itself out of nothing.
Support
They put a lot of money into the NASL in an attempt to spark interest among the local population, but I have to say, it was a bit hit and miss. If we went to play a team with some Italian lads in it, there would be a fair few Italians in the crowd and that kind of thing. Some clubs had terrific support, but where we played, in Boston and then in Jacksonville, they just couldn't pull the support in.
They tried everything at the time, all the razzamatazz, every kind of entertainment you can imagine before games, to try and pull people in. It was a bit different to how we used to have somebody playing a few old records in England!
Anthems
You just went along with it. Before every game, they'd play the American national anthem and we had quite a few English lads, and we'd sing the words to "God Save The Queen" to it! There was a lot of banter between the American lads and the foreigners, but with us, the foreigners were predominantly British, which was presumably the influence of Noel Cantwell.
The rule in the league at that time was that you had to have three American lads in the team at all times, in an effort to try and bring on some home grown players. The idea was that they were going to increase that number each season, to build the game, but obviously the American boys were short on experience and it was difficult for them to handle the level that some of the other players were at – imagine trying to cope with Beckenbauer or Best!
Astroturf
For those of us who had come in from abroad, it took a while to get used to the playing surfaces because in Boston, we were playing on astroturf and that was something new for us. What was stranger still was playing on astroturf one week and on grass the next!
I already had a pair of boots for using on there – we used them in that famous Bristol City game on New Year's Day in 1979 when we played on ice – so that side of it was ok, I was used to them.
But it meant it was a different game really, the bounce of the ball was crazy. It's not like playing on astroturf nowadays, back then the ball would bounce all over the place, so judging it and controlling it took some getting used to. It actually forced you to pay more attention to your control because it had to be spot on. Once you got used to it, it was alright.
Injuries
The injuries you would get off it, the burns if you ever went down really hard, they were horrendous. In the end, that made it a less physical game, it restricted the amount of physical contact there was. Because all the players were wary of it, the tackling probably wasn't as fierce as it was back home because people knew the consequences.  The other issue for me was the way it put a strain on the joints, the wear and tear playing on such hard surfaces.
All told though, I had a great time there, it was brilliant going out to America, the lifestyle was terrific. It's completely different to here, probably because of the weather really. Once the Americans discovered we were English, they couldn't do enough for us. They loved the English. We'd be constantly invited to barbecues and to dinners, they really were very generous people. They made us all feel at home, and I suppose that's why we enjoyed it so much.
Energy Sapping Heat
The second year was even better in a lot of ways, because although Boston was a beautiful city and it was a very nice place to be, being in Florida, you had the beach, we were right by the sea, Disney World was half an hour away, so that just adds to it all again. The wives would take the kids to the beach in the morning while we were training, then after we'd finished, we'd go and join them in the afternoons – you couldn't do that after you'd knocked off in West Bromwich!
But the heat did take it out of you. It was incredibly difficult to play in those temperatures and obviously, that's got me interested in all the fuss about the World Cup in Qatar in 2022, with all the controversy about the heat. In America, we tried not to play games in the afternoon wherever possible, mostly we played in the evening, when it was humid but not as hot, but there were times when we did have to play in the middle of the afternoon and it was horrible. I'm not exaggerating when I say it could kill you.
Water Breaks
Admittedly, back then, I don't think they looked into the effect of the heat on the body as much as they do now. In England, we never thought about having water during games for instance, the way they constantly do these days, even in the depths of winter – back then it was a cup of tea at half-time and that was it! Going to America was the first time I was exposed to the idea of having liquids during a game. You were just continually going over to the touchline and getting drinks because if you hadn't, you would have just keeled over with dehydration.
We used to come in at half-time and the first thing the lads would do would be to go in the showers, turn the cold tap on, and we'd just lie underneath it until it was time to go back out again. Noel Cantwell would be giving his team talk while we were under the showers.
No Ties
We were playing in temperatures of 106, 107, so when they talk about Qatar being even hotter, I can't see how they would do it, honestly. It is just way too hot to play any football, it would be suicidal. We lost a stone in weight every game, and then afterwards you had to pile back the liquids just to recover when you had the following day off. Then you were back into it again. It was a punishing schedule.
They didn't like draws either, every game had to have a winner, so if any game ended up level, they had their own version of a shootout at the finish. They were a nightmare. You had a 35 yard line and you started from there, you had to run at goal and score, all inside five seconds. Because you knew you were up against the clock, you hurried it. You had to have a lot of composure because the 'keeper would come out and make it hard for you.
I found it very difficult, especially on astroturf, because it was easy to lose control of the ball. On grass, you could get your foot under the ball and chip the 'keeper or go round him, whatever. I didn't enjoy it much – I'd rather have had penalties!
NASL Legacy
Saying that, it did make it exciting for the crowd because as you were running, you were worrying about the time running out, you'd hurry things, the seconds would be counting down on the scoreboard, the fans liked it I think. It was the opposite to penalty shootouts, these favoured the goalkeepers – I think it was one in three, the chance of you scoring.
I suppose ultimately, the NASL was a success because it was the generation of kids that grew up watching that who started playing the game and became the generation that have watched and who have played in the MLS.
Next Generation
I guess we were playing in front of the ten year old Alexei Lalas or Jeff Agoos who came in and took the game on to another level for America later, and then it goes on again from there with Landon Donovan, Clint Dempsey and whoever in the next generation. It's nice to feel you had a small part in that.
A big part of your contract was that you had to go out and do lots of coaching with the youngsters. The number of kids that would come and play was unbelievable, there were hundreds of them. They had these big coaching clinics and there would be loads and loads there. The interest at that level was huge and because we caught them young, I suppose they retained that as they were growing up.
The problem at that time was that when they hit a certain age, as they were growing up, there were no leagues for them to go into, no infrastructure if you like, so it petered out a little bit. But the interest probably forced them to create them later. The amount of interest among girls was amazing and you can see why America has gone on to have such great national teams with their women and do so well.
The Simple Game
The beauty of football compared with baseball or American football is that it is so simple. You need a ball, that's it, you can play on your own just kicking it against a wall. For the others, you need equipment, people, a pitch, it costs the parents a lot of money, so football is just something that can easily become popular because of the simplicity.
We shared a stadium with the New England Patriots when we were in Boston. They were a massively successful side, they'd won the Super Bowl, all that, but we shared their facilities. They would fill the stadium every week, no problem. And then you had the Red Sox as well, the baseball team, they would be filling Fenway Park, no danger, then as big as that again was the Boston Celtics basketball.
So basically, they dwarfed us, and that was why we moved out to Jacksonville. You can see why it was a problem to get the crowds because they had three great sides in different sports all in one city and there was no real room for us!
Beckham Factor
But the appetite for football seems to be there now. They've taken the Premier League live on mainstream television this season, they're watching that, they've qualified for the World Cup again, David Beckham is talking about buying a club, so it all seems to be moving in the right direction for them.
I have seen some of the MLS games on the TV, and I've been surprised how good the standard is and how big some of the crowds are, they're getting some great turnouts now. They're doing pretty well at international level, they have had some good results in the World Cup, it looks as though they're getting established.
It was nice to have been there at the start!