The sporting world lost a number of world class footballers in 2021. Perhaps the loss of Jimmy Greaves went 'under the radar' to an extent because his passing wasn't exactly a 'shock'.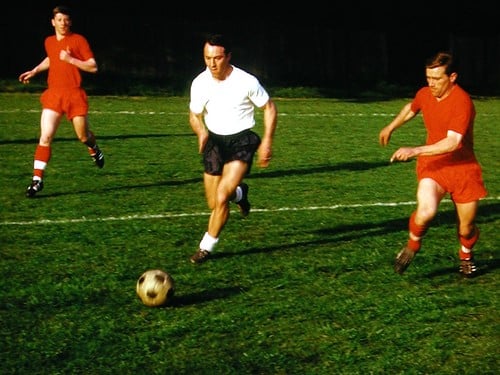 Sadly, the former Spurs, Chelsea and West Ham striker had been ill for some time having suffered a stroke some years earlier. The news in September seemed inevitable and it's about time that there were some belated words on one of the greatest strikers in the game.
The Records Greaves Broke
More than 50 years after he left the club, Jimmy Greaves remains Tottenham Hotspur's leading goal scorer of all time. It's a record that is currently under threat from Harry Kane but, even if it is broken, there are other milestones that may never be matched.
Greaves scored more top flight goals – 357 – than any other player. He has six hat tricks for England and that's another record. When he finished his international career in 1967, Greaves had scored 44 goals from just 57 England games.
Those 44 goals currently put him in fifth place in England's all-time list but, in terms of ratios, they eclipse everyone else. The man at the top of this particular tree is Wayne Rooney whose 53 goals came in 120 games.
Statistics don't always lie and there are enough records there to suggest that Jimmy Greaves was the greatest ever goal scorer in England, and possibly in the history of soccer.
Harry Kane Comparisons
Jimmy Greaves still holds that all-time scoring record for Tottenham Hotspur with 266 goals. It's a level that could yet be overtaken by Harry Kane although, with rumours of Kane moving to Manchester City, Greaves' milestone could yet be safe.
Kane, with 232 Tottenham goals at the start of 2022, will probably surpass Jimmy Greaves if he stays at the club until the end of the 2022/23 season. For now, the current England captain needs to focus on the needs of his club as they look to finish inside the Champions League qualification places.
Spurs need a top four finish at the end of this campaign and sports betting sites in India and across the world suggest they may struggle. Tottenham are currently listed as sixth favourites in the top four markets, behind Liverpool, Chelsea, Arsenal and the two Manchester clubs.
With just under half of the season still to play, there is time for those figures to change. The odds are supplied via asiabet.org who will update the markets on the back of latest results. Breaking news and opinion pieces can also be found here, along with opportunities to get involved with those markets. Each of the sportsbooks on Asiabet's recommended panel are ready to accept new registrations and have published generous promotions to welcome customers on board.
Moving forward, there are ongoing offers plus effective customer support and a choice of deposit and withdrawal options. It's a perfect partner for football betting but Spurs' future very much depends on the plans of Harry Kane.
Greaves' Legacy
Records may be broken but the new milestones have to be put into context. As we've seen in the case of Wayne Rooney, Jimmy Greaves' scoring ratio is far superior. If he'd been able to pass 100 caps, Greaves would have surely set a new scoring mark that would be out of sight.
It's a similar story with Harry Kane. Tottenham's current centre forward may well overtake Greaves' club record but it will have taken more games to reach that level. Scoring ratio is the factor that we need to take into account and, on that basis, Jimmy Greaves has no equals in the English game.
At times, he's remembered in a negative way: Struggles off the pitch and the injury that kept him out of the 1966 World Cup final are often cited. But, the positives far outweigh the downs that come with any career.
It should also be remembered that Jimmy Greaves was a prolific striker wherever he went. His records with Spurs and England are mentioned at length but he also produced solid returns for Chelsea, West Ham and AC Milan across a stunning professional career.