Gotham FC played host to Racing Louisville on Sunday night, as with a combined 11 players returning from the World Cup across both rosters, the clubs finished in a 0-0 tie.
With the result and results across the league, Gotham FC remains tied for fourth place. 
Gotham FC 0 Racing Louisville 0
The action-packed match saw Gotham FC continue its high-pressing style that produced a 10-2 advantage in overall shots during the first half. However, the two sides remained scoreless heading into the halftime break despite some late chances in stoppage time. 
Gotham FC's best look of the first half came in the final moments as Katie Stengal took her defender one-on-one in the box, cut across her body to shake the defender who fell to the ground,  and got off a clean shot that swung just left, hitting off the post. Gotham FC finished the half controlling 65 percent of possession while doubling Racing Louisville FC's completed passes (234-101).
Both teams kicked off the second half with strong attacking looks. Gotham FC earned a quick chance in the 49th minute via a strike by Yazmeen Ryan that was tipped over the crossbar by Louisville goalkeeper Katie Lund. 
In the 57th minute, Gotham FC fans provided a warm welcome to U.S. Women's National Team forward Lynn Williams, as she entered her first match for the club since competing in the 2023 FIFA Women's World Cup. Set to replace forward Ifeoma "Ify" Onumonu, Williams was honored with the captain's armband by two-time World Cup champion and soccer icon Ali Krieger, as Krieger also came off the pitch. 
Offensively, Gotham FC had 19 shots with five shots on goal throughout the match. However, the club was unable to find the back of the net. On the defensive end, Gotham FC allowed only one shot on goal for the entire match.
Gotham FC Goalkeeper Mandy Haught secured a clean sheet in her first regular season start of the 2023 campaign. Onumonu also made her first regular season start since April 27.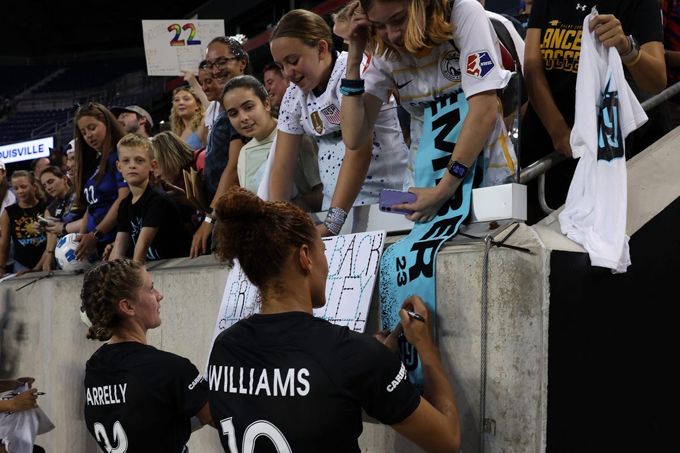 Mandy Haught, Jenna Nighswonger, Ali Krieger (57' Ellie Jean), Kelley O'Hara (57' Sinead Farrelly), Bruninha, Maitane Lopez, Nealy Martin (70' Allie Long), Delanie Sheehan, Ifeoma Onumonu (57' Lynn Williams), Katie Stengel, Yazmeen Ryan (84' Mana Shim)
Gotham FC will travel to Cary, North Carolina to face the North Carolina Courage on September 2 at 7:30 PM before returning home on Sept. 16 to host the Washington Spirit at 7:30 p.m. ET.