In the final regular season match of global soccer icon Ali Krieger's professional soccer career, the Olympian, two-time World Cup champion, and Gotham FC captain and her team battled to a 2-2 draw against the Kansas City Current on Sunday at Red Bull Arena. With the draw, Gotham FC clinched its third playoff appearance in club history and completed the 2023 regular season with 8-7-7, doubling their win total from last season.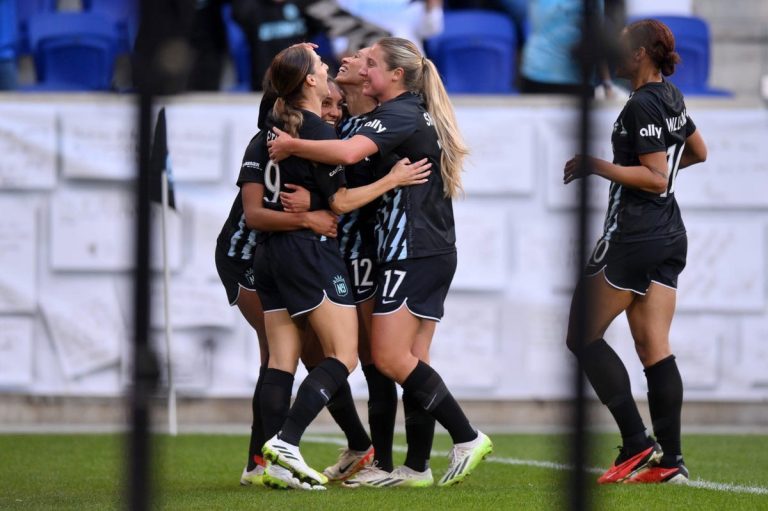 Gotham FC 2 Kansas City Current 2
Gotham FC came out firing from the start, as the home side opened the scoring in the sixth minute of play. Midfielder Delanie Sheehan found forward Midge Purce inside the eighteen-yard box. Purce took a prep touch and drilled the ball into the back of the net for her 25th NWSL regular-season goal of her career. It also marks her 16th, tying for second-most in club history with former Gotham FC midfielder and U.S. Soccer legend Carli Lloyd for.
Gotham FC gained a two-goal lead in the 15th minute, when midfielder Yazmeen Ryan skillfully weaved through four defenders inside the box before striking the ball off the far post and into the far side netting. 
In the 26th minute, Kansas City forward Alexa Spaanstra scored in the top corner. 
Krieger prevented a potential equalizer in the 33rd minute, when the captain sprinted into goal for a sliding save to help extend her career another match. However, a Gotham FC own goal brought the score level at 2-2 in the 36th minute heading into halftime. 
Second Half
Gotham FC continued to push in the second half, looking to cement a playoff spot. Forward Lynn Williams fired a shot from just outside the box towards the far post, but Current goalkeeper AD Franch made a diving save to tip the ball out for a corner kick. 
The club continued to pour on the shots and create chances in the attacking third. Gotham FC dominated the second half on the offensive end, outshooting Kansas City 11-2, with five on frame. Sheehan had an opportunity in the 61st minute, when she launched a first-touch shot from 25-yards out that ricocheted off the crossbar. 
Despite the onslaught of chances, Gotham FC finished in a draw that was enough to secure the final playoff spot. 
NJ/NY: Mandy Haught, Esther Gonzalez, Lynn Williams ('28 Katie Stengel), Ali Krieger, Kristen Edmonds, Nealy Martin, Delanie Sheehan (33' Sinead Farrelly), Yazmeen Ryan, Midge Purce, Jenna Nighswonger, Maitane Lopez
Substitutes Not Used: GK Michelle Betos, D Bruninha, M Allie Long, M Mana Shim, D Ellie Jean, D Mandy Freeman, F Ifeoma Onumonu
Gotham FC will travel to play the North Carolina Courage in the quarterfinals of the 2023 NWSL Playoffs on Sunday, Oct. 22 (7 p.m. ET, CBS Sports).