Something remarkable happened just before the international break. Ryan Giggs' record of 632 Premier League appearances fell, overtaken by Gareth Barry of Aston Villa, Manchester City, Everton and West Bromwich Albion. 
By Dave Bowler
It's a quite extraordinary feat in a competition that becomes faster, ever more demanding and ever less forgiving by the season. Some would tell us that the Premier League is no country for old men, anything north of 30 being classed as old in their book, but as Gareth Barry proves week after week, age is nothing but a number if you can still cover the ground with the same desire to win as footballers a dozen years younger.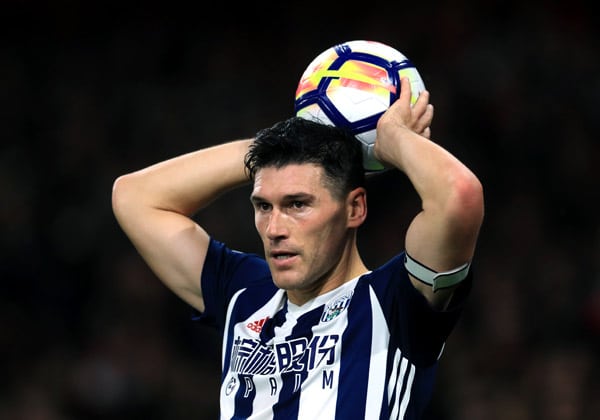 After all, if you've been paying attention the way he has, you know a lot more and, as many sages have said about this game, the first five yards are all in the head. That's true in all kinds of ways, for not only does that kind of experience bring with it an ever greater ability to read the game and so be in the right place at the right time more comfortably, it also adds to your mental strength having seen the ups and the downs of a life in football. For all his undoubted talent, Gareth sees his robust mentality as one of the cornerstones of his success.
Mental Strength
"I think one of my real strengths over the years has been the ability to stay on an even keel mentally through it all. You get a lot of changes in the game, a lot of ups and downs, things go on that are beyond your control. You have to take things as they come, take them on board and think them through, but you can't afford to be negative about situations.
"Some things are harder than others to deal with of course, but you have to accept it as it is and don't let it have any detrimental impact on you or the job that you need to do. Having a strong mentality and a "one game at a time" attitude has been a big help to me I think".
Brighton Start
For all that Gareth's mentality has only strengthened with the years, it's apparent that it's an attribute he was born with, going right back to his earliest days. There's a steely gaze that you see in his eyes on the pitch, one which, I suspect, was even there back in the earliest days when he was telling people, including schoolteachers, that he was going to make it as a footballer. Let's start off with those days.
"I started off playing the game with my older brothers, I've got three of them, and they were always kicking a ball around, so I'd be out in the garden with them and that was what got me going. From there, at school you'd be playing whenever you could. I got picked for the school team and from there, I was scouted by Brighton when I was eight or nine.
"Once I joined, I would train with them once a week, which was exciting at that age. People have asked me when did I start to think I might make something out of football and I suppose it was as I was coming towards the end of my time at school. Your last year there, it's an important time, you've got your GCSEs coming up. If I'm honest, I had half an eye on those, but the real pull then was football and I was determined that I was going to make that my career.
Aston Villa Calling
"You have to go and have conversations with teachers at that time about what you're going to do when you leave school, and they all tell you the chances of being a professional footballer are pretty slim, so why not think about something else? Of course I was determined to prove them wrong, I wanted this to be my job and I put everything I could into it. I felt the chance was there and I decided to go down that road and give it a real go.
"So I stayed with Brighton through until I was 16, and that was when I had a difficult decision to make, because a number of other clubs started to show interest in me. There were a few London clubs that wanted to sign me but I felt that Aston Villa would be the place where I would get the most opportunity.
Trial
"I had a trial there and I had a good feeling about it, it seemed the club I should sign for, even if it was a long way from home.
"It turned out that I was a bit of a trial case, myself and Michael Standing, because at that time, there really weren't very many cases of clubs coming in and trying to get players from other team's youth set ups. Generally back then, if you had been at a club through school, you stayed with them through the youth system and either got released or eventually played for the first team and moved from there.
Step Up
"People forget now that Brighton are in the Premier League, but back then, they were really struggling. They were in what is now League Two, they were close to going out of the league altogether at one point, there were a lot of financial problems, they were having to sell the old Goldstone Ground, it was a real battle for them and the future was uncertain.
"For both of us, when a Premier League club came in, it just seemed as if it was going to help our education and offered us better prospects. It was tough to be in the middle of all that controversy at 16, because there was a lot of fuss made about it, what it would do to the game and smaller clubs if youth players started getting transferred.
"But ultimately Villa had to pay a lot of money for somebody who hadn't even played in the youth team for Brighton. It was only right that Brighton were rewarded for nurturing us through their youth programme and that was eventually great for Brighton because they got a decent amount of money that helped them turn the club back in the right direction. You look back at it now, that was the start of how football has developed in terms of very young players moving clubs, because it's all pretty commonplace now.
Youth Team
"From my point of view, it was funny how things accelerated, because I wasn't in the England teams at 15 and 16, I wasn't standing out from the rest in that sense at that age. The change for me came with going full-time, training every day and working with some very good coaches at Aston Villa. My game seemed to improve and go on to another level really quickly from there.
"I was very keen to make things work having moved to the midlands and my mindset was very much, if you get a chance in the youth team, if you get a chance in the reserves, just make sure you take it. From there, I got an opportunity to train with the first team, and when that happens, you are really aware that you have to step it up again to impress the manager, you have to concentrate on every second. I'm glad I was able to adapt quickly and the players and the manager helped me settle in.
"Villa were very good at bringing players through at that stage, they had a good youth set up and the coaches were excellent, people like Tony McAndrew, Kevin MacDonald and then Gordon Cowans came in later on. I credit them with teaching me how to become a professional footballer, on and off the pitch. They played a big part in my development".
Villa Debut
At 17 years and 69 days, on May 2nd 1998, Gareth made his debut for Villa as 49th minute substitute in a 3-1 win at Hillsborough, the first step on the road to today. Right from the off, playing in the biggest footballing cathedrals in the land seemed to come naturally to him from day one.
"To be honest, when I started playing, I didn't think about the crowds, the pressure, any of those things too much. It was all that I knew as a player at that point, so why should it be strange, thus was what I had worked for. I made my debut at Hillsborough, then played regularly at Villa Park, that was just what my life was at that point. I was too busy concentrating on the game, doing my job, playing well, not letting my team-mates down, to worry about those other things. The size of the crowd and the stadium never really occurred to me".
In those early years at the Villa, Gareth settled into a defensive role, something that would have come as a shock to him when he first joined the club.
Left Back
"I'd always played in midfield at school and at Brighton, and when the youth team coach said he wanted to try me at the back, my initial thought was, "What!?" I didn't fancy that having always been a midfielder, been comfortable on the ball. But he said he just wanted to have a look at me there and so I just went out and enjoyed it, didn't worry too much, took it a game at a time and as it turned out, that gave me my first chance in the first team.
"I played on the left side of the back three early on, I had Gareth Southgate next to me and, for a youngster coming in, you couldn't ask for anyone better to play alongside. It was a great education. We'd got Ugo Ehiogu in the back three as well, Alan Wright was left wing-back, again, so much experience around me.
Looking back, it was the perfect environment for any youngster coming in and looking to learn the ropes. I was fortunate as well that things were going well most of the time, we were challenging for the top six, we had a good side, and again, that makes it easier as a young player".
---
England Call Up
If Gareth missed out on playing for the very young England sides, once he'd turned pro, he soon put that right by going straight into the senior team while still a teenager.
"I got the chance to play for England very early on and that was a great honour because playing for your country has to be the pinnacle for any footballer, that's your dream as a boy. I made my debut at 19 and suddenly, I was in the squad for Euro 2000, working with players that I'd been looking up to when I was still a schoolboy, guys like Alan Shearer, Tony Adams, David Seaman, really big England names and that was a real eye-opener! That was one of the times in my career that was a little bit daunting, but you come through it.
"It was a great learning curve, a proper education to go into training with the best players in England. That was a great taste of it, then I had a spell out of the side and then a few years later, in my mid-twenties, I had a really good run in the side under Steve McClaren and then Fabio Capello. I had the chance to go to South Africa for the World Cup in 2010 which was a huge experience, realising another dream, although it ultimately ended with us losing to Germany in the game with Frank Lampard's goal that wasn't given.
Manchester Move
"Tournament football has been a struggle for England over recent times and it is hard to say why given that we often qualify pretty strongly for them. I was really a youngster in 2000 and so I only had that one World Cup where I was really a full part of it, so I wouldn't like to say why it is that things don't work out – that's a problem for others to solve."
Gareth had a lengthy stay at Villa Park, but after a dozen years, it was time to try something else. "Over my last couple of years at Villa, there was a lot of speculation about my future. I'd been close to a move to Liverpool which didn't happen and then in the summer of 2009, I had a choice between them again and Manchester City.
Gamble
"It was a big gamble to go to City because they weren't in Europe at the time, but it was just as the money was beginning to come into the club, they were telling me about the players they were going to sign, and to be a part of that sounded exciting. It was a risk because it hadn't happened at that stage, but again, I had a good feeling about it.
"The lure of being part of a team that could go and win trophies after such a long wait without was a real motivation for me.  With hindsight, thankfully it was a good decision but at the time, nobody was quite sure if it would happen for them."
FA Cup Winner
"I had four great years there, but especially to be part of a side that won that first trophy, the FA Cup win in 2011, that was very special because it meant they had to take that banner down at Old Trafford! That was the most pleasing thing for the fans I think, to finally end that run of 35 years without a trophy. That cup win meant a lot to me too, it was my first trophy as a player. I'd been around a while by then and played a lot of games, so it was a big relief to get that first winner's medal.
"The first thing you win makes a big difference mentally because if you've done it once, you know you can do it again, you know how to win now. The following season, we won the Premier League in the most dramatic way possible which is very much the Manchester City way!
That was a real up and down season and coming into that final day, knowing we had to win to have a chance of the title, that was an amazing occasion. To win the Premier League with virtually the last kick of the season, you can't really describe what it was like to be a part of that day.
"I really enjoyed my time at City but there were a lot of changes all the time, managers coming and going, and eventually I was told that I probably wouldn't be playing so much in the coming season. They were happy for me to stay and be a part of the squad, but I've always wanted to play every week and so in the summer of 2013, I moved on to Everton, initially on loan and then permanently.
---
Toffees Time
"Roberto Martinez spoke to me, he told me what he wanted from me and how I could help the team and that was exciting. I slotted into a very good cub straightaway and I like to think over the course of four years that I played my part in them consolidating that place in the top seven teams in the country at the moment. As a player, if you can leave a club stronger than when you joined them, I think that's cause for some satisfaction about the job you've done.
"The first season there, we broke 70 points, played some great football, we had a bit of an indifferent time then but under Ronald Koeman last season, we really kicked on again and so it was nice to leave things on a high with qualifying for Europe.
"I could have stayed at Everton and played games, especially with then being in Europe this season, but very much the same as at City, I wanted to play regularly, I feel I still have a lot to offer. I was in and out of the team towards the end of last season and I didn't enjoy that so much, so I was ready for another challenge.
Albion
"I've had that feeling in the past and it served me well with the moves I'd made and I was very much of that mind again. Once I heard Albion were interested, the chance to work with Tony Pulis appealed a lot and it really did catch my attention. It was a big decision to leave Everton but I was offered the challenge and I couldn't turn it down. I had that same feeling I had when I went to City, a gut feeling it was the right thing to do and I'm really pleased I came here".
If ever there was an example of a player's player, the sort who every player wants in his team and who every player knows is utterly invaluable, it's Gareth Barry.
"I'm sure supporters always get more excited by young players coming through the door than older players who they've known about for years, that's human nature. I think in my case, it probably is true that I am a player's player and that's something that I'm very happy with. To have that level of respect means I'm doing something right.
"There's no better accolade than for your team-mates to speak highly of you. They see you every day in training, they know what they need from you on the pitch. It is a great dressing room here, very close knit, I've settled in really quickly. When you see the quality we have in there, when you train with the boys, I'm really looking forward to being a part of it this season.
Impressive Stats
"The work the club did in the transfer window was very exciting, I think the fans are very excited by the new faces. Looking at what we have in training, it's good to see, because we have two players for every position pretty much, which is what you need in this league. That's what any manager wants and I'm sure there will be some selection headaches to come.
"It takes time for all the players to bed in and for us all to gel together, it doesn't happen overnight, but we are all working as hard as we can on the training pitch to put it together as a team".
And so we come to those records, much as Gareth is loath to talk about it in advance. But a few stats here will put you in the picture not just on the scale of his achievement, but his consistency. The nuts and bolts thus far are 601 Premier League starts, 32 substitute appearances. Impressive yes, but there's more.
Consider that he was still just a 17 year old kid when he made his debut. Since that day at Hillsborough, his various clubs have played 730 games. He has featured in 633 of them, that's 87%. He has started 82% of them. For an outfield player, those numbers verge on the unreal. They are certainly, in the proper sense if the word, awesome.
600 Club
"The idea of being the first player to start 600 Premier League games and to beat Ryan Giggs' Premier League appearances record is hard to take in. You don't really think about these milestones when you're playing, you just look to keep playing well every week, do a job for your club and stay in the team.
"Naturally, I'm very proud to achieve those things today if I'm selected, but hopefully I can keep clocking the games up for a while yet! Looking at the stats, to have started 601 out of 633 so far, that is a bit surprising because that's a pretty good percentage.
Fitness
"As I say, I'm delighted to achieve those kinds of figures but while I'm still playing, it's not something that I spend much time thinking about it, though it's nice for my family and something to make them proud. It's one of those for a few years down the line yet, once I've finished playing and I can look back on it all. While I'm resting some tired legs!
"It's game by game, season by season, but I think there's some gas in the tank yet! While I can still perform at that level and enjoy it all, I'll keep on doing it. I feel good, I'm told all my stats are still up there with those of the younger players, so that's all promising.
There isn't anywhere to hide now in that sense, they've got stats for everything you do, but that growth in sports science and so on, it helps you look after your body and do the right things. It even helps you prove that after 30, you've still got something to offer!"