Dave Bowler chats with WBA and England goalkeeper Ben Foster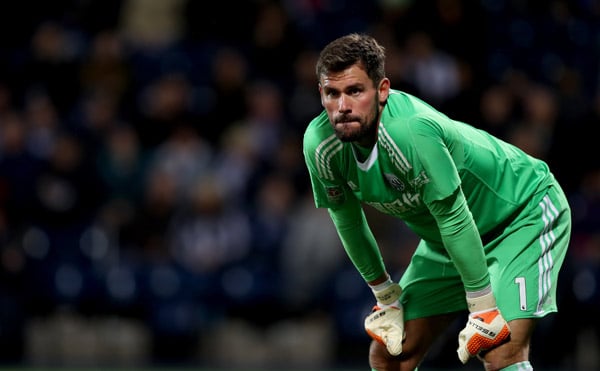 With the draw for the World Cup in the spotlight this week, pundits will be busy picking through the pieces to decide just who has come out of it best.
For England, despite a favorable group stage draw, Russia 2018 might be characterised by an unusual sense of reality amongst the experts – and the nation – as for once, few will anticipate Gareth Southgate's side advancing much further than round two. You can check the latest World Cup odds at this , for example.
Brazil Experience
Goalkeeper Ben Foster went to Brazil with England and so speaks with some authority on the preparation that goes into the tournament and the dos and don'ts this time around.
"It was great to go to the last World Cup with them and to get a game in the competition too, against Costa Rica. Being able to say I've played in a World Cup, that is a massive highlight of my career.
"When we were in Brazil, Roy Hodgson was very keen that we made ourselves part of the local community out there. We went and visited schools and things and I think that was a really nice change for England to do that rather than being locked away in the hotel.
"He wanted to include the community in things, to do a bit of charity work, to make everyone feel a part of things. I think that's nice, it's a real strength. It's not hard to go out and visit a few places, say hello and have your picture taken and it gets the local people onside which is nice.
Preperation For World Cup 2018
"Coming into the World Cup next summer, people will be asking if England do all the right things in terms of preparation for tournaments given that we haven't fared so well in recent times, but speaking from personal experience at the last one, the training camp was great, it was really well organised, everything is there for you as a player, everything is catered for. There was no stone left unturned to make things right for the players.
"It's how you perform on the day, that's what it boils down to, and people forget that when you go to a World Cup, you're always lining up against teams that aren't bad themselves! We didn't play that well in 2014 but at the same, we were faced with Uruguay, Italy and Costa Rica and in this country, I don't think the media always gives the opposition the respect they deserve. Playing against any of those is not easy.
"People talk about whether a winter break would help but I'm not convinced. You only end up cramming the same number of games into a shorter time so I'm not sure that helps.
Holiday Season
"Although we are going to be busy over Christmas, nobody would want to lose that period of games because they're special, growing up, that was one of the best parts of the football season, there seemed to be games every day and that's great, people love that. You couldn't take that away from fans, so then you're looking at trying to fit a break in in January. I'm not sure it would make much difference to be honest.
"Maybe part of the issue is just how fierce the Premier League is. Away from the top six,  I can promise you, just staying in the league is an achievement. You look at the size of some of the clubs that have been relegated in the last few years, the likes of Villa, Sunderland, even Newcastle, it just shows how tough it is to just stay up. Then at the other end, the competition to win it or qualify for the Champions League is cut-throat too, so by its very nature, the Premier League is exhausting."
Changes
If the competition at the top is getting tougher,  so too is the role of the goalkeeper with a younger generation of coaches insisting that their teams play out from the back, meaning the goalkeeper has to be as good with his feet as his hands, a development Ben has kept a close eye on.
"Goalkeeping has changed a bit over the years I've been playing – there was none of that playing out from the back stuff when I was on loan under Aidy Boothroyd at Watford, no chance! The way I think about it is that even if I shank a clearance out into the stand, they can't score from there!
"Every situation is different, you don't want to put yourself under pressure on the ball near goal, and you don't want to do that to defenders either, you have to play it as you see it. I don't want to be a playmaker! Leave that to the footballers!"
---
Dave Bowler is the author of "The Magic of the Cup 1973/74", telling the story of Liverpool's FA Cup win in 1974. Available here: https://www.curtis-sport.com/books – 
Follow the magic of the cup on Twitter:  @MagicOfFACup