The Gold Cup is here again. We all know, and without much of a doubt some of us are, that special sort of person who takes their sports just a little bit too seriously. Red-faced and screaming at every missed play and blown call, dedicating hours of their free time to message boards and talk radio, living and dying with every game like it was the final.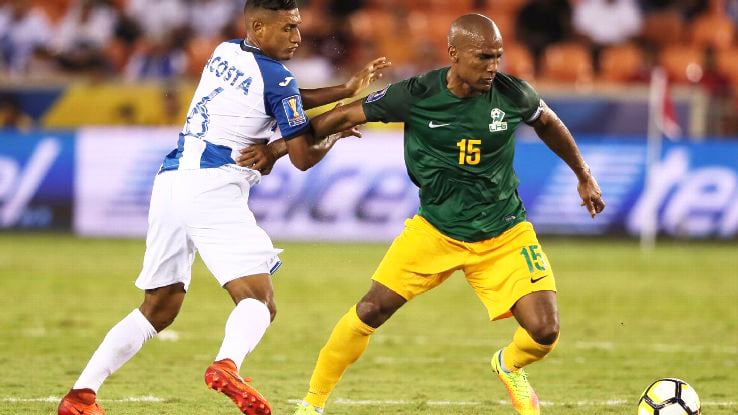 On the flip side of that are the players and teams that don't take their jobs seriously enough. If we the fans, from the casual to the screaming, are to put down our money to watch you, we do it in the hopes that you might win, or at least that you'll make a good show of pretending to put up the token effort to do so. Where those two rivers converge is the Gold Cup, the North and Central American championship tournament. Well, at least that's what it is now. 
Tim Hall's View From 101
For a few iterations since becoming the Gold Cup in 1991 and divesting itself from the CONCACAF World Cup qualification tournament, the Gold Cup has been "the North and Central American championship tournament, and we'll see if Brazil is free, and maybe Peru can come over, and we'll make extra coffee in case Colombia turns up." Practically from the outset the Gold Cup was used not as a way to determine continental superiority but to sell more tickets. We're sure you're surprised.
Eventually once the regional governing body figured out they should try to keep things legit and make the tournament feel more like a thing, guest teams stopped being invited. Unfortunately what this means, with a twelve-team tournament, once you get past the powerhouses and the lingering threats, there's still room for a few minnows to sneak in and be fodder. There simply aren't enough good teams in the region to justify having twelve for the title.
Six teams seems like a more appropriate number, after you whittle down the field some through some eliminators, and wouldn't you know, six teams is exactly the number of teams that makes up the final round of CONCACAF World Cup qualifying.
Format
And with the double round-robin home-and-away format among the very cream of the crop teams from the continent (and, yes, the occasional minnow sneaks through, good for them), the hexagonal round feels more like a true continental championship, despite it being six teams for three-and-a-half spots instead of a mad scramble for the one spot given the CONCACAF champions from the 1960s through the 80s. And it's important to mention that every other time it is played, the Gold Cup happens right in the middle of the far more important World Cup qualifiers.
Nevertheless, Gold Cup does nominally make you the CONCACAF champion, and that does mean you get to go off and represent the continent at Confederations Cup, unless it doesn't. You see, Gold Cup is held once every two years, and Confederations Cup every four, so each cycle there would be – unless a nation won back-to-back Gold Cups – two teams with a claim that they were the rightful owners of the trip to whichever far-flung locale would host the World Cup the following summer.
To address this, but more likely because they sensed there was a chance at another payday, the powers that be decided to add in an extra game to be used in just such a circumstance to determine who was the Super Duper Ultra Mega No Really We're Serious This Time Champions of North and Central America and the Caribbean, and it would be that team that would carry the flag into battle at the following Confederations Cup.
Confederations Cup
Unless, of course, there is no following Confederations Cup. A story published by the Associated Press in June said that the most recent version of the Confed Cup may very well be the last, citing poor ticket sales and a crowded schedule. "If there was no Confed Cup in 2021, I wouldn't be unhappy" said Germany manager Joachim Low before the tournament. Low followed up that statement by playing a German B- and sometimes C-team and still winning the tournament without too much fuss.
So what we're left with is a tournament that doesn't qualify anyone for the World Cup, may not qualify anyone for the Confederations Cup, and even if it did, there may not be a Confederations Cup to qualify for. It is the continental championship by the letter of the law, but not at all by the spirit. It is overbloated with teams which waters down competition, and half the time, including this time, occurs right in the middle of a far more important tournament.
World Cup
So how do teams respond? About how you'd expect for the most part. Teams like the United States, whose eyes are far more firmly fixed on getting to next summer in Russia, have brought in a B-team of guys who will likely have to put up a very impressive performance to be considered for the World Cup roster, provided the US makes it. Now that the Stars and Stripes have advanced through the group stage, six of those players have been sent home and replaced by more first-choice stars, because in the knockout stages the tournament actually counts for real.
But the prize for not taking things seriously at all goes to French Guiana and Florent Malouda. Malouda, who has played in a World Cup final for France, believed he'd be able to play for his native French Guiana because, even though they are a CONCACAF member, they are not a member of the world football governing body FIFA, so his history with France shouldn't matter. But CONCACAF's rules state that, at least for the Gold Cup, that they'd abide by FIFA's rules, so Malouda was not eligible.
So then, in a stirring display of not giving a single damn, French Guiana not only started Malouda but made him their captain in their second group stage match. This turned the game into a forfeit, earned French Guiana a fine, and earned Malouda a two match suspension, including a stadium ban, which reports indicate he promptly broke in French Guiana's following game.
Gold Cup
While the red-faced and screaming among us may feel gutted that French Guiana would give up on their Gold Cup dreams so easily, there really is something to be said for not caring in such a bold fashion. Les Yana Dòkòs weren't going to win the 2017 Gold Cup, and even if they did, it wouldn't mean much other than pride.
French Guiana wasn't even going to finish fourth in the Gold Cup, and even if they did, it would only equal the mark of their fellow regional counterparts South Korea. So instead of booing Florent Malouda and French Guiana for besmirching the game, let us applaud them for their incredible ability to allow that which does not matter truly slide.