In a competitive, sometimes fiery clash with Serie A giants Roma at Red Bull Arena in New Jersey, Spurs staged a late fightback from 2-0 down to draw level at 2-2 thanks to goals from Harry Winks and Vincent Janssen, only for Marco Tumminello to hit straight back to give Roma a last-gasp 3-2 victory.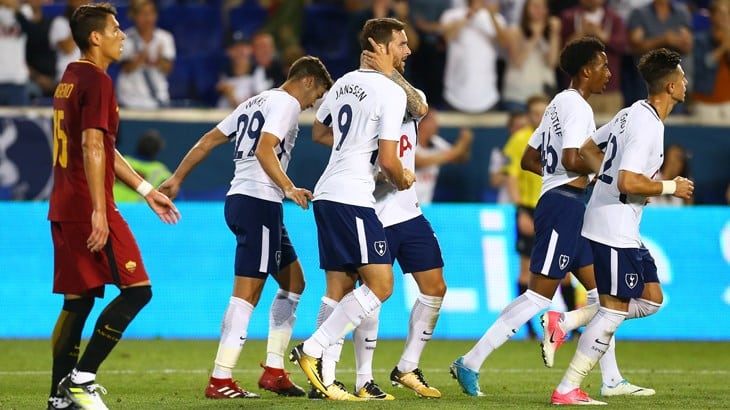 Spurs Manager Mauricio Pochettino has always been clear that he's looking at much more than just the results in these big pre-season tests in the US – and those were certainly his sentiments again as he reflected with satisfaction on aspects of the contest, which came just three days after a 4-2 triumph over Paris Saint-Germain in Orlando.
"I'm not frustrated, I'm very happy, so excited to see the players play, develop and improve, every day getting fitter," he beamed.
"When you play teams like PSG and Roma, teams that invest a lot to build a team and for us playing with young players like Tash (Tashan Oakley-Boothe) and Anthony (Georgiou), that's great news.
"It's exciting because we played much better than Roma, created more chances and we were unlucky. The (penalty) decision was difficult for us and we didn't deserve it because we played much better but okay, that's football and we accept that.
"We're in pre-season and the result isn't important, it's (important) to compete and we competed for 90 minutes. Okay, we made some mistakes that we need to improve on but generally I'm so happy with all the players.
"I think 80 per cent of the stadium were our supporters! They are so fantastic and I say thank you very much to all of them. We're a little disappointed with the result but it's amazing to share a night like that with them."