Tottenham Hotspur manager Mauricio Pochettino is winding up to fully address Kyle Walker's defection for the first time when the double doors behind him swing open.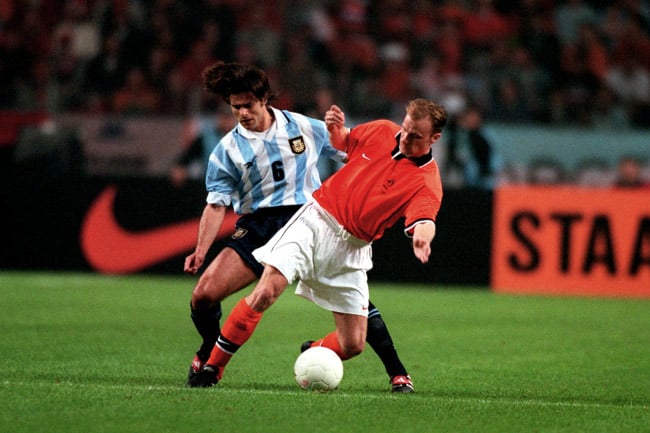 Pochettino, legs crossed and body slouched inside the Westin Hotel in downtown Nashville, observes the coffees on a tray approvingly. He is parched. His answer can wait.
He thanks the waitress for his frappuccino as attention turns to the bill. Tottenham's press officer pinches it and starts to sign. Pochettino looks mildly distressed. 'No, no, no — put it on my room. My room.' The cheque twice changes hands. Pochettino finally pays the four dollars himself. It turns out those in power at Tottenham do not mind parting with cash after all.
For that is the criticism levelled at Spurs, and more specifically their chairman Daniel Levy, this summer. With days to go until Newcastle away, they are still without fresh blood and were soundly beaten by Manchester City in Nashville's Nissan Stadium on Saturday night. The last few weeks have certainly not been easy. Spurs can only start shopping when their more opulent rivals have finished and Pochettino is in the unique position of requiring reinforcements rather than first XI improvements.
Problem Players
'It's so difficult to convince good players to come and then be on the bench. Then the problems start,' he says before revealing details of a conversation with Alvaro Morata, who joined Chelsea from Real Madrid last month.
'Morata said to me, "Why do you want me if you have Harry Kane?". You know, if you go to try to sign a striker, they will say, "Eh gaffer, you want me for what? To be on the bench? Because it's Harry Kane, I can't compete with Harry Kane" or Hugo Lloris or different players.
'Our fans know that we are not a club today that can compete with Manchester United and City for a player. We cannot fight.
'(But) the perception about Daniel is very wrong. The thing is, Daniel is very keen to sign like me. This type of player we are talking about, it's very difficult. It's not easy to find.'
Ross Barkley
Ross Barkley is one they have identified. But does he have the temperament Pochettino demands? Can he start on the bench? Can he agree to a contract worth less than Everton have offered?
If those answers are yes then Barkley will likely play his football at Wembley this season. A striker is also on the agenda, yet for now Walker is the only major bit of business in or out.
At £54million, Pochettino is of the mind it was mighty fine business too, having seen the emergence of fellow right back Kieran Trippier last year. The Argentine debunks suggestions he and Walker fell out, with the player having sent what seems a genuinely heartfelt WhatsApp message after he left.
Kyle Walker
'Manchester City have paid a lot of money for Kyle, like they have signed different players to try to get success in the future,' Pochettino adds. 'There's no doubt he will succeed at City. But for me, I think we saw the best Kyle with Tottenham.'
Walker's situation actually encapsulates exactly what the club hope will happen throughout their squad: players are pushed so hard by a deputy that they grow further than anyone had previously anticipated.
'What happens when you say, "I am No 1", "I am No 2"… and the No 1 believes they have more right than another and the other feels he is less. It's so difficult to manage that situation. That's why as a manager you must give the possibility to rotate when they're at the same level.
'Last season was a very good example. Kieran and Kyle started to share one game each. If you watch the last 14 games again, Kyle was here and Kieran was here.' Pochettino runs both his hands parallel to each other. He felt there was absolutely no difference between the two.
Obsessed
He is 45 now, still watches all four divisions and European football on television at home — much to his wife Karina's annoyance — and still believes he is learning the trade. Pochettino admits he cannot switch off, as obsessed with the game as ever.
There remains that steel for which he is famed. He can relax in his chair and chat genially one moment and be bolt upright, talking agitatedly the next.
It is all about the portrayal of messages. One during this 40-minute chat in Tennessee last week centres on senior players becoming complacent. A specific example follows.
No names, no pack drill, but Spurs fans will have a fair idea who he means. 'Dele Alli came from League One and after a few months started to play,' Pochettino says. 'So when a player comes in and for instance thinks he should play because he's played in the Champions League — it's not about that. You need to deserve to play.
Dele Alli
'Dele Alli came in and was better. Sometimes people complain, not all the players. The player says I am big but OK, go and show that every day in every single game that you deserve to play instead of another. That is all.
'Not one player that we sign doesn't know what we expect of them. Speaking any other way is not the truth. Nobody inside here can explain it in a different way to you.'
Those who are on board have been rewarded with long contracts. Kane, Alli, Christian Eriksen and Danny Rose have recently penned new terms. But so too did Walker, only last September in fact, so would another season without silverware see others head for the exit?
'That is like the chicken or the egg,' Pochettino replies sternly. 'Three years ago I heard, "We must play Champions League. If not it's difficult to keep our best players".
Trophies
'And now, we have achieved the Champions League on the last two seasons. Right now (I hear) we need to win some trophies, no? That is good, the pressure.
'I think it's important to understand now that we need to be clever how we manage the expectation and how we need to put pressure on our own players.
'We understand that Alli, Kane, Eriksen, Dier, (Toby) Alderweireld are really good players. They want to win, like us. But it's true that they need to feel the pressure a little bit to improve in every season.
'How have Manchester City, Liverpool, Chelsea and different clubs tried to improve their season? Bringing players in and trying to put more pressure on their star players, their key players — and for us we need to do that too.
'Every season we need to be clever in how we bring more energy and make sure our main players are not in a comfortable situation. Because if they are it is normal in human beings… if I'm Dele Alli and look back and there's no one for competition, if I make one run or two runs it's the same because I always play.
'When the players start to feel that — if the team starts to feel that — it's difficult to win.'
This interview appears courtesy of the Mail Online