First blood in the new season in the EPL was drawn by Liverpool last Saturday evening when they saw off the challenge of Manchester City to carry off the Community Shield.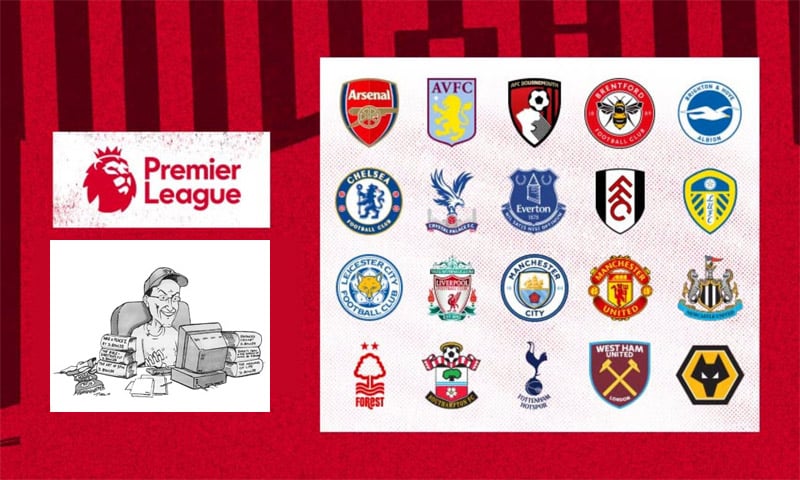 By Dave Bowler
A glorified friendly isn't much of a guide to the season and there's little value in reading too much into it, but it is hard to see anybody beyond those two carrying off the Premier League title once again next year. The caveat to that, of course, is that the season will stop for a month through November and December to make way for the World Cup. What impact that has on the players who go there – and those who don't – could well be decisive.
Leaving that imponderable aside for the moment, what is interesting is that the top two are slightly different beasts to last term. Liverpool have, of course, lost Sadio Mane, replacing him with Darwin Nunez, but the Reds aren't really changing the nature of the way they play their game to any radical extent.
City
At City, things are developing significantly. Gabriel Jesus, Fernandinho and Raheem Sterling are gone while the arrival of Erling Haaland gives City a centre-forward for the first time since Aguero was a regular for them. That means City go into the new season with questions to answer and things to prove, where Liverpool look to be more of a variation on a theme.
That speaks to the possibility that the two teams have different absolute priorities this term. While both will be looking to win everything as usual, the experience both have had of attacking on four fronts but falling short of the biggest prize(s) might be a salutary lesson to both. And this term, I suspect the ultimate goal for each is different.
For City, with Guardiola's time running down – how much longer will he be at a club where he has coached longer than anywhere? – the Champions League is surely the number one target this term. It is the dream that their owners have chased ever since arriving in Manchester, yet at the end of last term, the capitulation in Madrid left it as far away as it ever has been.
Hence the spending on Haaland, but will that be enough to take them all the way? Many questions remain unanswered about whether Jack Grealish really was the answer they thought him to be 12 months ago, while the talented Kalvin Phillips will have to be up to speed from day one after his move from Leeds if he's going to plug the Fernandinho gap.
Liverpool
At Liverpool, it might be the Premier League that really gets the juices flowing this time. They did of course end the drought in 2020, but to lift the trophy in front of an empty Anfield and then be denied the chance to celebrate with the city in the grand manner must still rankle. While they will doubtless look to defend their domestic cups, I'd be surprised if there wasn't a lot more rotation of the squad in those games and a prioritisation of the title race.
There simply has to be because, on the evidence of the last few years, there is simply no margin for error. To win, you are going to have to come somewhere near 95 to 100 points again – 30 wins, five draws, three defeats. That is a ludicrous level of consistency to expect, but it's the level the top two have kept on producing. But to do it, something else has to give.
Of course, that could change if they get some proper competition from elsewhere this term. Their ownership issues settled, Chelsea have returned to splashing the cash, bringing in Sterling and Kalidou Koulibaly, though the departure of Antonio Rudiger and Andreas Christensen might be keenly felt.
Sterling seems like a man on a mission, bruised by being surplus to requirements at City and ready to prove what an error that was. With things back on an even keel, Chelsea will be better than last term, but a 20 point swing is required to take them above City, even if Liverpool didn't improve their haul. That's a lot to ask.
Dark Horses
Spurs are the dark horses, Conte having put them through a pre-season that will leave them perhaps the fittest side in the country. No dramas over Harry Kane for a change this summer, the addition of Yves Bissouma bolsters their midfield considerably, while Richarlison gives fresh attacking options.
They still look a bit threadbare in terms of squad depth, but they could inflict a few wounds on opponents this term. It isn't hard to make a case for them getting an additional dozen points this season, which would put them on 83, often enough to win the league. If other teas could help them take points off City and Liverpool, that might be enough for them – or Chelsea – to get into the title scrap, but it's asking a lot.
United
At Manchester United they are desperate for a season of solid improvement under Erik ten Hag. Having not got a managerial decision right since Sir Alex Ferguson finished – they've had to cast aside three separate seasons by employing "interim managers" since then – ten Hag simply cannot fail. He'll be helped by comparatively low expectations this season – even a Champions League place seems a stretch – but United need to add at least 15 more points to last season's 58 if they are going to start to be seen as real players again. How the Cristiano Ronaldo situation plays out in the next few weeks might be pivotal.
United have further problems in that Arsenal, who finished 11 points clear of them last season, look to have a good summer in the transfer market. Gabriel Jesus is the penalty box goalscorer they need, Fabio Vieira is an interesting acquisition, Oleksandr Zinchenko is a good addition at the back. Equally they haven't lost anyone of significance. You'd expect Arsenal to be better again this term, but that might still only be enough for fifth position.
The Race for Seventh
Which leaves you looking at well financed, well coached operations like West Ham, Leicester City and Wolves and thinking, what's the point? I'd expect all three to be good enough for top half finishes, and that one will push for a top six finish for much of the campaign before eventually running out of steam thanks to a smaller squad – unless that World Cup break acts in their favour, But really, can any of them ever really expect to do better than finishing seventh? I suspect not, and that is a sad indictment of the way the game operates nowadays.
And of course, their lives have been made harder still by the arrival of the elephant in the room – Newcastle United. With money to burn, they will surely build on the good work Eddie Howe did there in the second half of last term and be come an entrenched top half team. There will need be patience on Tyneside – having the money is one thing, but attracting players to a club still building its pedigree is not as easy as it sounds. Adding Nick Pope, Sven Botman and Matt Targett looks sensible business and you'd expect steady progress. But will they be able to break into the top six this time around? That's another degree of difficulty altogether…
Dave Bowler is the author of "The Magic of the Cup 1973/74", telling the story of Liverpool's FA Cup win in 1974. Available here: https://www.curtis-sport.com/books –
Follow the magic of the cup on Twitter: @MagicOfFACup