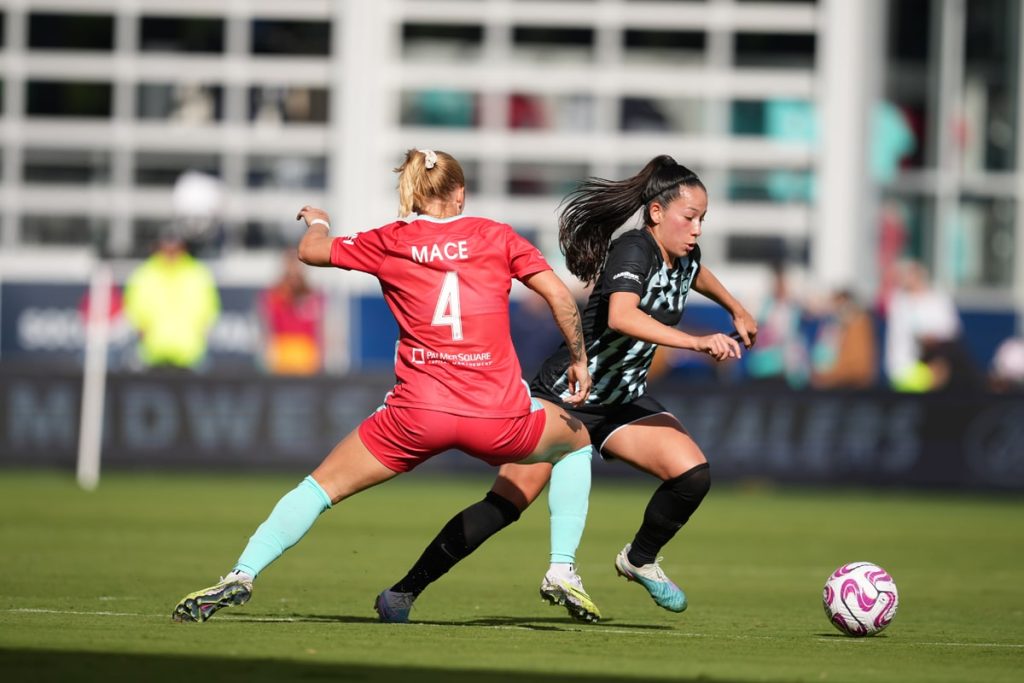 After a scoreless first half that included close chances from both sides, Gotham FC fell 2-0 to the Kansas City Current on Sunday at Children's Mercy Park, with both goals scored in the second half by KC forward Debinha. Gotham FC is now 0-2-3 all-time against Kansas City.  
Kansas City Current 2 NJ/NY Gotham FC 0
Report from Gotham FC
Gotham FC goalkeeper Abby Smith was the star of the first half, making a series of sterling saves in her 50th career NWSL appearance. In one sequence in the 29th minute, Smith made consecutive stops on near chances by Current forwards Mimmi Larsson and Cece Kizer.
After their goalkeeper's heroics, Gotham FC mounted a more sustained offensive attack. An individual effort by forward Yazmeen Ryan in the 37th minute created the club's best scoring chance. At the end of the first half, Gotham FC held the advantage in both possession (54 percent) and in shots (9-5).
"Kansas City came out strong and you've got to do what you've got to do," Smith said at halftime after keeping the Current off the scoresheet.
"In the first half, we applied the game plan, had opportunities to take the lead and defended well. But in the second half, [the Current] were more effective and goals change games," said Head Coach Juan Carlos Amorós. "The good thing in this moment is that we have an opportunity to get a victory in three days. We will always look at the positive side."
Second Half
Smith was also strong in the second half, making a save on KC's Michelle Cooper from five yards out in the center of the box in the 50th minute. Moments later, Yazmeen Ryan set up Lynn Williams, but her shot was deflected by Current goalkeeper Cassie Miller.
Kansas City took over the match behind Debinha's two goals and played tight defense to secure the clean sheet. Debinha opened the scoring in the 57th minute on a breakaway goal set up by Lo'eau LaBonta, and Debinha scored again in the 61st minute.
For the match, the Current had eight shots on target to Gotham FC's three. The loss was the first on the road in the 2023 regular season for Gotham FC (3-0-2) and ended the club's three-match winning streak in all competitions.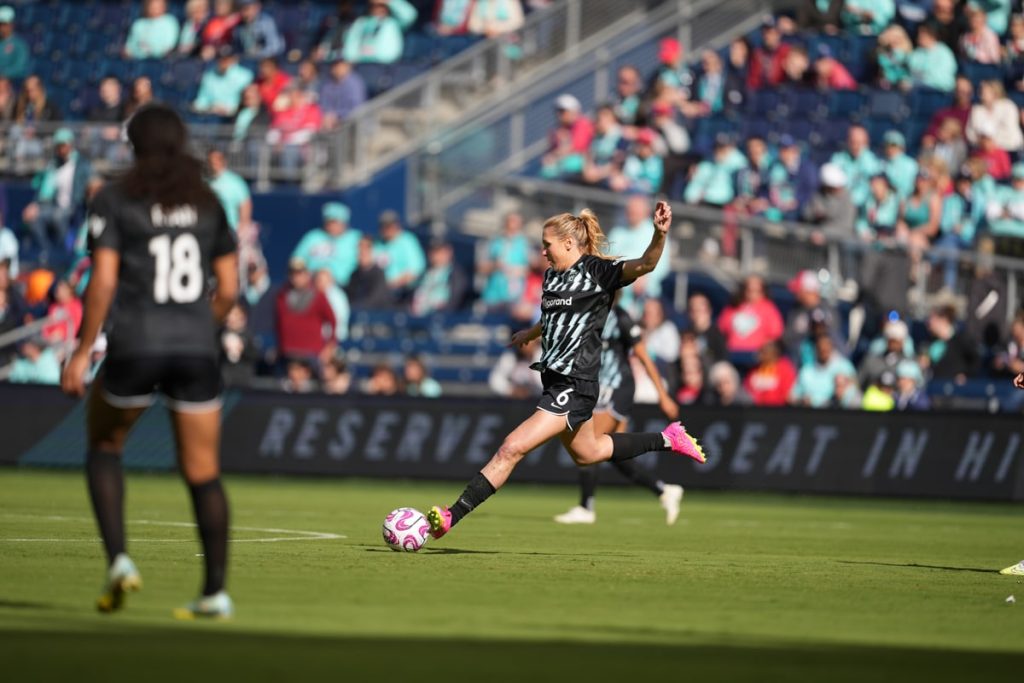 Ali Krieger
"We need to be better defensively and to take advantage of our chances in the offensive end," said Gotham FC captain and defender Ali Krieger, who was named the Gotham FC Player of the Match presented by CarMax. "We'll learn from the little defensive mistakes we made in the game. We will come back together, just as we have all this season."
Referring to Gotham FC's UKG NWSL Challenge Cup match on the road this Wednesday against the North Carolina Courage, Krieger added: "Juan always says, 'Football doesn't have a memory.' You have to move on to the next match. We know we're good enough. Also we know what needs to be done, and we're willing to do that – which is half the battle. We move forward and focus now on Wednesday."
Gotham FC Line Up
Goalkeeper: Abby Smith
Defenders: Kristen Edmonds, Ellie Jean (Jenna Nighswonger – 64'), Ali Krieger (captain)
Midfielders: Bruninha (Kelley O'Hara – 64'), Allie Long, Kristie Mewis, McCall Zerboni (Sinead Farrelly – 86')
Forwards: Yazmeen Ryan, Taylor Smith (Ifeoma Onumonu – 64'), Lynn Williams
Up Next
Gotham FC continues on the road with a UKG NWSL Challenge Cup match against the North Carolina Courage on Wednesday, May 3 at 7 p.m. Gotham FC is 1-0 in UKG NWSL Challenge Cup play. Four days later, the club plays a regular season game in Chicago against the Red Stars on Sunday, May 7 at 6 p.m. Gotham FC returns home for a special Mother's Day matchup against the Orlando Pride at Red Bull Arena on Sunday, May 14 at 5:30 p.m. Single Match tickets for are available HERE. Season Ticket Memberships and group ticket packages are available by visiting  GothamFC.com.
---

Never miss a Gotham FC game! Find out how to watch Gotham FC with our soccer TV guide