The Columbus Crew know a win or draw on Sunday clinches another playoff berth. Depending on Sunday's results, they can finish fifth, sixth, or seventh, but if they lose at Orlando, the Crew are out of the playoffs for the second consecutive season.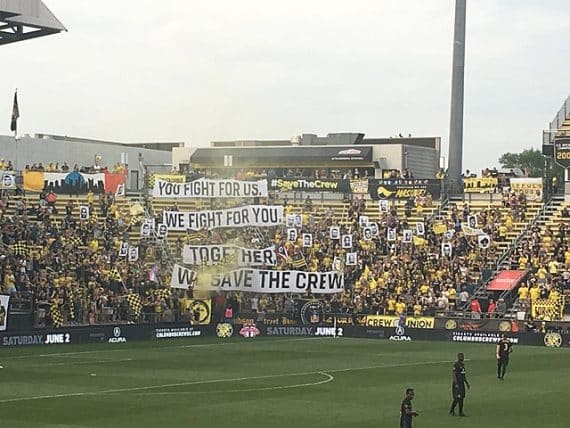 Columbus Crew Just One Point Away From MLS Playoff Berth!
By Matthew Stein
Because there are so many variables in play on Sunday, the Crew could play NYCFC or the Red Bulls; no matter which team they play, it will be on the road. Columbus will ask many defensive questions that are difficult for most offenses to answer. They've allowed just 39 goals this season. It's second-best to Philadelphia in the East and third-best in all MLS.
Goalkeeper Eloy Room takes command of his defense. The Curacao international has kept ten clean sheets in the 2022 MLS season. He also has a strong save rate of 72.5%.
Lacking Goals
It's on the attacking side of the field where the Crew struggles. They've only notched 45 goals this season which could be the lowest of any playoff team in the East. Lucas Zelarayan is the driving force in the attack. His ten goals and 11 assists lead the team in both categories.
We pointed out Inter Miami's struggles away from home this year (hyperlink once you put that story up), and the Crew has struggled just as much away from Columbus. They've only three games on the road this year but they did manage ten draws! A win or draw is all they need to advance to the MLS Playoffs.
The Crew's problems away from home were displayed both times they visited NY this season. In March, they drew 1-1 while visiting the Red Bulls. NYCFC beat them 2-0 at Yankee Stadium in May. The Crew beat both teams in Columbus.
Columbus' tight backline will lead to problems for any team they face in the first round but this is another match-up where the home field will likely play a factor.
---
Matt is a travel advisor specializing in sports travel. He will customize your entire trip so you can watch your team anywhere in the world. Visit www.uniqueluxurytravels.com Or e mail Matt directly.