Former Celtic and new Bournemouth midfielder Ryan Christie hardly distinguished himself during the Hoops' season to forget last term.
The Full Scottish with Brian P. Dunleavy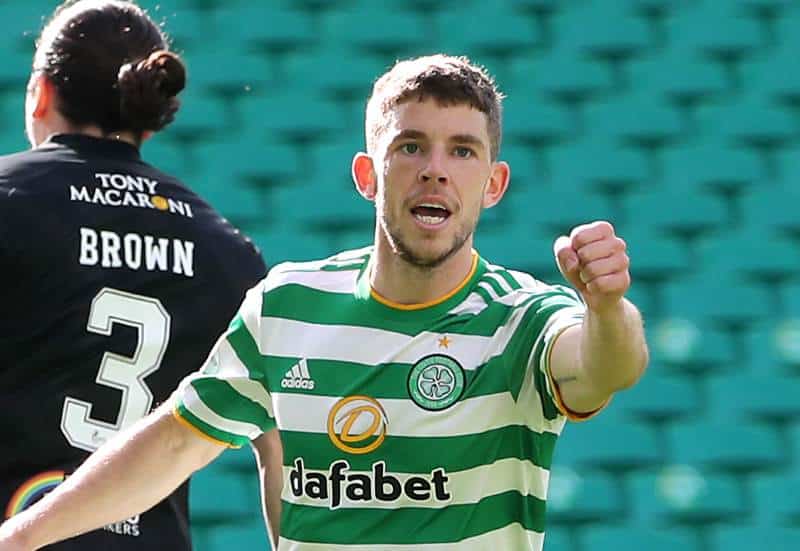 Perhaps only David Turnbull and, maybe, Stephen Welsh were the only first-team players in green and white to burnish their reputations in the epic fail for 10 in a row.
That said, of all the departures from the squad since the start of the summer—most notably, ex-captain Scott Brown (to Aberdeen as player/coach), loanee Shane Duffy (returning to Brighton), Odsonne Edouard (to Crystal Palace) and Leigh Griffiths (on loan to Dundee)—Christie will be the one we will miss the most.
Yes, his play was often (high and) wide of the mark last season—literally and figuratively. Still, he was a "Celtic man," as the saying goes, and his rapid rise to first-team stardom, initially under Brendan Rodgers and then with Neil Lennon in charge, was the stuff of dreams. And his work rate, even as he was failing to score goals, or take passable set pieces, was never in doubt.
Contract
With his contract expiring in January, and his father Charlie routinely declaring the player's ambition in the press, Christie's departure appeared to be inevitable. But it didn't need to be so. The feeling is the midfielder was among the players most upset by the angry protests outside Celtic Park following the Hoops' loss in League Cup play to Ross County last October, and he was stung by criticism on social media from a segment of the club support.
To be fair, dealing with such pressures is part and parcel of playing for Celtic. However, expecting it doesn't mean you have to like it. Christie's play was already showing signs of recovery this summer prior to his move south. He'll likely thrive in the English Championship. Where his career goes from there is up to him.'
Leigh Griffiths
Similarly, Griffiths' destiny is in his control as well. Being sent to Dundee on loan is arguably Scotland's equivalent of getting shipped to Coventry, and the striker hasn't helped himself by continuing to deny that his fitness is an issue (the lad is like a Faberge egg) and throwing his former manager (and, historically, one of his biggest advocates) in Lennon under the bus.
He's done at Celtic. His social media dalliance with an underage girl, which came to light days after he signed a one-year contract extension, were the final straw. But the man who has failed to score more than 12 goals in a season since 2016-17 can still resurrect his career with a successful campaign at Dundee.
Finally, for Edouard, his move from Glasgow was a forgone conclusion. The sky is the limit for the still-young Frenchman. Our only question is: Have Celtic found his replacement? Or Christie's for that matter?
Photo – insidefutbol.com