Patience is never deemed to be much of a virtue within the 100mph world of Premier League football, but the ease with which the panic button gets pushed these days is going far beyond a joke. Just over two months into his tenure at Swansea City, it's starting to look as if Bob Bradley might be the latest victim of that most pernicious of cries, "something must be done!"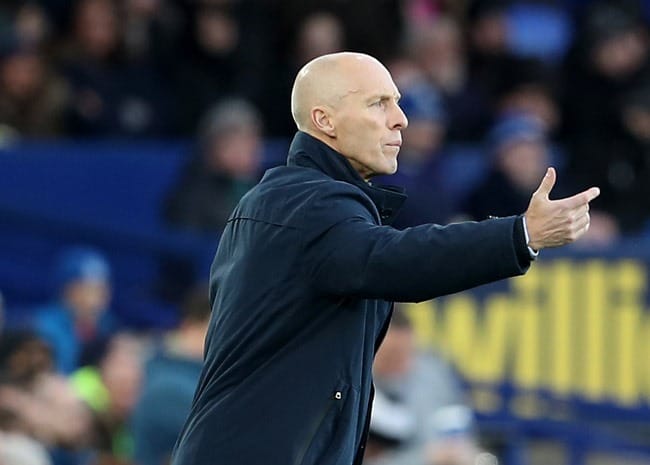 Swansea's Problems Don't Begin And End With Bob Bradley
By Dave Bowler
In fact, very often the best policy in difficult days is to do nothing, hold your nerve and await the turn of the wheel once more. That no longer appears to be an option in a feverish world in which it ain't what you do, it's what they want you to do that counts, be they the press, the supporters, the pundits.
If you want to see just how far we've strayed from Kansas these days, just consider for a moment that there are Leicester fans out there prepared to waste time and effort phoning national radio shows to inform us all that "Claudio Ranieri has taken us as far as he can". Bear in mind that he took Leicester from relegation favourites a year ago to the title and now the last 16 of the Champions League and you have to question where these buffoons want him to go that he isn't capable of reaching. Mars?
It would be funny if it wasn't for the fact that the preferred choices of these experts on the game to replace Ranieri include Nigel Pearson and Iain Dowie. For their own good, social services should trace the calls and go and lock up those who made them before they can damage themselves on blunt surfaces.
Bradley Blamed
Every bit as bizarre are the calls for Bradley's head. For while his arrival hasn't yet turned things around in the way the Swans would have hoped, you'd think that might give pause for thought at the Liberty Stadium and might have them recognising that the fault might not be the manager's, especially as they've sacked two others inside 12 months.
At the beginning of last season, Gary Monk's stock was so high that he was being touted as an international manager of the future. Within a couple of months, a year ago this week, as Swansea hit their first rough patch in their Premier League years, he was on his bike, eventually to be replaced by Francesco Guidolin a month later.
A runoff six wins in ten guided the Swans back to mid-table by season's end, but Guidolin had apparently not done enough to convince his new employers and in October, he was off too, to be replaced by Bradley.
A win, two draws and four defeats later and he too is under pressure.
It's hard to see why, because managers are not alchemists. They are stuck with the base materials that the previous incumbent couldn't get much out of, so why should they? The truth at Swansea – and this is the bit that boards of directors and owners always struggle with – is that the problem lies at the top.
You might, for example ask how it should be that a football club that essentially balanced the books on their summer transfers, losing the services of their leader Ashley Williams and ten goal man Andre Ayew in the process should feel it has any right to progress.
Swansea are a classic example of a once model football club who have lost their way, a perennial danger in the Premier League once you conclude you cannot break through that glass ceiling into the top six. You begin to ask what it is that you stand for. The consistency for which you were once revered is no longer enough. You start to thrash around for new ideas, discarding the ones that served you well. And when your inner revolution fails, it's too late to go back to the tried and trusted because you've torn it apart.
That's where Swansea find themselves now, scratching around, trying to find something that works after enjoying a decade where pretty much everything did. But as the age old warning goes, once you find yourself in a hole, the first move is to stop digging.