Atlanta United capped their astonishing first two years of existence with a confident 2-0 win over the Portland Timbers in the 2018 MLS Cup at Mercedes-Benz Stadium on Saturday night, delighting the biggest crowd in league history with a vintage performance spearheaded by a goal and assist from star striker Josef Martinez They became the second expansion team in MLS history to win MLS Cup within two years of their formation.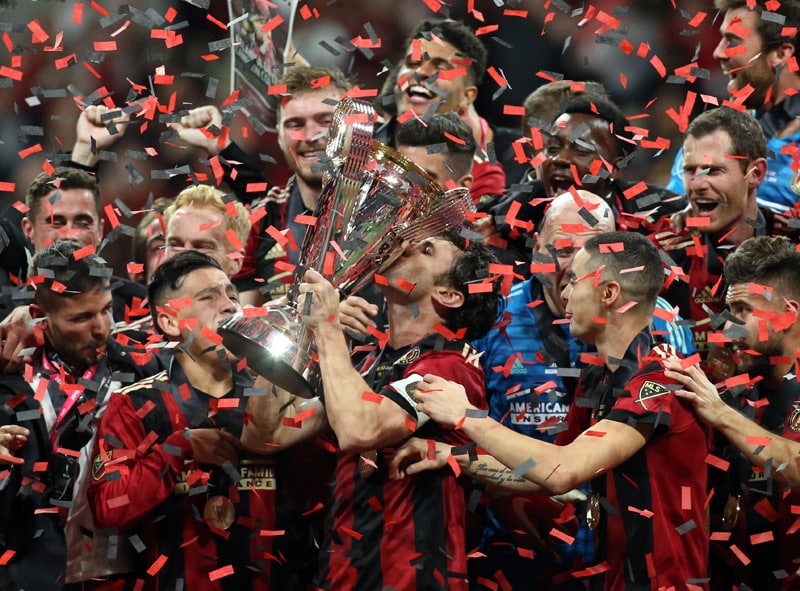 The game went without an attempt at goal until the 23rd minute, the longest without a shot from the start of the game in MLS Cup history.
Martínez  made the breakthrough in the 39th minute with the opening goal of the game. He ended the year with 35 goals from all competitions (31 regular season, 4 MLS Cup Playoffs), the most of any player in a single season in MLS history.
Escobar Winner
Franco Escobar sealed the win with a goal in the 54th minute, his second goal in the MLS Cup Playoffs.
"We won one, so that is good, said Atlanta Head Coach Gerardo Martino. "These are always special moments, just to culminate this amazing process that we have had in Atlanta."
"We have got the best team in the League, so as a club, they gave the coaching staff absolutely everything you need to be successful, and that is what makes it the most satisfying."
Savarese Praise
Portland Timbers coach Gio Savarese, who joined the team from the New York Cosmos at the beginning of the season, was full of praise for his team.
"I'm extremely proud of the work the guys have given to this season. To be able to get to this stage, MLS Cup, you need to sacrifice. You need to put everything into it. I couldn't be more proud of the work they put in this whole season, but the work they put in today. I thought our guys made it difficult for them. In this environment, in this stadium, we had good moments in the game. Overall, I couldn't have asked more of my players. They gave everything and I'm very proud of the season."