Celtic midfielder Aaron Mooy is clearly a Postecoglou Favorite. Will this help him in the long term?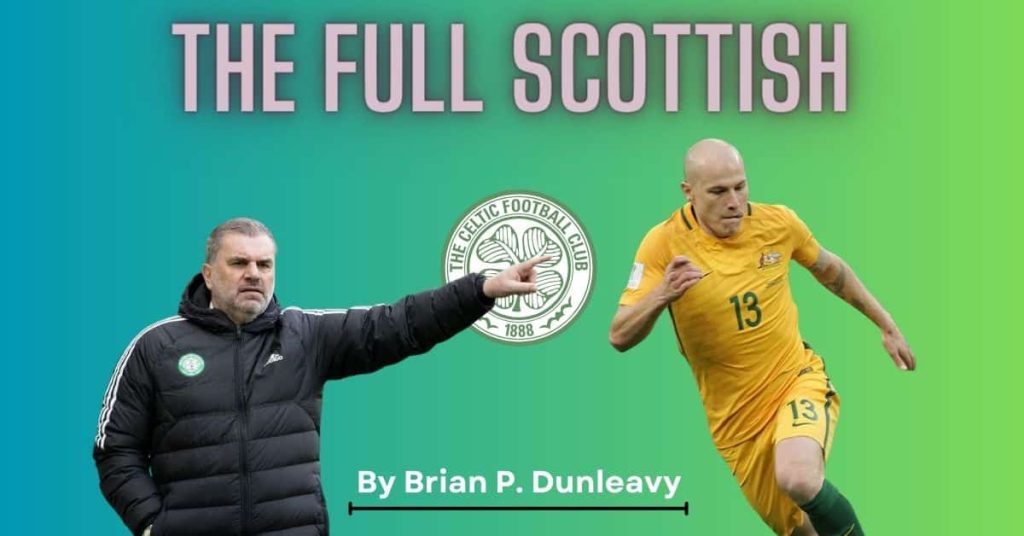 The Full Scottish
American football coach Bill Parcells, who led both of this area's local NFL teams during his distinguished career, frequently talked about "his guys." The term referred to star players, in some cases, for the Giants (with whom he won two Super Bowls) and the Jets (with whom he achieved some success, against all odds), but often covered lesser-known athletes who made up for their (relative) lack of talent with hard work.
The coach was willing to overlook off-field transgressions among the star players within this group (think: Lawrence Taylor) and give the hard workers a pass when they made mistakes in games, provided they continued to deliver. The Giants and Jets hardly have the same rivalry in the New York City area as Celtic and Rangers have in Glasgow, but Hoops manager Ange Postecoglou certainly shares some of the same characteristics as Parcells.
First, he can be brusque, and often flippant, with the media. Secondly, he can be coy with regard to tactics and future transfer business. Thirdly,  he most definitely has "his guys," though he is a little more subtle than his American counterpart in acknowledging that.
Postecoglou Favorite
Celtic midfielder Aaron Mooy is clearly one of Postecoglou's "guys"—and deservedly so. The Australian has more than proved his worth over the past eight months for both club and country, starring for his national team in Qatar and helping the Hoops continue their domestic dominance. Which is why the manager opted to start Mooy against Rangers at Celtic Park on Saturday, despite the midfielder obviously not being fully fit.
The Hoops' all-important victory in the match, which put them 12 points clear at the top of the table, was arguably Mooy's worst match of the season. During his 60 minutes on the park, his multiple slack passes kept Rangers in the game, even as his teammates dominated play.
Now, every player is entitled to a dud now and again, and Mooy has absolutely been on song more often than not. In short, it's understandable why he is one of Postecoglou's "guys," unlike, say, James Forrest, David Turnbull or James McCarthy.
Risk Factor
But the coaching approach—of having favorites within the team who get the benefit of the doubt—usually works, until it doesn't. As mentioned, Parcells won two Super Bowls with the Giants, but eventually wore out his welcome with the NFL team. He never achieved the same level of success during stops in Dallas, New England and with the Jets, but left dysfunction in his wake when he departed those places as well.
This is not to say Postecoglou will do the same. One notable difference is that it appears, at least, that the Aussie's "guys" only remain so if they continue to perform on the pitch and remain trouble-free off it. Matt O'Riley seems to have been in and out and now in the manager's good graces this season, for example. But it is worth noting that the man-management approach does have a shelf-life, and could leave a mess behind for a successor, should such a day come (and it will). That it's working now, though, may be all that matters. And it is undoubtedly working.
---
Looking to watch the Celtic game on TV this weekend?
Don't forget to check our schedule for all upcoming Scottish games on US TV
---