As the season wears on, so pass the landmarks for the Boleyn Ground, ancestral home of West Ham United.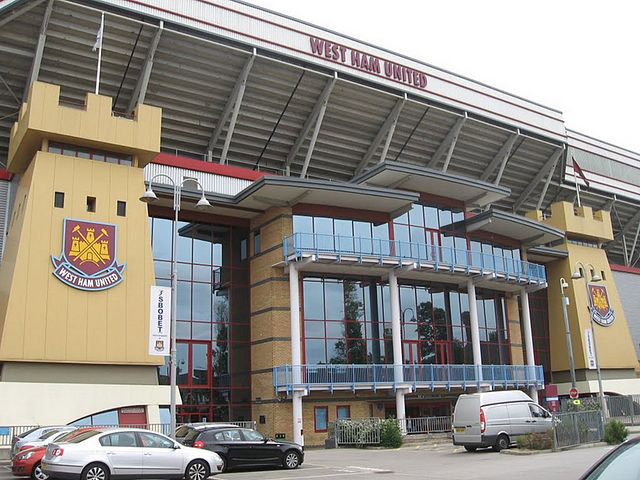 By Dave Bowler
The Hammers are about to embark on a move to the Olympic Stadium. There can be few doubts that the move will be for the greater good of West Ham United. But as they leave the vicinity of Upton Park, they would do well to ensure that every last vestige of history travels with them. For West Ham is a club of community, of tradition, even one of national importance. Although the "West Ham won the World Cup" tale is overplayed more than somewhat.
Nonetheless, it's the ground where Bobby Moore played out the bulk of his career, where great European nights were housed, where Clyde Best made an early stand for black footballers.
Boleyn Ground Memories
Nor, lest we sanitise things too much, should we forget that it was also a raw, visceral, sometimes brutally frightening bearpit of a ground in keeping with the fact that it was at the heart of territory once patrolled by the Krays and their ilk.
Like most of football, the Boleyn was life in the round, the good, the bad, the ugly. All of that deserves to be remembered, for they are the slivers of life's flame that burn most brightly for so many of us, the embers on which we warm ourselves in cold, wintry nights.
That in itself is an issue that is confronting football in this country, yet one to which the game has not yet awoken. In the past, catching memories was a haphazard business, often restricted by the length of a newspaper column, a radio report, an occasional magazine article, the odd book.
New World Order
We are living in a different world now. One where the infinite inventory of the internet means that recording matters for posterity. It's suddenly not just possible but essential. For the paradox is that while this century is the most commented upon, filmed, spoken and written about in human history – and football has cornered a disproportionate amount of that sound and fury – just you go out there and try and find it.
Swathes of information are being generated, guzzled, and then are falling into black holes, never to be seen again. More than, far, far worse than that, while we are downloading files.Just who is downloading us?
When the Great Football Fan in the Sky gathers us up to take our place in the heavenly stadium, we take all those memories with us, never to be stirred again. Why aren't we recording them? Why aren't we interviewing every soul who pulled on a football shirt while we can?
Use that smartphone for its smartest purpose. Recording your dad, your granny, your brother, talking football. Ask them who they saw, where they went, what it was like? Think on. It's later than you think.