Thanksgiving's gone, Black Friday has left the building but fear not, what's that coming over the hill? Yes, Christmas is coming.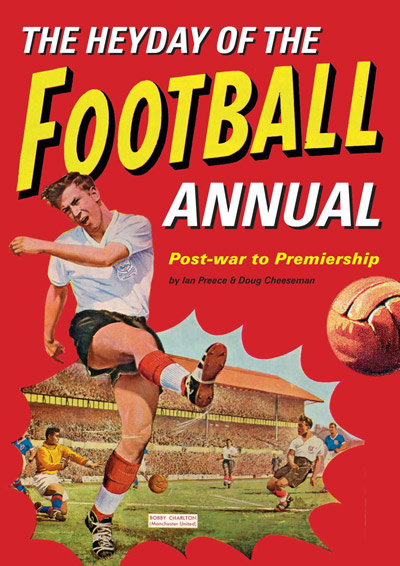 By Dave Bowler
What to buy, what to ask for? Well, for the football lover who has everything, this hefty book has arrived just in the nick of time and, if you like a bit of pre Premier League nostalgia, it might be right up your street.
Written by Ian Preece and Doug Cheeseman, both veterans of 'When Saturday Comes', 'The Heyday of the Football Annual' will descend upon you like the Ghost of Christmas Past and take you back to a simpler time when each year, Santa would deliver into your hot little hands some new football annual, all about the game in general, not a club in particular, and was better for it.
Looking through the pages of the old annuals is fascinating as Ian points out.
"If you ask any gent currently tip-toeing around a mid-life crisis what their favourite or most-remembered football annual is, it won't be long before Shoot! is mentioned. But, strangely enough, in the course of researching our book, we rarely came across anyone actually enthusing about Shoot! Most just had it for Christmas and perhaps read the 'Focus On' columns or looked at the pictures.
Shoot!
"From such columns you might have gleaned that Cyrille Regis put his success at the Albion entirely down to Ronnie Allen; Spurs' Chris Hughton was a qualified lift engineer; or that Everton's Kevin Ratcliffe would have been a lorry driver had he not been a footballer, and that 'chicken curry, fried rice and lager splash' was his favourite meal
– but I'd argue the problem Shoot! faced was that, in terms of football annuals, the template had been set, and that everything had already been done several times over by about 1974, just as Shoot! achieved lift off, elbowing out the likes of Charles Buchan's Soccer Gift Book and Goal! annual. Nothing felt that fresh any more, you could see it all on TV, and money was beginning to flood into the game.
"The real heyday of the football annual starts around 1950, when paper and colour printing and adverts for shiny new products like Brylcreem were beginning to become commonplace after the war, and players like Tommy Lawton and Bert Williams leant their names to austere-looking hardbacks.
A typical photospread would feature, say, Scottish midfielder Jimmy Dudley sitting in his front room, antimacassar over the back of the chair to avoid any trouble with the pomade, with Pip the family budgie perched on his forefinger (all footballers had budgerigars in those days).
"The caption would read: 'Rapt audience is Mrs Evelyn Dudley, [daughter] Janice, Twinkie the dog, and Rip the cat.- Janice looks terrified; Rip looks interested, pondering dinner; and fluffed-up Twinkie could probably do a star-turn at Crufts.'
Critical
Football annuals subsequently rode the wave of early television coverage (early Kenneth Wolstenholme yearbooks and Peter Dimmock's Sportsview annuals are monochrome beauties) and then truly exploded in the aftermath of England's 1966 World Cup triumph, then into Technicolor just ahead of the carnival of yellow, green and gold that was Mexico '70.
Some of the writing was far more critical than you'll find in any publication in the seasonal aisle in the supermarkets this Christmas. Bill McGowan, sports columnist of the London Evening News, devoted six pages to the 1954 FA Cup final in Billy Wright's Football Album of that year, but considered much of the football 'distinctly second rate' and 'humdrum . . . one of the poorest finals I have ever seen . . . and Tom Finney has never played a more disappointing game.'
But to read that kind of thing is a nice change from today when everybody pretends that they're watching the greatest game ever'.
Reading the book is to take a step back in time, but beware. You might not fancy coming back.