Rangers FC finally put manager Giovanni van Bronckhorst out of his misery this week, sacking the Dutchman after just over a year in charge.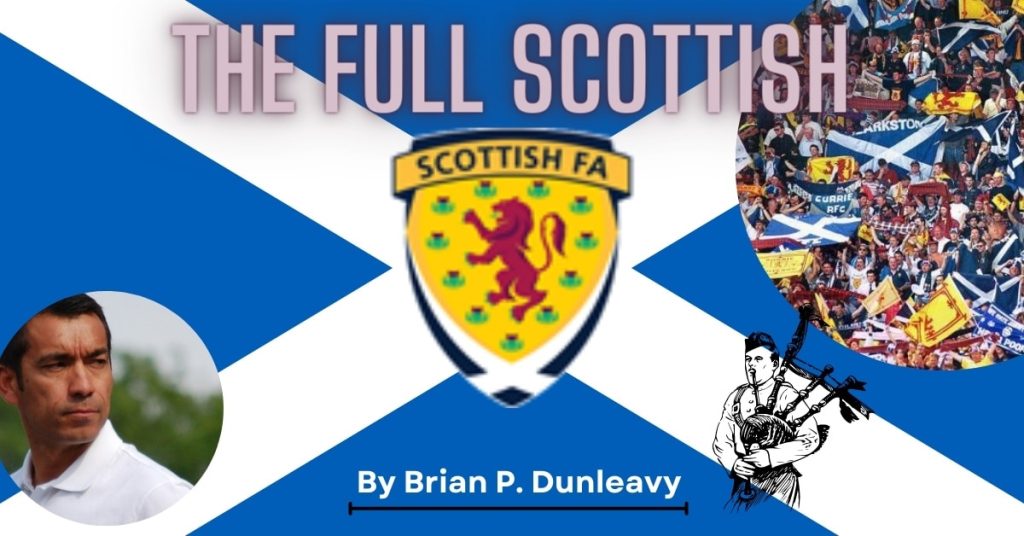 The Full Scottish by Brian P. Dunleavy
Yes, it was only in May that the former 'Gers midfielder led the club to the Europa League final, which they lost in agonizing fashion on penalties.However, it was the side's recent league form that cost him his job. After dropping points to St. Johnstone and St. Mirren recently, Rangers sit nine points behind rivals Celtic.
This after losing the title last season to Celtic, in Parkhead bench boss Ange Postecoglou's first season in charge. Such is life in Glasgow that you can win 42 of 68 matches during your tenure—drawing 12 and losing 14—and it isn't good enough. When you're Rangers, or Celtic, you're supposed to win every week.
The conventional wisdom, at least in the media, is that the Ibrox hierarchy had to make a change now that the league is "out of reach." On the contrary, we see the change as necessary—such as it is under the unwritten rules of the game in Scotland—because the league is still attainable, albeit with a minor miracle. (There's also the 17-goal gap in goal differential to contend with.)
Certainly, Celtic aren't counting their chickens, as evidenced by defender Carl Starfeldt's comments this week, which indicate he and his teammates still believe there's work to be done. Indeed, the only question about the timing here is why it took so long. The decision was made 10 days into the World Cup break and after the latest bad result (a 1-1 draw against St. Mirren).
LATE CALL
On paper at least, this was a call that could have been made in the immediate aftermath of that match, allowing even more time for the club to find a replacement, bed them in and get them working with players not in Qatar. Instead, it appears as if the Ibrox board waited to make the decision at a time when it would be pushed off the back (and front) pages of the tabloids by the World Cup, or at least when attention paid to club news would be diminished. Naïve, at best.
Now, though, comes the hard part: Finding a replacement. Steven Gerrard has been mooted, but he was given a higher transfer budget during his first tenure—in an effort to "stop the 10"—than he would ever receive now (or that van Bronckhorst had, to be fair). Based on how Gerrard fared at Aston Villa, it's hard to see a second go-around working out well.
Is there a candidate within Scottish football? The bloom has fallen off Derek McInnes' rose, and Hearts' Robbie Neilson doesn't seem like a fit, given his personal ties to Tynecastle. Former Fulham and Bournemouth boss Scott Parker has been mentioned, but his resume doesn't exactly ooze success. That leaves foreign candidates who may or may not have a full understanding of the expectations in Glasgow.  And that, history tells us, can be hit or miss.
And Rangers can't afford a miss.