It's been a week – a season – where Tottenham's Dele Alli has been catching the eye and receiving the plaudits, culminating in England manager Roy Hodgson suggesting that he could even become the new Bryan Robson.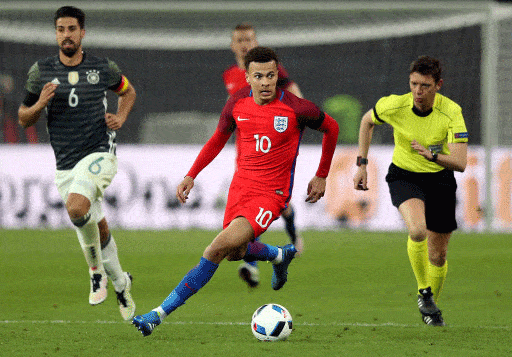 By Dave Bowler
Now, as anyone who remembers watching him from the late 1970s and into the early 1990s will recognise, that's fighting talk from Roy because those that can still see Robson's career with a clear eye will surely recognise that he was one of England's greatest ever players, one of the handful we've produced of genuine, out and out world class.
Such were his gifts that he played in pretty well every outfield position over the years and didn't simply acquit himself well in each, he made himself the star of the show.
So good was Bryan that in club sides  dripping with magnificent gifts and enthralling talents – Laurie Cunningham, Cyrille Regis, Mark Hughes, Ryan Giggs – and consistently enduring professionals – Tony Brown, John Wile, Steve Bruce, Paul McGrath – week upon week, it was Robson who was the man of the match, often head and shoulders above even that stellar company.
Bryan Robson
Robson was an eight out of ten or more every single game, 50 or more of them a season. Utterly dependable he was also genuinely explosive.
He would win a crunching tackle on the edge of his own penalty area, feed the ball out to the wing or the nearest midfielder, pick himself up, go sprinting 80 yards forward and then arrive on the edge of the opposition penalty area with the same exquisite timing of a Lineker to crack another effort goalwards.
Some 115 goals in 571 league games and 26 in 90 inter ationals is a magnificent ratio, all the better when you recall that he played plenty of games at centre-half too, a position many considered to be his best and most natural before it became obvious that he was simply so talented that you were wasting 50% of his ability by requiring him to stay in his own half.
Robson, quite simply, had the lot. He was strong, quick, a good passer over long and short distances, decisive in the tackle, powerful in the air, a consummate reader of the game, a great finisher and a real leader of men. Not for nothing did England boss Bobby Robson refer to him as Captain Marvel.
Injuries
Had injury not been such a regular visitor, often the consequence of his own almost suicidal bravery, then perhaps Manchester United would have won rather more before Alex Ferguson arrived, perhaps England might have gone further yet at the 1986 World Cup.
Dele Alli is clearly a very gifted young footballer with the potential to go on and have a glittering career. But he has enough to contend with in just playing the game without saddling the poor lad with Robson comparisons.
Alli he might be, but it's Robson who was the greatest.