Just before St Patrick's Day, Irish football lost one of its greats with the death of Dave Walsh at the age of 92. And yet Walsh could very easily have been lost to the game, as he explained in an interview in 2007.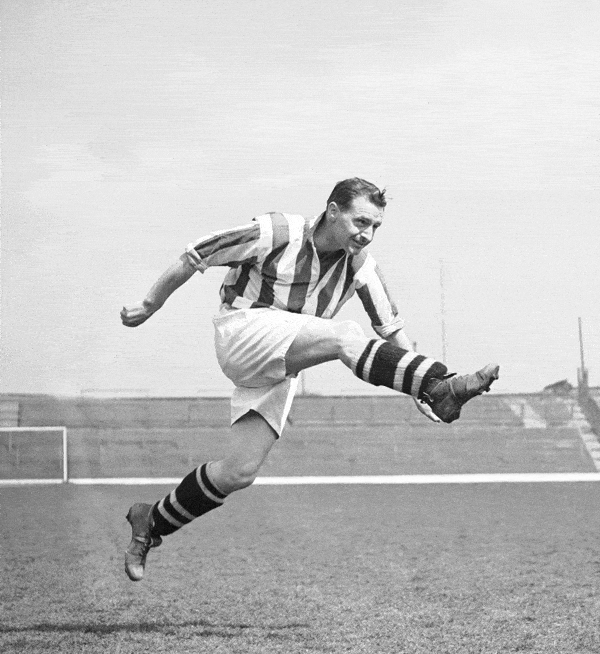 Dave Walsh – Irish Legend
"I was born in Waterford, and I was very involved in the Gaelic stuff first, then hurling before I played football. My father was a great Gaelic man, and it was taboo to play soccer, soccer was an English game! That was how it was in those days, you couldn't really play both games, it wasn't allowed.
"I used to play junior football for a local team, and one morning, we played football at 11 on a Saturday morning and after we finished the match I walked straight past my house to go and play in a semi-final of a Gaelic cup competition which we won easy enough.
"There was a photograph taken of the football match because we were playing in a junior cup of some kind and then on the Monday night in the local paper, there was a photograph of the soccer from the morning and both myself and another lad were spotted. So the opposition objected, the result was overturned and we were both suspended from playing for six months. I carried on playing football while I was suspended so that really pushed me further down that road.
"The club I played for had three teams, a minor team 'under 18s' a junior team, and then the senior team. As it happened, I used to play outside-right in the junior and senior team because we had a very good center-forward in the team. One day, he was missing because he had to play a rugby match and so they put me in there, in the junior team, and I scored eight goals, which I think is still a record back home. And that's where it really started.
Taxi To Limerick 
"Waterford didn't have a professional team then and so there was nothing really to aim for there. But there was a chap from the town who was watching the game, and he played for Limerick. He talked to me afterward and said, 'What about coming over to Limerick, playing a match, and seeing how you get on? So I told him, 'No, the old man won't allow me to go and play.' I asked my father anyway, but he said, 'No, no way!' I was still at college, at tech then.
"But I wanted to go and so in the end, I went up in a taxi, 84 miles, and we played St James' Gate, a professional team. I scored two goals in my first game. Limerick had only scored one goal since the start of the season, and this was in the October!
"The next day, the national papers were full of all this stuff about a new find, the old story you get, and so I played for Limerick from there. We got to the semi-finals of the cup, we got beat then, but we had a good season – this was 1942/43.
"Back then, at the end of the season, you'd have six teams from the north and six from the south taking part in an Inter-City competition. Limerick weren't involved and I went on loan to Shelbourne, the Dublin team, and we played against a team called Glentoran, home and away.
---
Broken Bones In Linfield
"We won the two matches, I scored in each, and then we had a game against Belfast Celtic and Jack Vernon, who later came to West Bromwich Albion as well, was the centre-half for them. They were a very good side and put us out of the competition.
"From there, I moved to Linfield for the next season. I broke my collarbone twice that year, and they weren't going to sign me on again, but they kept me there in the finish. The former Manchester United goalkeeper, Tom Breen, he was a big friend of mine and Jack Vernon's, and he was playing at Linfield as captain.
"He went in to see the top people and said, 'If you don't sign him, he's going to Belfast Celtic, they want him. So that changed their mind pretty quickly and I was lucky, from then on, everything went well. We won the league, we won the cup, we had a very good team. In my last season, 1945/46, I scored 73 goals, it was a wonderful year. It was just expected of me, every time I went out on the pitch, I was expected to score goals.
"We still used to get the Army lads playing for us as guests, so we had some great players. I played with Willie Waddell, outside-left who was a Scottish international and a Liverpool player, but he played inside-left to me, then I had George Brown from Charlton at inside-right. I'm just a young boy at centre-forward, but I was in very good company!"
Nobody could score 73 goals in a season and go unnoticed and with war over and football gearing up for the resumption, Dave had caught the eye of some clubs from this side of the Irish Sea, including West Brom.
Offer From The Albion
"That year, Fred Everiss, the Secretary, and Claude Jephcott, one of the directors, came over from the Albion to watch some games, an Inter-City game against Bohemians, a Dublin amateur team. We'd beaten them 8-0 in Dublin so the return was pretty straightforward. I didn't know anything about it, nobody said anything to me, but after the match, the secretary called me in and said these two chaps wanted to see me and so I sat down with them.
"So they said to me, 'Would you like to come across the water and play?' So I said, 'Yes, I would.' But at that time, Major Buckley, who went to Wolves later on, he was with Notts County then, and he was supposed to be coming to see me as well, so I was aware that clubs were after me.
"Albion said, 'We don't think you'll get in the team, but we'll sign you and bring you on.' They offered £3,500 for me, and in the end, I think I was the first transfer to England after the war from Northern Ireland. Well, £3,500 was a lot of money to Linfield, so when I went in to see our secretary afterward and he asked me what I thought, I said, 'Well what's in this for me?'
"He said, 'What do you mean?'
"So I told him. 'I want a third out of whatever's coming!'
"The secretary said, 'We can't do that!' So I told him that in that case, I'd just go back to Limerick because back then, they couldn't hold your registration from the north to the south, you could just move without a fee. So I got my thousand quid! That was a lot of money back then as well, though not so much once the tax people had taken their share! But I'd been at school for such a long time, then college, so I had a little bit of brains.
"In fact, I actually made more from that move than I did when I went to Villa for £23,750. In those days, you got a benefit payment for each year you played for a club, and my accrued benefit as I left was £688 less £222 tax – I can remember reading the payslip now!"
Playing For Northern Ireland
Walsh had a fine career in England with Albion and then Aston Villa but he continued to score goals at international level too, that level playing a big part in Dave's career as he is one of the few who has the distinction of playing for two different countries' both sides of the Irish border.
"The international thing was very strange after the war Northern Ireland only really played in the home internationals and the south didn't play very much at all so up to 1949, you could play for both. Then when the World Cup started again after the war, going to the 1950 competition, the rule was that you had to play for the country where you were born and I was born in the south so that finished me with the north."
Beating England
So, which was the first foreign team to beat England on home soil? The 20,000 of you that just said Hungary have got it wrong. The enduring image of Ferenc Puskas sending Billy Wright the wrong way at Wembley came from their second defeat to the terrible foreign hoards. The first beating came four years earlier, in September 1949, at Goodison Park.
"I was a member of the first foreign team ever to beat England in England – it wasn't the Hungarians at all, it was Ireland, but nobody paid any attention to that! We won 2-0, against Billy Wright, Jimmy Dickinson, Neil Franklin, Bert Williams, Wilf Mannion, Tom Finney, great players.
"Con Martin played – he was at the Villa then – and he wrote an article in the Irish press not long ago, talking about that game and he said, 'There was no fuss about it, we just came in, took our jerseys off and that was it. West Bromwich Albion had come down to watch the game and I just got on the bus back with Dave and the rest of them to the midlands. That was it, nobody thought anything about it.'
"But looking back, that was some win. I know that some of the writers reckoned that was the best football match I ever played, and I was told that that was why George Martin wanted to buy me for Villa when he went there as manager a year later.
Ferry To Belfast
"International football was very different to the way it is now. I remember one time, we played Wales in Belfast on a Wednesday night, and both teams met up in Liverpool to get the boat across. Matt Busby came down with Jack Carey, the captain at Manchester United – Matt always came to the games, and they were travelling across with us.
The overnight boat, the bunks are tiny, it was just a little cubicle. Actually, the Albion looked after me very well in a lot of respects. If we went off to international matches, Fred Everiss would come with us if he could, Albion paid for our tickets and then we claimed it as expenses from the Irish FA. I think it was £12. Lavish!
"Anyway, Albion always booked us in for these bunks, so me and Jack Vernon were off to our cabin. On this particular night, the boat was packed. As me and Jack were looking for our cabin, Matt Busby came over and said, 'I've got bad news for you two chaps. Jack and myself are doubling up in your cabin!' Four of us in this tiny little cupboard, we never got a wink of sleep!
Golden Caps
"Playing for your country is some thing. And we've been rewarded for it, recognised I  suppose you might say. The Irish FA awarded us all former players golden caps as recognition at a special ceremony and they came from all over the place to this dinner. There were over 300 players, from America, Canada, Spain, all over, they all came to collect their cap, it was some occasion.
"Johnny Giles was the instigator of it all I think. They flew us out there, put us in hotels, we went to a game, and I never had to spend a penny while I was there! We had a green wristband and wherever you went, it was covered!"