Whichever way you slice it, and whichever team you support, the performance of Scottish clubs in European competition so far this term fails to inspire.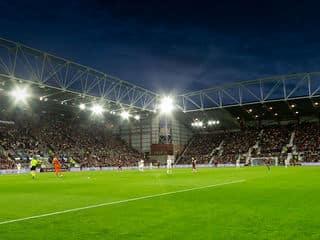 The Full Scottish By Brian P. Dunleavy
Yes, Celtic were able to stay with champions Real Madrid for nearly an hour Tuesday night—missing two glorious chances in the first half—but ultimately succumbed 3-0, with their supporters arguably earning more plaudits than the players (captain Callum McGregor's performance notwithstanding).
The next evening, it was Rangers turn to be dismissed, this time by Ajax in Amsterdam. It marked their second 4-0 defeat in as many matches, after falling by the same score to Celtic on Saturday.
The result was enough to initiate rumblings in the press about the future of 'Gers manager Giovanni van Bronckhorst. Conversely, his counterpart in the East End, Ange Postecoglou, was mentioned as a candidate for managerial vacancies at Chelsea (not sincerely) and Brighton & Hove Albion (sincerely) this week.
With matches postponed this weekend, we wonder whether either or both could move on, each under far different circumstances. A few rungs down the UEFA ladder, Hearts were left to blame officiating for their European demise, while the incredible collapse of Dundee United against AZ Alkmaar ultimately cost Jack Ross his post as gaffer at Tannadice (the subsequent 9-0 thumping at the hands of Celtic didn't help).
This after Motherwell was bounced from the Conference League by Irish side Sligo Rovers during qualifying, a result that led to dugout changes at the Scottish club as well.
Europe
We all know the numbers: Scotland is a small country, at least compared with Spain and the Netherlands. And, the budgets at Real Madrid and Ajax dwarf those of Celtic and Rangers, respectively, which, in turn, dwarf those of their counterparts in the Premiership. But the inability of Scottish clubs to even compete in Europe doesn't bode well for the sport's reputation—and future. How long will it be before supporters of Glasgow's "big two" begin clamoring for a move to the English FA, with all its riches?
And, should that ever occur (unlikely, under current circumstances), what will happen to medium-sized clubs such as Hearts, Hibs, Aberdeen and Dundee United? We ask because, before long, others will too.
****
Speaking of Dundee United, questions are being raised about the future of American owner Mark Ogren, the man who brought Ross to Tannadice—and gave him a dreaded vote of confidence—in the first place. Ogren's stewardship has seen unprecedented investment in the playing staff; however, it has also generated some £9m in interest-free loans. Soon, those will need to be paid off and, with the club not turning a profit, that could become problematic.