2009 Scott Carson Interview By Dave Bowler

Lighter than air, wigglier than Cheryl Cole on a set of shaved stilettos, the new generation of footballs are less predictable than Mike Ashley.
Give a goalkeeper a chance eh?
Changing Roles
For those of a certain age, the increasingly regular sight of goalkeepers up and down the Premier League resorting to punching what are seemingly the most innocuous of shots away rather than clasping them to their bosom is one that jars. Back down the ages, from Banks to Clemence, from Shilton to Seaman, the conventional wisdom was that if the ball was there to be caught, a goalkeeper caught it and from there, the balance of play shifted, his side going from defence to potential attack.
But that's not the way it is these days. The change in the composition of the ball we use means it flies around all over the place, far less easy to predict, far more likely to suddenly nip off on an uncharted course like a remote controlled jet, leaving a goalkeeper clutching at thin air. Nowadays, it's time for the safety first course of action as West Bromwich Albion and England goalkeeper Scott Carson explains.
Tricky Balls
"I think the authorities have got it in for goalkeepers, because every year they want to make it tougher for us! The way that the ball changes year after year especially creates big problems, they just get lighter and move more and more in the air.
I watched a clip from the Brazil – Ecuador game on TV last weekend and one guy hit a shot from 35 yards, the goalkeeper had got it covered and then at the last second, it's moved again, got away from him, but luckily for him it's gone wide. They move all the time they're travelling which is why so many goalkeepers end up punching the ball such a lot rather than catching it, because you just can't trust the way it's going to come at you. It's becoming really tough.
" If you get a clip from say 15 years ago with the old Mitre Delta ball, they were pretty true, goalkeepers would catch it nine times out of ten, but now, the speed that crosses and shots get whipped in, you can't do that. We do get asked for our thoughts on the balls but whatever we say, nothing seems to change! We're always the villains anyway, because everybody but us wants to see more goals go in.
Sweeping
The game is changing every year in other ways, because we're going from being shot stoppers to people working on your distribution from the back, playing with the ball at your feet, your throwing, sweeping up behind the back four. You get asked more and more questions all the time so there's increasing responsibility on goalkeepers all the time."
At least Scott has the consolation that he's working with a proper ball. Had he chosen to go down a different path back in his youth in Cumbria, he might have been chasing the oval ball instead. That one doesn't even bounce properly.
"I grew up in Cumbria, it's a big rugby league area up there, there's not so much football played there. Carlisle United are the biggest team probably, with Workington and Barrow as well. But away from that, it's rugby league which is pretty dominant really. I played a little bit when I was younger, but football was always my first love, that was what I was most interested in doing.
I was able to mix the two up for a while, played rugby and football at weekends but as I got older, I concentrated on football instead, and called it a day with rugby at about 14. You get more protection as a goalkeeper than playing rugby!"
Cleator Moor Celtic
Once Scott really began to focus on football, elevation to the senior game came quickly, first locally and then on the bigger stage.
"My local team was Cleator Moor Celtic and that was where I started out, playing in the men's team when I was 15. Workington spotted me there, but I only had a couple of games for them.
"Peter Hampton was the manager, he used to play for Leeds and he still had a lot of contacts there and he took me and one of my mates to Elland Road to have a trial, and fortunately I got invited to go back in the school holidays, and in 2002, I joined the Academy there which was a huge step up because they were a big Premier League team, they'd reached the semi-finals of the Champions league before and everything seemed to be going great there."
Leeds
This was just after David O'Leary and his famous team, "My babies", had torn the Premier League up, Leeds putting out a team full of exciting young talent in the mould of the Manchester United blueprint of a few years earlier, the likes of Jonathan Woodgate and Alan Smith looking set to help Leeds dominate for years to come. At the time, there was probably no better club for a youngster to join.
"They had a fantastic reputation for bringing young players through at that time, there was a multimillion pound Academy set up, so it was a really exciting place to go and be a part of. The standard of coaching was terrific, they were willing to give you a chance to play so I couldn't have had a better opportunity and it was a wonderful platform for me to start my career from there.
"When I joined, Nigel Martyn was getting a few injuries and he was swapping with Paul Robinson in goal. Robbo did really well when he got his opportunities and then Peter Reid made Robbo the number one outright.
"Nigel left to go to Everton early in the 2003/04 season because he needed to play regularly at that stage of his career, and Peter Reid said he was going to put me on the bench which was a massive step forward because I was only 17, just turning 18 then.
Bench Keeper
"It would have been easy for Peter to go and get another experienced goalkeeper to come in and be the back up because managers always tend to like having an older goalkeeper around the place, so I'll always be grateful for the faith he showed in me while he was there."
Scott understudied Robinson and got a few games under his belt the following year, but he was victim of that curse which stalks all goalkeepers – only one can play at any one time. As time moved on, he started to look for another opportunity.
"My contract was up in the summer of 2005 and there were a few clubs interested in buying me at that stage. I loved it at Leeds, but Peter Reid left, Kevin Blackwell came in in the summer of 2004 and he brought Neil Sullivan in, so I wasn't really getting any games and that was becoming frustrating.
Liverpool Offer
"Of the clubs that spoke to me, Liverpool looked to be the best option, and it's hard to turn down an opportunity of going to a club like that.
"Even if you are only on the bench, being in the dressing room with great, world class players, being part of the massive European nights, it's a real learning curve and you find out a lot about getting prepared for those games, how to train, how to get your mind ready for the big games, things like that.
"To know that you were a part of that, that Liverpool had gone out and bought you, that does a lot for your own self confidence, it makes a big difference to think that somebody like Rafa Benitez thinks you're worth taking to the club.'
Champions League
"I played nine games over the time I was there but I played in some big matches, especially the Champions League quarter-final against Juventus.
"Anfield is pretty special on nights like that, but when you're at Liverpool, you know that there are no small games, every team always wants to beat you, you have a lot to live up to and you're judged by the highest standards, so it doesn't matter who the opposition are or what the occasion is really. Just to get out there and play in front of the Kop is an incredible atmosphere and an unbelievable experience."
During that first campaign at Liverpool, Carson was involved in some extraordinary games, not least being on the bench as his team came from 3-0 down to Milan to win the Champions League final on penalties, bringing him a first medal, a medal like hat won by his big goalkeeping hero.
"My hero as a kid was Peter Schmeichel, he was the one that stood out for me and the goalkeeper that I probably modelled myself on, if there was anybody. He took goalkeeping on to a different level, and he dominated the position really through the 1990s.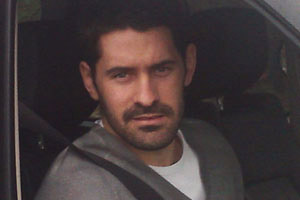 Rafa
"When you play, you don't look up to other players the same way, you're too busy playing. But you try to learn from everybody and I've been lucky with the variety of people I've worked with. I've had all kinds of managers from the likes of Peter Reid, Rafa Benitez, Martin O'Neill, Alan Pardew, the gaffer here and a few others and they all have their different ways of dealing with goalkeepers and with what they want from you.
"Some of them will just leave it to the goalkeeping coach, let him get on with it day to day and only if there are any specific things they need to look at or sort out, then they'd come and work with you or talk about it, but they have the attitude that the goalkeeping coach is the specialist, he knows best so let him do his job.

Other managers want to be more involved, and then with somebody like Benitez, the Spanish style is a bit different to how we are. They're brought up a little bit differently, we get brought up to be shot stoppers, to deal with crosses and that kind of thing where I think the Spanish goalkeepers are brought up to be more comfortable with the ball at our feet as well, to play with it and join in with the back four.
Improvement
They work on different distances and set ups between the goalkeeper and the back four and that was a really helpful thing for me to see, just to be exposed to a different way of thinking about goalkeeping. There are all kinds of things you see and you have to decide what bits work with your game and what doesn't.
"The more people you work with, the more ideas you come across, the more things you have to think about, it can only help your game in the long run.
"It's good getting that kind of wide experience but at the same time, it has been difficult the last couple of seasons to be at a different club every year, getting used to a new way of playing, working with a brand new back four. You can't expect to click straight away, to get into the same way of thinking as people you haven't worked with before. It takes time to get an understanding."
West Brom
Still only 23, for all that he's achieved, Scott is very much in the infancy of his career for given luck with injury, he's got another 15 years at the top ahead of him should he want it, with his peak year still some time away. Experience is a key teacher for the goalkeeper and on that score, he's working in an ideal environment.
"Joe Corrigan is a great coach to be working with. There's always good banter flying about on the training ground, it's a good place to be, but he works you really hard. He's always got interesting things to say and different little things to try out.
"He had a great career as a player, played at the highest level, he's worked with some top goalkeepers since then since he packed in playing and you can't fail to learn from him.
"And it's the same working with Dean Kiely as well at Albion, he's been absolutely brilliant with me, I can't speak highly enough about him. We get on really well and if I've got any problems, you can always talk to him and he'll give you his thoughts. He's been at the top of the game for a long time now, played hundreds of games so there's nothing he doesn't know."
Joe Corrigan and Dean Kiely have plenty in common, not least the fact that both have gone to the World Cup in the past, Joe with England, Dean with Ireland. Those are footsteps that Scott will be looking to follow in just over a year from now. It's a great goal to be working towards.
England
"David James is pretty much set at number one at the moment but there's probably half a dozen other goalkeepers who could get the other two places in the squad, so it's going
to be difficult for any of us. But as long as you play every week, you will give yourself a chance.
"I think I've done OK this season, but the more games you get under your belt, the more consistency I can bring to my game. Mr Capello is going to be looking for goalkeepers he can trust if we get to South Africa, so I've got to try and make sure that I do a good job here. If I do that, it's good for Albion and hopefully it will give me a chance to get in the squad."