Chicago Fire former Fulham star Brian McBride is thrilled to see his ex-teammates at Fulham qualify for next season's Europa League.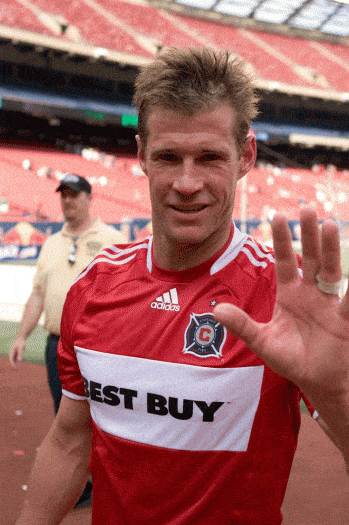 McBride, who now leads the line for the Chicago Fire, spent four-and-a-half seasons on the banks of the Thames, scoring 40 times in 154 appearances. The striker served as the Cottagers' captain during the 2007-2008 season and was also voted the club's player of the year in 2005, 2006, and 2008.
"I am so excited for them, I really am," he told First Touch, after his side's recent 1-0 win against the Red Bulls. "I am excited for the chairman, the coach, and all the guys. They have put in a lot of hard work in the last year and a half."
Europe
Despite losing 2-0 to Everton on Sunday, Tottenham's 3-1 defeat by Liverpool guaranteed that Fulham finished seventh, ensuring European qualification.
McBride, who played a key role in ensuring the side's Premier League survival in 2008, heaped praise on Fulham manager Roy Hodgson. Fulham were languishing at the wrong end of the table when Hodgson arrived at Craven Cottage in late 2007, but he has now taken the side into Europe for the first time in seven years.
"From day one, he came in and organized us and made us difficult to beat," he explained. "He changed the mindset – he got the team believing in themselves but also understanding how each player's job relates to the team."
Another of McBride's former teams is also flying high at the moment, much to his delight. The Illinois native scored four goals in eight games during an impressive loan spell at Everton in 2003, and he is eagerly awaiting next week's F.A. Cup final, when the Toffees take on Chelsea.
David Moyes
McBride goes back a long way with Everton Manager David Moyes, who first brought him to England when he was manager of Preston North End in 2000.
" I would love to see Moyesy and Evertonians bring home the cup; that would be awesome," he said, with a smile on his face. "It would be a well-deserved end to a good season for them."
McBride's former U.S. national team-mate Tim Howard has played a crucial role in Everton's recent success, saving two penalties in the semi-final shootout against Manchester United and breaking the club record for clean sheets in a season. The former MetroStars keeper registered 17 shut-outs during the campaign, breaking Neville Southall's club record of 15 clean sheets.
Howard, who was born in North Brunswick, New Jersey, will also become the first American to play in two F.A. Cup Finals when he lines up against Chelsea next week.
"He is an exceptional goalkeeper – he has got quickness that is second to none. Also, he is a good communicator," said McBride. "I'm happy to see him doing great."