Paul Rice talks to FIrst Touch about the action group 'Spirit Of Shankly', England's first football supporters union.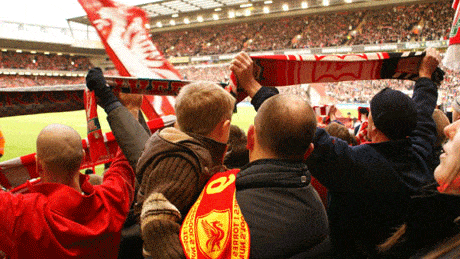 Interview With Spirit Of Shankly President Paul Rice
May 2009.
It's Saturday morning in New York. The 11th Street Bar starts to fill with red shirts for Liverpool's crucial Premiership match away to West Ham. Bitter rivals Manchester United will have to mess up in their remaining games in order for Liverpool to stop them equaling their record 18 titles, but hope prevails.
Hope is what Paul Rice is all about. Paul is the president of the action group 'Spirit Of Shankly', England's first football supporters union, formed to combat some growing problems within Liverpool FC. Paul is here to spread the word to his New York brethren, but first order of the day was a sit down interview with First Touch.
"Spirit Of Shankly started around the time that the news had broken that the American owners were talking to Jurgen Klinsmann about taking over behind Rafa Benitez' back," Explains Paul. "Around that time news was starting to break that they weren't all they'd promised to be in terms of what they were doing with debt on the club etc. So at that point I think probably for the first time ever Liverpool fans, who'd not been known to get involved with the supporters movements previously, felt that they had to do something.
Pub Meeting
"A group of fanzine editors and other supporters who'd been involved in things like 'Reclaim The Kop' called a public meeting at the Sanden Pub, which ironically is where Liverpool was formed when they broke away from Everton back in 1892.
"Much to our surprise 350 people turned up and we were packed to the rafters. It was clear then that there was not only an appetite but also an anger that needed to be harnessed to make sure that the club wasn't going to be taken away from us. From that point on we've just gone from strength to strength.
"Although the focus is very much about the current owners, it's quite clear that there are a number of other things that people wanted representation on, not least in terms with how the club deals with the supporters."
Gillett & Hicks
For those not familiar with the relationship between Liverpool fans and the current owners, American businessmen George Gillett and Tom Hicks, well let's just say it hasn't exactly been harmonious. "I think the fundamental problem is the dishonesty," says Paul.
"They made it clear when they came in with a huge charm offensive that they would put no debt on the club, and that there would be a spade in the ground in the new stadium within 60 days. Within a very short period of time they'd reneged on both those promises.
"If you listen to them now it's all down to the credit crunch. 'How can we possible expect
the stadium to be built now?' But the truth is there was a long, long period where they'd actually done nothing before there was a hint of the credit crunch.
"So I think that's the fundamental problem and the anger of that just mounted and the straw that broke the camel's back was the business over Benitez and Klinsmann."
What are the benefits to the individual supporter who joins Spirit Of Shankly?
"The first thing is that they are able to be part of an organization that speaks up for the club," explains Paul. "I think what's happened over here in the last few weeks with the Steve Cohen affair is a classic example of how you can actually make a difference with one voice.
"What we've seen is that the club takes us very seriously and realize we are a force to be reckoned with.  Certainly the new Commercial Director Ian Ayre sees us as an organization not to stand against, but rather as a critical friend and a good sounding board for them taking the club forward."
Hillsborough Disaster Media Lows
Speaking of Steve Cohen, the Fox presenter has recently been making news for himself through a number of persistent and unsavory comments about the Hillsborough tragedy, wrongly blaming drunk or ticket less Liverpool fans for the deaths of 96 of their own. What would Paul say to him if the Murdoch mouthpiece were to walk in here today? (Highly unlikely I might add).
"Personally I wouldn't say anything to him. I don't think he deserves the dignity of a response. I think it's entirely the correct thing that the North American Liverpool Supporters branches have done in terms of going after his sponsors and getting rid of his program rather than trying to respond to him, because clearly there is no point in speaking to him. There is no reasoning, no logic there. All the evidence is there to prove that he is wrong."
Feelings are obviously running very highly about this matter.  It's a problem that SOS could do without, but it also highlights the need for such an organization.
Murdoch Boycott
In its short existence the Union has had to extinguish one or two other new flare-ups. Immediately following the Hillsborough disaster, The Sun newspaper was hit hard by a major boycott on Merseyside due to its own distorted and disgusting version of the events.  They were the original Murdoch mouthpieces from which Steve Cohen apparently takes his cue.
The tabloid has since been slowly trying to regain credibility in Liverpool, with little success it seems. Even though this happened 20 years ago, The Sun became a new problem for the SOS just last year, as Paul explains;
"We had an incident last summer when Carlsberg were about to run a promotion with The Sun newspaper where if you sent in so many tokens from the paper you got free pints of Carlsberg in your local. We got straight onto the club and said 'this isn't on. They are your main sponsors, how can you possibly let them do this?' Rick Parry got immediately onto Carlsberg and the promotion was pulled. Carlsberg were really good about it. They explained it was a genuine mistake."
Early Promise
So the Union can certainly boast some early success. To their credit, they pledge to stand up for the rights of all members who come to them with problems, rather than focusing exclusively on a few major causes.
"We had an incident with the recent trip to Madrid where a disabled fan had his electric wheelchair destroyed by Thomas Cook the travel agent, and the way he was treated was abominable.  We will take up things like that.
"We've supported Michael Shields Campaign. We've supported other campaigns such as Hillsborough that have been around for a long time. It would be very presumptuous of us to say 'Right, we're here now, we'll take over', so we've taken a backseat role and lent our support to those organizations as best we can."
The SOS have also established cheaper travel to away matches for their members and next season they intend to work with Thomas Cook to provide cheaper air travel, including subsidized travel for fans coming to Anfield from Norway and Ireland. Paul is not shy about expressing his ultimate goals for the organization.
Ownership Goals
"Fan ownership is the ultimate goal," he says confidently. "The way our top football clubs in England are structured is unsustainable, that's one of the few things I would agree with Michel Platini about, and so something has to give somewhere along the line.
" I think that there will be opportunities for supporters to reclaim ownership of the club. It will have to be done slowly and imaginatively, and it would have to go beyond the romantic view of all throwing in a few quid each.
"It's something that's going to require partnerships with financial institutions, but if you take away the need for profit and leverage, and you operate on a mutual society basis for instance, then I think there is a way forward."