The New York Red Bulls have high hopes for the new MLS season after coming within a game of winning the championship last year, according to new signing Mike Petke, who became a local hero during his previous stint in New York.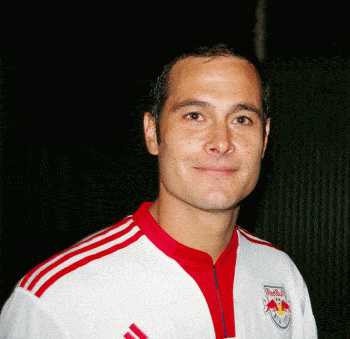 By James Rogers
"I think anything less than a Championship will be considered a failure," Petke told 'First Touch', explaining that the team will have benefited greatly from last season's astonishing run to the MLS Cup Final."I think that experience in any sport is key [and] I think that they have a lot of experience now."
The defender, who played 134 games for the Red Bulls' previous incarnation, the MetroStars, between 1998 and 2002, was given a rapturous reception when he attended the Empire Supporters Club's recent membership drive event at Nevada Smith's.
MetroStars
"When I got traded from the MetroStars all those years ago, it was one of the most devastating things in my career," he told the packed pub. "It's great to be back."
A MetroStars cult figure, Petke went on to play for D.C. United and the Colorado Rapids, and told 'First Touch' that he has already noticed the strong team spirit within the Red Bulls' dressing room.
"One thing that I have noticed is that it's a very tight-knit group, there's a lot of jokes and respect," said the Long Island native. "I have played in teams where there is no chemistry off the field, and sometimes on it as well."
Osorio
Petke also praised Red Bulls head coach Juan Carlos Osorio, who successfully guided the team through last season's surprise MLS play-off run. The Red Bulls, who only made it into the post-season by the skin of their teeth, eventually clinched the Western Conference title and reached the club's first-ever MLS Cup game, where they were beaten 3-1 by a strong Columbus Crew side.
"I know Juan well, he was my assistant coach for three years at the MetroStars," said Petke. "He's a very serious person when it comes to soccer, and you always know where you stand with him – it's a great thing for me to have as a player."
Led by their captain and last season's leading goal-scorer Juan Pablo Angel, the Red Bulls will visit expansion side Seattle in the MLS season opener on Thursday March 19th.
Stover
Red Bulls managing director Erik Stover also attended the Empire Supporters Club event, where he explained the delayed opening of the eagerly-anticipated Red Bull Arena. The Red Bulls' current home, Giants Stadium, is unpopular with many of the team's supporters, who feel that the vast 80,000-seater stadium lacks atmosphere and is difficult to access via public transportation.
The Red Bulls, who had an average attendance of around 16,000 last season, are building a state-of-the art football-specific stadium in Harrison, New Jersey, which was originally scheduled to open during the 2009 season. The club, however, has been forced to push the stadium's opening back until the start of the 2010 MLS season.
Red Bull Arena
With the MLS regular season running until late October, the club had hoped to play at least some of their late-season games at Red Bull Arena, although their match schedule and the ongoing work at the new site mean that this is now impossible.
"The infrastructure there has not started – the sewer lines, the plumbing, the water, the electrical, roads, streets, fire hydrants, they haven't started that," explained Stover. "We think that's a nine-month project: count nine months from now and where are we at – we're at the end of the season."
"It's painful, it keeps sliding, but it's really a four to eight-week slide that we're talking about, " he said added, acknowledging the supporters' frustration. "I still believe that if everything goes well, we're going to finish in 2009, but not in time for the regular season."
Transfers
The managing director also discussed the club's close-season transfers, which saw the departure of popular midfielder Dave van den Bergh, forward Mike Magee, and defensive stalwart Jeff Parke. Incoming players include Petke and forward Domenic Oduro, who was traded from FC Dallas as part of the van den Bergh deal.
"One thing we decided that we needed to have happen during this off-season was to get a player to partner with Juan Pablo Angel," explained Stover, adding that the former Aston Villa striker has "suffered a lot" from tight two-and even three-man marking.
"Domenic Oduro, we believe, is going to be that partner," he said. "We think it's going to solve our forward problems, and now we're working on the back line."