Major League Soccer is making all the right moves to carve out a place in the highly competitive U.S. sports landscape, according to Joan Laporta, Barcelona's club president.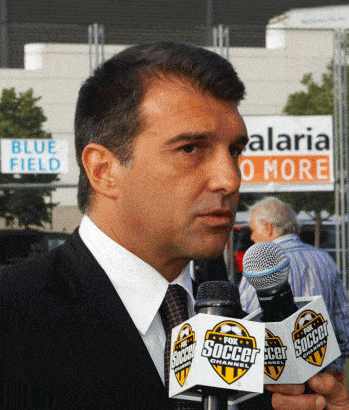 By James Rogers
"Professional football, the 'MLS', is growing 'step by step'," he said, in an interview with First Touch during the build-up to the Spanish giants' game against the Red Bulls this week.
"I believe that is a very intelligent approach so that football can have success in this country, where [the sports landscape) is more complicated than in Europe."
After the spectacular rise and fall of the North American Soccer League (NASL) in the 70s and 80s, MLS officials taken a much more cautious and pragmatic approach to rebuilding the sport in the U.S. By slowly expanding the league and avoiding an over-reliance on big-name foreign stars, officials are looking to avoid repeating the mistakes of the past.
Grass Roots
To this end, MLS is working hard to nurture home-grown talent and build long-term foundations for the game, something that Laporta feels is critical to its long-term success.
"I think that football in general is growing a lot at the 'grass roots'; in colleges, and also women's football," he said, but warned that there are still major challenges ahead for the sport.
"Football in the U.S. competes with some very traditional and powerful U.S. sports such as basketball, baseball, ice hockey, and American Football," he added.
"Therefore, in this complicated situation, the MLS people are growing the game in a very intelligent way; I believe that it's right for them to take their time, because that's what's needed."
Kick It To Maleria
Laporta met with journalists and fans at the Chelsea Waterside park in Manhattan after the club launched its "More Than a Club: Kick It To Malaria" initiative; a partnership with the 'Malaria no More' charity and the American Youth Soccer Association (AYSO).
After his star-studded Barcelona team played a series of small-sided games against local youngsters, Laporta explained why the Catalan club had thrown its weight behind the issue of malaria.
"It's very important to develop our corporate responsibility," he said. "Malaria kills a child every 30 seconds [but] there's a very simple treatment."
As part of the year-long "Kick It To Malaria" campaign, Barcelona and AYSO will invite the more than 600,000 children who participate in their programs to get pledges from their coaches, parents, and communities to buy $10 bed nets for children in Africa.
Fox Soccer Channel is also donating one bed net for every goal scored on its' broadcasts during the 2008-2009 season, and will also air campaign ads featuring Barcelona players.