Mid-season international breaks often make for a mixed bag. Depending on what's at stake—say, a World Cup qualifier versus a Nations' League group stage match—the football on view can (politely speaking) be less than stellar.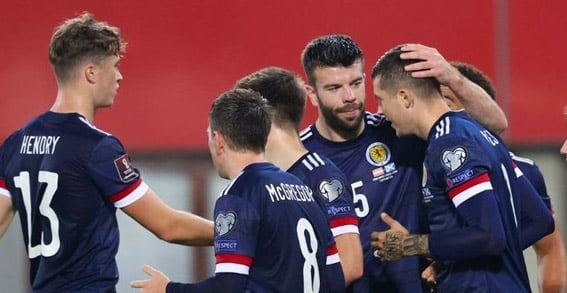 This is particularly true now that the mercilessly ongoing COVID-19 pandemic has seen, in some cases, additional fixtures crammed into each two-week break. However, when it comes to international football, it's not about the performances. It's all about the results—and the current break ends with Scotland and Ireland on opposite ends of that score.
The Full Scottish with Brian P. Dunleavy
Steve Clarke's Scotland side hardly play exciting football, but they did just enough over the past fortnight to put themselves in good position—remarkably—for Qatar 2022. Starting things off with a 2-0 loss in Copenhagen to a Denmark squad that has been punching above its weight for some time (see: Euros 2020, er, 2021) was a bit demoralizing, but two successive 1-0 wins—at home to Moldova and away to Austria (another legit side, it has to be said)—have produced some well-deserved optimism.
After six matches, the Scots sit second in Group F, with four still to play. Israel and Austria are not far behind, mind, and Denmark are well in front. Still, Clarke's must like his team's chances.
And, with Lyndon Dykes scoring both goals for the Scots, you have to wonder whether Steven Gerrard is ruing not bringing the Aussie-born striker to Rangers last summer (though, to be fair, the Ibrox side were fine without him last term).
World Cup
On the flip side of this equation sit Ireland, who played admirably in a 2-1 loss at Portugal, only to turn in tepid performances in a pair of 1-1 draws, at home no less, against Azerbaijan and Serbia. After five fixtures, the squad—which features former Celt Shane Duffy and, most recently, new Bhoy Liam Scales (as well as the injured James McCarthy) are a distant fourth in Group A.
In essence, Stephen Kenny's side will need to run the table to even have a chance to qualify for Qatar—an unlikely scenario given that the "Boys in Green" have won only once in his 16 matches in charge. That record, by the way, has put former Celtic manager Neil Lennon in the frame (as the bookies' favorite, anyway) to take over for the beleaguered Ireland bench boss. Talk about out of the frying pan and into the fire.
Lennon knows from disarray, which appears to be the norm now in Glasgow's East End, following news on Friday that Hoops chief executive Dom McKay has stepped down for "personal reasons" after just two months in the post. It remains to be seen, of course, whether this is indeed a "personal" matter or a sign of ongoing instability at the club.