Euro 2016 Semi Final: Portugal 2 Wales 0
Euro 2016 Diary: Wales Dream Run Ends As Portugal Reach Final
Winning ugly is a term beloved of professional sportsmen because, for them, the result must always come first and, if you can't win the beauty contest, at least make sure you win the game. That said, Portugal really are taking the piss aren't they?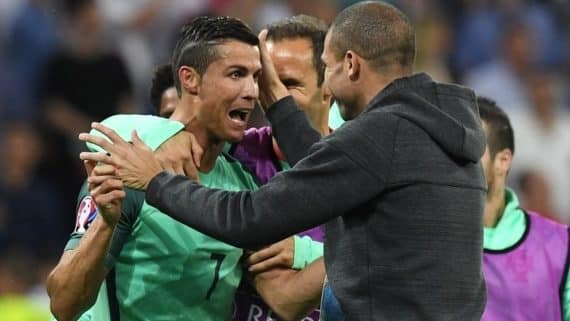 At least they actually won a game in regulation time for the first time at these championships, but what a dreadful, joyless grind it was. Credit to them for stifling a Welsh side that had shredded the Belgians, but for a team that has such attacking potential in it, to win games purely by dint of attrition is a dispiriting way of going about things.
From their perspective, it's justifiable enough I'm sure, especially given the way in which the entertainers of the past, back in the Figo era, always fell short. But from a golden generation to a dreary dozen seems a real fall from grace, whatever the rewards.
As good teams, whatever their style, do, they succeeded in ensuring the game was played on their terms, denying Wales the chance to play the sharp moving football that has brought them so far. From there, they were happy to play it long from the back and leave it to Ronaldo, Sanches and Nani to use their pace to make something happen.
In the end, it was two goals in three minutes from the big names just after the interval that settled the tie for once Portugal got in front, Wales never for a moment looked like getting back on terms.
Ronaldo On Song
It was, of course, Ronaldo who got the crucial first goal. If we haven't seen him as the creator of extraordinary footballing moments in this tournament, then he has slowly come into increasingly good form as a fine finisher. He is a genuinely wonderful header of the ball and, in the 50th minute, after losing his marker, Chester, at a corner, he rose like he was on Peter Pan wires to thunder the ball into the roof of the net.
His next action was to hopelessly misconnect with a shot three minutes later, but where nothing was going right for him in the first couple of games, now he's in a spell where he could fall down a toilet and still come up with a bar of Hershey's, his poor effort dropping perfectly for Nani to jab in from close range.
Wales will be deeply frustrated that they conceded two such poor goals, but equally, they will rue the fact that they offered so little in the opposite direction. The loss of Ramsey to suspension was a disaster for them ahead of the game and the absence of his link up play and his understanding with Bale simply took away Wales' cutting edge.
Stunning Campaign
It's been a stunning campaign for them but a small nation without real depth cannot do without its finest players and hope to prosper. So it proved this evening and a remarkable month finally came to an end.
So it's Portugal who march on to the final, and this from the least promising of beginnings. They still fail to set the pulses racing – or barely beating in truth – but they have found an extremely effective formula and neither France nor Germany will take them lightly.
How ironic it would be if, in his comparative dotage, when the flamboyant majesty of his prime is deserting him, Ronaldo finally got his hands on an international winner's medal. It's all about peaking at the right time in tournaments.