It's a tired old cliché, that one about football fans being the twelfth man, but on rare nights, it's one that can rise up and show you the last vestiges of truth which still cling to it. For in Marseille this evening, though the French national team ultimately came through as just the better side over 90 pulsating minutes, through the first half when Germany threatened to overrun them, it was the France support that kept their side from being trampled underfoot and  gave them the opportunity to stand up and claim victory and a place in the Euro 2016 final.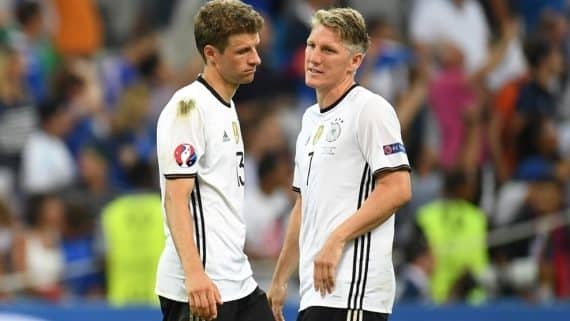 It was a fascinating game of football, infinitely better than the previous night's fare and a fitting climax to the much tougher half of the tournament's draw that had already accounted for Spain and Italy. The French actually started quite well and almost produced the goal of the tournament in the seventh minute, slick passing and movement ending with Griezmann unable to get enough on his shot, Neuer saving comfortably.
From there, the Germans stepped it up a gear and with some forensic passing, rolled the French deeper and deeper into their own half. Plenty of teams might have buckled, but this French side is starting to resemble its predecessors of 1998 for its grit and resolve.

Backed by that raucous crowd, they stood firm and arguably still produced the best opportunities of the half, despite the German territorial dominance, but even then, they'd have been happy enough to get off at 0-0. Only they went one better in first half injury time, when Schweinsteiger unaccountably followed Boateng's lead in the previous game and raised his hand as a corner came in, the ball glancing away off his fist as he leapt. A soft penalty perhaps, but the right call nonetheless.
Griezmann
With the referee pointing out that there would be no time for anything but the kick – no rebounds – Griezmann had to be precise with his effort and he was just that, sending Neuer the wrong way. At such moments, you start to believe that their name might just be on the cup.
Setbacks like that rarely affect the German psyche though and, in the second half, they continued to plug away relentlessly, continued to put France under pressure. But there was something more confident about the home side, better able to play on the front foot, better equipped to test Germany at the other end.
Crucially, France's big players have grown in stature as the competition has gone on, notably Griezmann and Pogba, both left out of the second group game you might recall. Both have been better for that chastening experience too and are now performing at the very highest level, performing like men who realise this is their opportunity to experience something quite extraordinary and who aren't going to let that pass them by.
Pogba
It was Pogba who grasped the moment to settle the game, his raw athleticism seeing him eat up the ground across the German penalty area to dispossess Kimmich and then float in a teasing cross that drew Neuer into a rare error, flapping at the ball, pushing it out to Griezmann who produced a clever finish with the sole of the boot to double the lead in the 72nd minute.
Germany refused to accept defeat and continued to press, Lloris making one fabulous save late on, but this was very much France's night. Come Sunday evening, it could be very much their tournament.