It was Bale who gave Wales the lead after 10 minutes with a free-kick from distance. In that sense, it looked spectacular but in truth, it was anything but. Yes, he got the ball up and down but having first built his wall, Kozacik then decided he didn't trust it, stepped across to stand behind it and left a gaping hole into which Bale could shoot. It wasn't in the postage stamp, and would have been a routine save had the keeper stood his ground, but as it was, Bale had scored Wales' first tournament goal since 1958.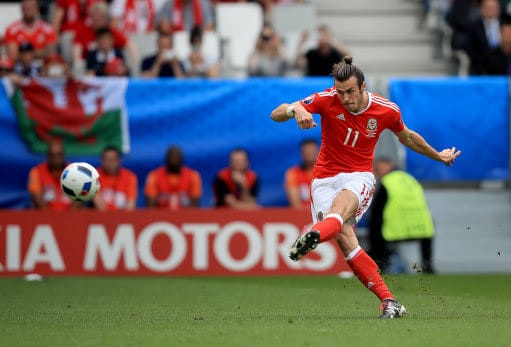 Euro 2016 Diary: Wales Top Group B, England Draw With Russia
By Dave Bowler
From there to the break and beyond, Wales controlled the game and should have had a penalty after Skrtel elbowed Williams in the face, the fifth official, or whatever these see no evil, hear no evil, speak no evil dummies are called, somehow contriving to miss the offence from no more than two yards away. How pleasing it was in the end to see the thuggish Skrtel distraught in defeat come the final whistle.
It could have been different, for the Slovaks, who should have opened the scoring but for a great clearance by Davies, gradually worked their way back into the game and were level through Duda just beyond the hour.
Wales looked like they might buckle but Coleman's substitutions were intelligent and game changing, Ledley threading a fine ball to Ramsey – who'd have thought a man on his money would need to wear that haircut to win a bet? – who, despite stumbling, helped the ball on to Robson-Kanu who scuffed in the winner.
Bale
The post-match narrative inevitably surrounded Bale but the Real Madrid man was less influential than the hype would suggest, a paradoxically good sign for the Welsh whose victory was won largely through good organisation, hard work and a great team ethic rather than a star player. They'll perhaps rue the fact they play England rather than Russia next because had the fixtures been the other way round, they'd have fancied their chances of booking their passage two games in.
They may well still do that, for after England's draw with Russia, Wales sit clear at the top of the group and a draw would do them fine. Oddly though, England looked the best team we've seen thus far, albeit that the Russians looked the most chaotic. England started the game with a real pace and intensity, essential for them if they are to succeed given the nature of their players.
England
Crucially though, they failed to turn territory and chances into goals in the first 45 minutes when they were so utterly on top that they should have put Russia away and put the rest of the tournament on alert because, up until the final ball or effort, there was much to admire in England's play.
In fairness, for a change, they remained patient and ultimately got the goal that had been coming, Dier curling in a free-kick when the otherwise impeccable Akinfeev copied Kozacik's error and went behind his wall, albeit that Dier's free-kick was better than Bale's.
But one goal always leaves a game on a knife edge and with the game deep in injury time, a long ball, the kind that English defenders deal with a dozen times every Saturday, defeated them and Berezutski looped a header across goal and in.
The pundits immediately complained about a lack of experience in the game management late on but frankly that's nonsense. If you dominate the ball, create openings and yet score just once, and that from a set play, it's your forwards who should be answering the questions, not the defenders.
Group B
Some of the best news for the Group B sides came in the day's first game when the Swiss struggled past Albania, reduced to ten men in the first half, by a single goal. That victory goes very close to guaranteeing the Swiss passage to the next round, even if it be as the third placed side in Group A, which is where it gets interesting for England and co, because the winners of Group B could face the third placed side from A.
Assuming France come through the group as winners, any of the other three sides might sneak through as one if the four best sides in third position and on the evidence thus far, none of the three have anything with which to frighten any opposition.
Although the Swiss collected the victory, it was gifted to them by a second horrific goalkeeping error in two games, Berisha missing a corner to allow Scher to score in Giroud fashion early on. Albania wilted for 20 minutes thereafter, before coming back strong and looking to get on top before Cana was sent off for a second yellow card.
Swiss
The expected Swiss avalanche of goals did not materialise after the break, Gashi missing a golden chance to level late on, though credit has to go to Sommer for a decent save, not that he should have had the chance. Sadiku, the man Gashi had just replaced, earlier spurned two great chances of his own following sumptuous passes from Hysaj, while Berisha atoned in part for his early mistake by keeping Seferovic at bay.
Both sides carved out chances but neither outfit inspired any confidence that they might ever take one of them. Should either – or both – get through, you can only see them as last 16 cannon fodder, an argument that perhaps 24 sides is too many for a European Championship after all?