It's amazing how quickly tournaments like Euro 2016 can take on a character all of their own, distinct from any other that has gone before. And then the Germans win…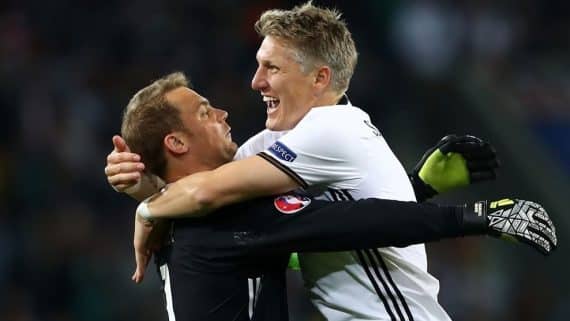 By Dave Bowler
The Croatia – Turkey game was all but a carbon copy of the England game of the previous evening, except Croatia avoided the concession of a late goal to emerge 1-0 winners. But just as England had the night before, they took the game far closer to the wire than they should have done because, if anything, they were even more dominant but proved just as incapable of finding the goals that should have closed things out long before the finish.
Just as Rooney had impressed in a playmaking role for England, Modric was even better for Croatia, seemingly omnipotent throughout the game and grabbing the winning goal with a beautiful volley from distance though, once again, the assist came from a grim piece of goalkeeping.
Croatia
Croatia looked a side that can go a very long way through this competition, competitive from back to front, dogged and determined as personified by Corluka's refusal to bow to a gaping head wound, physically strong but still blessed with the impressive technique and quality that Croatian sides have long been famed for.
But also like England, they were up against moderate opposition in a very disappointing Turkey yet could only find one goal and, for the lack of a prolific goal scorer, their ambitions might yet be thwarted. Perisic, for instance, has a map of Croatia shaved into his head. He might do better to have a map of the goal put on there instead after missing a string of great chances to make the game safe, but he was not alone in his profligacy. It's an issue they will somehow have to resolve once they make their way into the knock-out phase of the competition.
And then it was déjà vu all over again in the game between Poland and Northern Ireland, where the Poles had all the play and all the chances but in the end could again only find one goal, that coming from Milik's crisp finish early in the second half, the legendary Boniek in the crowd looking like Roy Hodgson's used car salesman younger brother as he celebrated the goal.
Northern Ireland
Perhaps this game played out rather more predictably than the ones involving England and Croatia for the Northern Irish side were always going to be short of possession and concentrating purely on keeping a clean sheet in their tournament opener, following their standard modus operandi against the bigger nations.
The work, concentration and organisation shown by Northern Ireland could not be faulted, but if you end up having to play virtually the whole game in your own half, it is exhausting. Their use of the ball up to Lafferty left a bit to be desired, meaning they could rarely get any respite, and the absence through injury of Brunt rendered their set pieces largely impotent, but that said, they deserve huge credit for keeping one of the competition's most dangerous attacking sides largely at bay.
Poland
Poland showed real quality at times but again, their inability to put the ball in the back of the net, and particularly the way that Lewandowski looked out of sorts, will be a source of some concern. The way things are shaping up in front if goal at the moment, when we get to the knock-out stage, we are going to be watching an awful lot of penalty shootouts.
But then there's Germany. The ultimate masters of the spot kicks, they are the one side thus far who look as if they might not need them, albeit that it took until injury time before they finally made it 2-0 against Ukraine, a scoreline representative of their superiority over a game which they won without really breaking sweat, save for a 15 minute spell just before the interval when Ukraine offered a genuine threat.
They will face far sterner tests than Ukraine offered but already the world champions are looking ominously good, the midfield axis of Kroos and Ozil looking capable of destroying all comers, each setting up a goal with the sublime use of the ball that is their trademark. Kroos created the opener with a delightful free-kick that was planted goalwards by the head of Mustafi after 19 minutes, Ozil finishing the job on a swift counterattack with a perfectly weighted cross which Schweinsteiger finished beautifully on the half volley.
Germany
There were moments when they were grateful for the brilliance of Neuer and the athleticism of Boateng who contrived a remarkable goal line clearance, but Germany looked like a team with another gear or two in hand should they need it. For much of the game, they simply toyed with Ukraine by virtue of brilliant possession play worthy of Spain in their prime.
Early days yet, but Germany look a strong bet to emulate the tiki-taka men by holding both World Cup and European Championship at the same time. They are going to take some stopping.