Sadly, the European Championships are not just about football any longer, if they ever are. Because of events off the field at Euro 2016, Russia and England are both labouring under the threat of expulsion from the tournament, "supporters" of both sides having behaved horrendously over recent days.
Euro 2016 Diary: Expulsion Threat Detracts From On-Field Action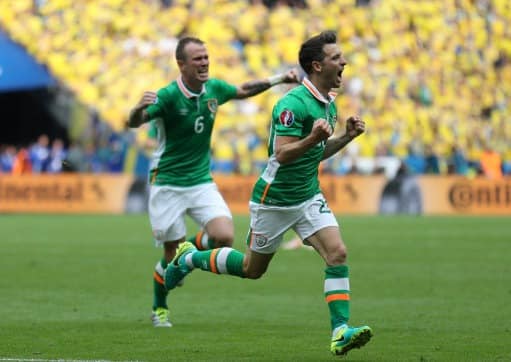 Dave Bowler
The Russians are in particular trouble for the appalling behaviour of their fans in the stadium itself in the aftermath of the game against England as they chased across the stands to attack supporters in a mixed zone, a chilling echo of the way in which hooligans used to charge opposition fans 20 or 30 years ago. The Russian hooligans were clearly well prepared and looking for a fight and there was no question about what they were there to do.
For Russia there is also a wider questioned to be answered here than just their participation in the next few weeks of this competition. While UEFA might take action, FIFA must surely be thinking of taking a stand too over the next World Cup.
England Fans Warning
Are they really the right country to host it given the nature of this support, never mind their domestic political stance on all kinds of issues such as racism and gay rights? Further misbehaviour from their fans over the next seven days – and they are in close proximity to the England fans again this week – and not just their place in the Euros but their hosting of the World Cup must be in jeopardy.
England are in similar trouble, for all that this is a different kind of England support to the past. In the rampaging days of the 1980s, their hooligan element was every bit as well organised and spoiling for a fight as the current Russian lot are.
There is far less of that now, but that has been replaced by an obnoxious laddishness, oafishness if you prefer, featuring fans who are only too quick to get too tanked up with booze, rip their shirts off, swear, sing offensive songs, leer at the local women and generally irritate people with their boorishness. They may not always actively seek trouble, but there is a large element there which attracts it and is then happy to join in.
Of course, in both cases it is important to stress that we are talking about minorities rather than the vast bulk of the support, but sadly, those minorities are in danger of becoming too much for football to tolerate.
At a tournament where we hoped to see Europe come together and to face down the threat of terrorism which has so disfigured it of late, and particularly France last November, such belligerence is not only unacceptable, it's obscene.
Spain Overcome Czech Republic
Returning to matters on the field, the day's opener produced the result expected and, perhaps, in the manner anticipated, Spain eventually wearing the Czech Republic down with their metronomic passing and getting the only goal of the game late on, Pique's 87th minute goal proving crucial.
This was much more like the Spain of old, Iniesta the conductor in the middle of it all, their ability to move the ball around and to probe for space ultimately proving exhausting and successful. Joining Croatia at the top of the group with three points, both look set to qualify with something to spare.
Italy Beat Belgium
In our preview of the competition, we downplayed Italy's chances while saying they could yet 1-0 themselves to glory. They went one better against Belgium, albeit that the second goal came deep in injury time, but they were full value for the victory with a brilliantly controlled team performance.
Italy were a unit, each man knowing his responsibility to the other ten. Belgium showed no such grasp of the game, playing as unfocused, egotistic individuals, each trying to do the job on his own without thought or interest in the collective, the Donald Trump of football.
Improved Italians
Italy were comfortably the better side through a first half in which they scored a fine goal, Bonucci's raking pass over 50 yards perfectly picking out Giaccherini to net past Courtois, the Belgian goalie keeping his side in the game with a string of fine saves. In contrast, at the other end, Buffon had a comfortable evening as his Juventus defence worked like clockwork and the rest of the side worked themselves into the ground.
Conte's Italy have the look of Conte's Juve about them, in terms of their play, their approach and, most important, their togetherness. The way they celebrated after Pelle smashed in the second on the counterattack, team, staff, subs, all together, suggests that they fancy themselves to do something special in this competition.
Topping the group is theirs for the taking now, and though that looks set to pit them against Croatia or Spain, they are not a group to bet against – unless they are ravaged by suspensions as could prove the case after a string of bookings.
Republic of Ireland Tie With Sweden
Belgium's fate is more questionable and both Sweden and Ireland will fancy their chances against them now, the two having played out a 1-1 draw in their opener. It's the Irish who will be the more disappointed after playing supremely well for an hour against an overly rigid Swedish 4-4-2.
The Irish diamond shape gave them better angles and options and they could and probably should have been two goals to the good instead of going in at the break 0-0.
That was remedied by a brilliant finish on the half volley by Hoolahan straight after the restart, but gradually, Ireland's impressive exertions took their toll and Sweden, inspired, inevitably, by Ibrahimovic, slowly woke from their slumber and started to take the game to them.
Their resilience was impressive but it was somehow inevitable that Zlatan would ultimately find a way to  break down their resistance, skipping away from O'Shea to get to the byline and arrow in a devastating cross which left Clark with no option but to try to head clear, only succeeding in putting the ball in his own net.
The draw was unsatisfactory for both nations given the strength of their upcoming opponents but after watching tonight's game, Ireland will be relishing the opportunity to take on Belgium on Saturday and to perhaps even dump them out of the competition they were among the favourites to win.