While Antonio Conte has been imperious in domestic football at both Juventus and Chelsea, he has yet to set things alight on the European stage.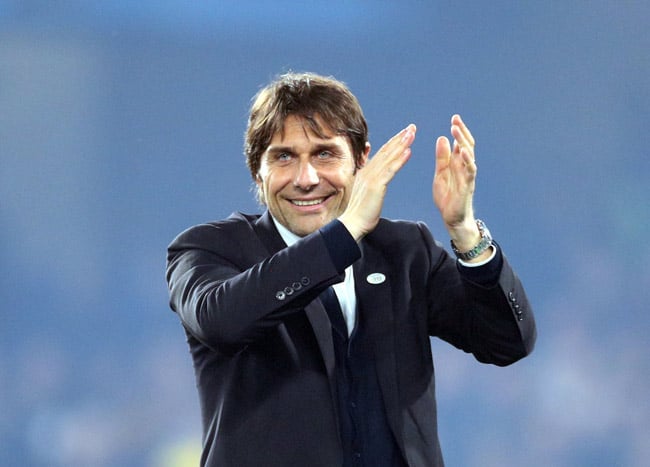 By Dave Bowler
The final "Super Sunday" of the Premier League season is looking like anything but with the bulk of the season's big issues long since settled. 
Only the "battle for fourth place" remains with Arsenal looking all but certain to miss out unless Liverpool can manufacture some kind of surrender when they take on the already doomed, and perpetually toothless, Middlesbrough. The biggest prize of all, the title itself, has seemed a foregone conclusion for months, gamely as Tottenham have tried to contrive a title race of sorts. But the fact of the matter is that Chelsea have been, by some distance, the class of the field.
There are all sorts of elements behind that story, chiefly the fact that they have spent a lot of money on a selection of world class footballers who were then brilliantly coached and driven by probably the closest thing we've seen to Sir Alex Ferguson since his retirement. We've noted before that Antonio Conte has had an unbelievable last six years since taking over at Juventus, hovering up a hat-trick of Serie A title, essentially winning from the front, before dragging a pretty motley Italian team to the brink of the last four of the Euros last summer.

To that he can now add a Premier League trophy – perhaps the FA Cup too – that has pushed his stock way, way higher than the far more lauded Pep Guardiola who has endured a fairly chastening first year in England. One of the great strengths of the Chelsea side has been the close knit nature of the group with fewer team changes than any other team. In that, they have been massively aided by the fact that they had no European competitions to worry about this term and it that which will make it hardest for them to retain the trophy next season.
Euro Challenge
For while Conte has been imperious in domestic football in both Turin and London, he has yet to set things alight on the European stage and, with Roman Abramovich keen to add another European Cup to their honours board, that may well be come the focus of next season. That said, with a year of English football under his belt, Conte will know exactly what he requires from the transfer market to continue competitively next season having quite deliberately worked with a small squad this year, knowing there'd be no European games and therefore wanting to keep everyone happy with regular football.
With more games to play next season, he will certainly bolster both the size and the quality of his squad and he will have the financial and sporting ammunition to do just that. As long as he stays in London – and the idea of him going back to Italy is nonsense, only Spain could possibly tempt him away – the likelihood is that Chelsea are going to remain the team to beat.