Check out our guide to all the Arsenal supporters clubs in Texas. Arsenal have a strong presence in the Lone Star State. Find where to watch Arsenal and meet up with fans in Arsenal bars in Texas.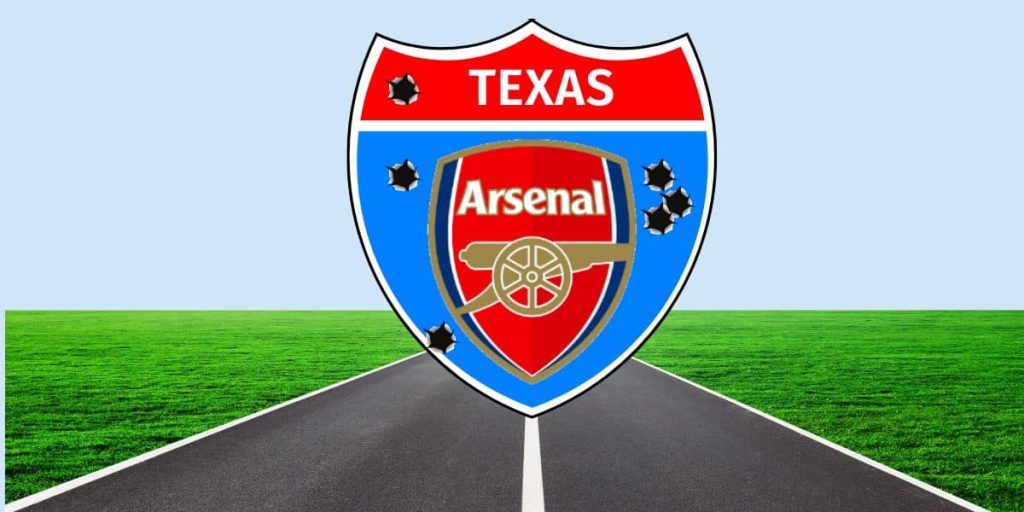 ---
Arsenal Supporters Clubs In Texas
Houston
Gooners
Texas is the largest State except for Alaska, where no Arsenal supporters clubs exist. There are several Arsenal bars in Texas. The Arsenal Pub in Houston is called Public House Heights and it's where you can meet the Houston Gooners whenever Arsenal play. They were established in 2011 and get anywhere up to 200 Arsenal fans in for a game. Don't forget to ask about the next Gooner Texas Round-Up when you're there.
Arsenal Bar in Houston – Public House Heights
---
Border Cannons El Paso
Gooners
Out in the West Texas town of El Paso reside the Border Cannons El Paso Gooners. They meet at Dewey's Corner Pub on the Mexican border where Sombreros meet Stetsons in a sea of red.
Arsenal Bar in El Paso – Dewey's Corner Pub
---
Dallas
Gooner Society
The Arsenal pub in Dallas is simply one of the best British Pubs in the West. NBC voted it the #1 pub in America to watch EPL, and the Dallas Gooner Society are happy to call The Londoner in Addison their home
Arsenal Bar in Dallas – The Londoner Pub
---
Austin
Gooners
Deep in the heart of Texas, you'll find The Austin Gooners. Austin is considered a progressive haven in this deeply conservative State. The club watches Arsenal games at The Tavern on W12th street, a German-influenced sports bar with 50 TVs and a patio.
Arsenal Bar in Austin – The Tavern
---
Alamo City
Arsenal
A short drive from Austin brings you to San Antonio where we end our Texan trip at Broadway 5050. That's not an address, it's a restaurant where Alamo City Arsenal meets up to watch games in Alamo Heights.
Arsenal Bar in San Antonio – The Broadway 5050
---
How To Watch Arsenal in Texas on TV and streaming.
Check our soccer TV guide for kick-off times and channels