On day five of Euro 2016 Iceland managed a tie with Portugal while Hungary left everyone confused. Why have Austria been so well fancied by so many to do so well in this tournament? In a fairly dreadful game, Austria were comfortably the poorer side, not helped by going down to ten men. Dragovic was not only sent off but, in doing so, denied his side an equaliser with a pointless foul in the build up to their "goal".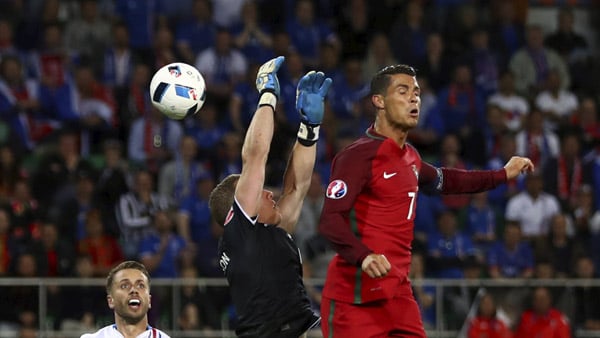 Euro 2016 Diary: Iceland Freeze Out Ronaldo & Portugal
By Dave Bowler
Austria reached their peak 28 seconds in when Alaba hit the post but, from there, they were comfortably stifled by the Hungarians who gradually grew in confidence and attacking intent, Szalai completing a neat move in the 62nd minute. The three points were secured late on by Steiber with a crisp lobbed finish on the counterattack.
In its way, it was a game not dissimilar to the Italy – Belgium fixture of the night before where a focused, disciplined, intelligent team beat a collection of more gifted individuals who simply failed to operate as a unit and paid the price for that failing,
It would be a little harsh to level the same critique at the Portugal – Iceland game for at times, especially in the first half, Portugal offered a real threat without managing to turn that threat into the goals they needed to put the game to bed. Even so, once Nani had given them that first half lead, they should have gone on to win convincingly, but they opened the second half by conceding a dreadfully defended equaliser to Bjarnason and could not find a way through thereafter, becoming increasingly ponderous as the game wore on.
In the end, as always, and as he wants, everything became focused on Ronaldo and this time, he could not deliver against an Icelandic side that worked themselves into the ground and ultimately deserved their point from a far better second half display where they might have even snatched a win.
Promising Start For Germany
And so the first round of group matches are complete and very early days it may be, but, in the words of Jerry Springer, what have we learned? Above all else, we have yet to see a player who looks as if he might embark on the kind of hot goal scoring streak that could carry his side to the crown. No team looks to be especially free scoring and that makes the competition especially tight and especially hard to read.
France will feel better for finding a moment of magic when they most needed it, at the point when their nerves threatened to smother them. England are a far better side when they are looking forward than when they are simply trying to contain.
Croatia and Spain both look technically adept, lovely footballing sides while Italy have the strongest mentality and togetherness as a group and look to have a belief that they might go on to do something special. But if you had to pick a side to win it to save your life, would anybody without a death wish really look any further than Germany at the moment?