Euro 2016 Group A: France 2 Romania 1: In the end, Hosts France beat Romania and just about deserved their slender 2-1 victory, but the real justice came in the shape of the match winner, Payet.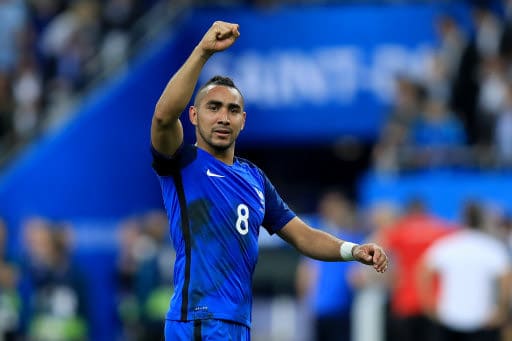 By Dave Bowler
Once the football actually got under way, it was a decent first day for Euro 2016 – but God save us from opening ceremonies full of interpretive dance and blokes playing records pretending to be musicians. 
In the end, France just about deserved their slender 2-1 victory over Romania, but the real justice came in the shape of the match winner, Payet head and shoulders above anyone else on the field and finally proving the difference between the two sides with a wonderful last minute strike that curled across goal from 25 yards out and into the top corner, a candidate for goal of the tournament already.
It ended an evening of frustration for the hosts, one which might, on another occasion, have ended in catastrophic defeat. For the French were edgy at the start of each half and should have conceded in both, Lloris to the rescue in the opening minutes, then Stancu missing dreadfully after beating the offside trap just after the break.
Both opportunities laid bare a French defence that might be found wanting by better opponents later in the tournament. That back line looks to be the most likely source of France's Achilles heel as they go in search of the title.
Chances Go Begging
That said, creative as they were at the other end, their profligacy in front of goal will also be cause for concern when they sit back and really analyse the game tomorrow morning. In the first half alone, four highly presentable chances went begging, two apiece for the front men. Griezmann, who looks so absurdly youthful that I've seen older looking pregnancy scans, came closest, striking the post from an acute angle, before putting a first time shot wide later in the half.
Then there were two headers from Giroud that should gave caused consternation in the Romanian defence rather than relief as they sailed off target. Whenever he misses a chance, Giroud sticks out his tongue to its full extent and appears to start grooming his lustrous beard with it, a bit like a cat. We can only hope this trick doesn't extend to all of his anatomy.
Scare
After the early second half scare, France gradually got back in the groove and started to dominate. Within a minute, Tatarusanu was both hero and villain, making a fine save from Pogba before woefully missing a Payet cross allowing Giroud to nod in in the 57th minute.
From there, it looked as if France might run away with the game but a sprightly Romanian side showed good character and Stancu made amends for his earlier miss by converting a penalty that Lloris should perhaps have saved eight minutes later.
France fans might well be concerned that it took their side plenty of time to respond to that reverse, only really threatening again in the last ten minutes, Payet making them wait to the death before finding the winner that he at least deserved.
Ultimately, it was the result, if not the game, most expected, one from which both sides can take heart. Romania showed enough to suggest that second place in this group is not beyond them while France have got past that inevitably nervy opener and are on their way. A good night was had by all…