The comprehensive demolition of Iceland by France this evening will have made painful viewing for Roy Hodgson and Marc Wilmots, for Didier Deschamps' team gave an object lesson in just how you dismiss lower grade opposition at Euro 2016 with the minimum of fuss.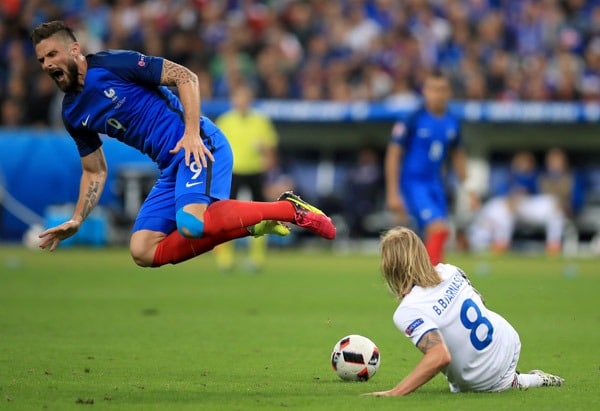 Euro 2016 Diary: France Demolish Iceland To Set Up Semi Final With Germany
By Dave Bowler
Not only did the French score the goals that gave some real indication of the gulf between the two sides, but the way in which they played the game was exemplary too. They were composed, unflustered, utterly assured in their play and their approach and never looked to have a moment's doubt that, provided they worked hard and stuck to their guns, their superior ability would prevail. In short, they played like a team and collected the rewards that they deserved as a result.
To go overboard on this French victory would be unwise for, wonderfully well as Iceland have done in this tournament, they are a strictly limited team who have, perhaps, run out of steam after their epic run to the last eight. France are a cut above, especially on home soil, and did precisely what should always have been expected of them.
Greizmann Chasing Golden Boot
But all of that said, since that two goal salvo that took out the Irish in the last round, France have begun to grow in stature and they are beginning to justify their pre-tournament tag as favourites. Griezmann is the competition's top scorer with four, Giroud and Payet have three each and, in a Euros where goals have been pretty hard to come by, those are compelling statistics.
So too was the fact that having put the game out of sight with four first half goals, they were able to play the second period at pretty much walking pace, thereby nullifying Germany's advantage of having that extra day of rest, particularly since they were taken all the way to penalties by Italy, have now lost Gomez to injury and Hummels to suspension, with Khedira and Schweinsteiger further injury doubts.
They will be delighted with the quality of their goals, and of their first half football when they offered Iceland no encouragement that they might create another England style upset.
But while Iceland ended up well beaten, the fact that they scored twice to hold it to 5-2 and that for 90 minutes they never gave up in the face of a potential humiliation speaks volumes for their attitude to the game and the competition. They might not have played the best football of the last three weeks, but they have contributed mightily to Euro 2016, and for that we should be grateful.