The date was January 28, 2001. The place — the National Stadium in Accra, Ghana's bustling, colorful capital on the shores of the Atlantic Ocean. Over 30,000 fans had crammed into the ground, anticipating another rout of supposed minnow opponents from farther west. Ghana had massacred Sierra Leone 5-0 in their first qualifying match for the 2002 World Cup and Liberia and Musa Shannon were next on that warm day.
But Liberia were no ordinary minnows. Any team with the great George Weah in its line up certainly could not be. Ten minutes into the match, Liberian defender Frank Seator stunned the crowd when he scored. Ghana would equalize through Emmanuel Duah (70th) after what seemed an eternity. But hopes of a dramatic comeback win by the home side would evaporate with Oliver Makor's strike for the visitors five minutes from time.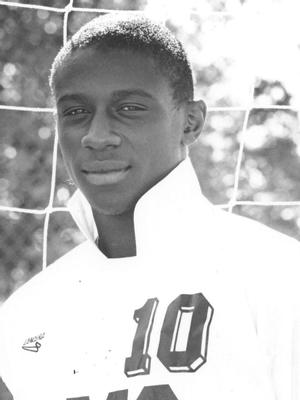 Musa Shannon Delivers
On the stroke of full time, Musa Shannon, a 75th minute substitute, delivered the coup de grace. The Lone Star had eclipsed a much vaunted Black Stars fielding names such as then Bayern Munich center half Samuel Kuffour, current skipper Stephen Appiah and other players bound for the World Cup this year.
Liberia would eventually come one point short of qualifying for Japan/Korea '02 ahead of Jay-Jay Okocha's Nigeria, and their players would go their separate ways amid continuing political unrest back home.
These days, Shannon, Weah's roommate for two years as the Lone Star pursued a fairy tale ending, can be found plying his trade in the Cosmopolitan Soccer League where he's often Barnstonworth Rovers' trump card.
Cosmopolitan League
"I didn't want to be a journeyman footballer. And I didn't want to be one of those guys they force out of the game," says Shannon of his switch from the pro scene to one of the elite amateur leagues in the United States. "I want to be ahead of the curve."
A little surprising, perhaps, considering that he could be one of the most experienced, skilled and healthy 30 year-olds around playing for fun. A graduate of Robert Morris College in Pittsburgh where he majored in business administration, Shannon won 14 caps for Liberia – most of them during that heady 2002 World Cup qualifying campaign.
At club level, the U.S.-born player, who grew up in Monrovia and later Newark and South Orange in the 90s after his parents fled the fighting in their homeland, was a consistent performer for a number of outfits.
Tampa Bay Mutiny
He was on the books of Maritimo in the Portuguese League and displayed his skills in the MLS with the Tampa Bay Mutiny and Colorado Rapids. He also had a stint in China with Nanchang Real Estate FC, and even graced the Canadian soccer scene with the Vancouver Whitecaps.And there were memorable highlights like the month he was on fire in south Florida.
Shannon was named MLS Player of the Month for April, 1999, selected by a media panel from the Professional Soccer Reporters Association (PSRA) after scoring four goals in as many games for the Mutiny during the month.
In all, he'd net 20 goals and claim seven assists in 50 games for Tampa between 1997 and 1999.
Nanchang, whom he joined in 2003, was his last pro club. Walking away while still in his 20s was hard.
"It wasn't an easy decision," he emphasizes. "I still love to play, (but) playing in the Cosmopolitan League fills the void.
Dedicated
"The club is great, the guys are great and I'm happy to say that I'm a proud member of Barnstonworth Rovers."
The feeling is mutual. Says assistant coach Brian Schmid: "We're lucky to have him on the team. He's one of the most dedicated players."
Essentially a striker, Shannon can play almost anywhere on the pitch. Rovers have even played him at sweeper.
"He's a great player," raves Schmid. "He's smooth on the ball, fast and can hold the ball very well."
For a man who played with and against some of the best in the world during the Africa zone World Cup qualifiers, Shannon is an unabashed fan of the CSL.
"The Cosmo League is pretty good competition for amateur soccer," he says. "It's good clean soccer and a good way to keep in shape."
By Jay Mwamba