Football has long been the global game, but now it's more than that. Joe Jordan knows It's the 24/7/365 game, one which, at the top level, rarely has time to take a breath or for its principal players to grab a little rest and relaxation.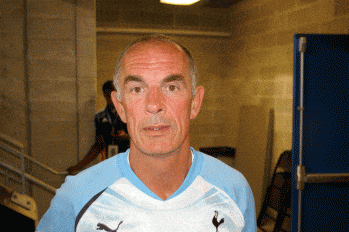 By Dave Bowler
Nowhere is that more true than among the coaching fraternity because they know only too well that if you snooze, you lose. Once the curtain came down on the English domestic season, management staff everyone rushed to get on board planes, trains and automobiles to cram in a couple of weeks of holiday to ensure they'd be back in early June to start taking in the World Cup and laying plans for the season ahead.
There are targets to be watched, contract issues to be resolved, decisions to be made on who to buy and who to let go, tactical ideas to be studied and evaluated, short, medium and long term goals to be set. And then, before you know it, the players are back, everyone's back in training and you're off again on another 11 months in the eye of the storm.
Key Coach
Tottenham's Joe Jordan, a key member of Harry Redknapp's coaching set up, is well versed in the way of the footballing world, having been heavily involved in it for some 40 years, first as a powerful centre-forward with the likes of Leeds, Manchester United and AC Milan, and then as a manager coach with Bristol City, Hearts, Stoke, Portsmouth and now Spurs. And while football has always been evolving, he admits that the pace of change seems to get quicker and quicker.
"Pre-season for Premier League clubs have changed dramatically and most will end up going abroad to get away from all the distractions at home. Over recent years, the popularity of the Premier League means clubs get invitations to play games from all over the world, not just Europe, and we've been lucky to go to some nice places to do some work and play some games. Last year we found ourselves in China and Hong Kong, we've done pre-seasons in Africa, and this season we're looking forward to coming to play in New York.
Even before the season kicks off, you're playing some exciting games and getting to see a bit of the world and that's added a new dimension to being at a football club".
New York Visit
The visit to New York won't afford the players too much opportunity to go sightseeing because typical of his no nonsense approach to the game, Joe sees this trip as primarily business first, second and last.
"Playing two games in quick succession in the same place brings a competitive edge to things and there is a real objective for us here. We're a couple of weeks or so into preparations for the new season by the time the first game kicks off and you need to progress day on day. It's a busy start to the season for us when we get back, and a very difficult start with Manchester City as our first game at home, followed straight away by the first Champions League game.
"We need to be hitting the ground running, so getting some games against good opposition is a very important step towards being ready. We're taking this very seriously in terms of the journey towards the start of the season. We know what we want to get from these games in terms of performances, fitness and so on, and the players will be well aware of that too.
Sporting Lisbon
"The opposition is interesting. Sporting Lisbon gives us a nice taste of European opposition ahead of playing in the Champions League. We know a few of their players, they're a big club and they will give us a hard game, I'm sure of that. It's played in the middle of the day so it'll likely be hot and humid in New York, but that's a good thing, it's a test of the individuals because they'll be looking to cope with that and prove how their fitness levels are coming on ahead of the new season.
"Manchester City are over here too, we'll take a little look at how they're shaping up before that first game! It's good to have another English team, it adds a bit of spice even though we don't meet each other in a game. As I say, they're our first game of the domestic season so we're very focused on using our two games in New York as a stepping stone to being ready for that one".
Thierry Henry Debut For Red Bulls Against Spur
With the Arsenal favourite Thierry Henry set to make his Red Bulls debut against Tottenham, there's a little bit of extra spice in that game, but Jordan was already anticipating a tough fixture.
"In front of the home crowd, I'm sure the Red Bulls will be looking to put on a show, but we're well aware of just how much progress has been made by clubs and players in this country. I thought the United States had a very decent World Cup, unfortunate to go out in the end, but it doesn't surprise me because the game's clearly come on leaps and bounds in recent times.
"A lot of boys from America have come over to Europe, got some good experience at high levels, and then they've brought that to the national team and to club sides. It helps them as individuals but I think they pass what they've learnt back to the rest of the squad, and certainly they're becoming a better unit all the time".
The recent World Cup does bring fresh challenges to the coaching staff of any major club given that so many of their players were involved in the tournament. Tottenham have had to cope with having 10 players away on international duty.
World Cup
"After a tournament like the World Cup, pre-season is always a little bit awkward because we had a lot of players out in South Africa and they need to have time off to recover before they get back into training. It's something we're monitoring carefully, because we've had 10 internationals coming in at different stages depending on how far their countries went in the World Cup. You have to give players adequate time to get over the work they did in South Africa.
"It is very important that they have a rest before they come back to train, physically and mentally. Other players started back on the 5th July and we'll just have to integrate the others back into things as and when they return, feeding them back into training and getting everyone looking at reaching their targets and having the degree of fitness that is necessary for that first game on August 14th.
"As coaches and managers, you watch the games a bit nervously because you don't want any injuries first and foremost, but as long as they're ok on that score, it's a hugely beneficial thing for them to be a part of.
Playing For Scotland
As a player, I was fortunate enough to go to three World Cups with Scotland and there's nothing that's comparable with it in a footballer's career, it's the highlight. It certainly was in my day and I don't think that's changed, even with all the ways the game has developed with the Champions League and so on.
Wherever players come from, the challenge of qualifying for a World Cup, going there and trying to produce your best form, it's a huge test but it's very satisfying too. Competing with and against the best, that's why you go into this game. If you play at a World Cup, you've made your mark, and that still applies today".
Tottenham made their own mark last term with their run to the semi-finals of the FA Cup and, more importantly, to fourth place in the Premier League. That's some turn around given Harry Redknapp and his team only joined in November 2008 when Spurs were in deep relegation trouble.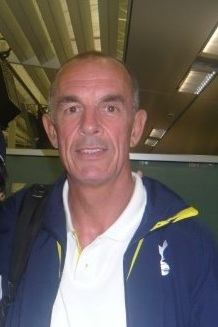 Progress At Spurs
"We're very pleased with what's gone on at Spurs over the last couple of seasons, things have perhaps progressed even quicker than we thought they would in some respects. When Harry Redknapp arrived and we all looked at what was here, with two points from eight games, the club was in trouble.
We had a real good start, but when you're starting from such a low position, with that amount of points to catch up, it makes it a difficult season right to the end because any time you lose a couple, you're back in the thick of it. It wasn't until right towards the end of things that we got our heads properly above water and pushed on, but it was a very tough season. From there, last season was a great effort by everyone involved at the club.
"Probably there are more expectations for us to handle this year, having achieved that fourth place. That's the nature of the game and we've got to hope that we can live up to that because every like every club, we will be looking at making progress on the previous season. Perhaps there'll be an opportunity to bring one or two fresh faces in and if we can do that, hopefully that will make us even stronger. But we know how big a challenge it is to go and repeat the success we had last season all over again.
Team Spirit
"We've got a very good team spirit here, and that was very important towards the end of last season, and I think it was really highlighted when we went up to Manchester City and won the game to seal qualification for the Champions League.
There were lots of other hard games but that one was such a significant game, the quality of the opposition was excellent, the fact that the goal was there to be achieved and the pressure that brings, it was a big step forwards. To do it on their patch, I think we look back on it now and it gives us a lot of belief in what we can do in the future.
"This is a very big club, up there with the ones I played with in this country and in Italy, but what it has maybe lacked over the years is a consistency in the league. That's your foundation, you need to be doing well in the league year after year. We were disappointed to miss out on the FA Cup Final last season because it's a fantastic occasion, a great trophy, but to finish fourth meant that we were pretty content with what we'd achieved last season. Now we have to go and do it all over again".