Interview with Peter Odemwingie, West Bromwich Albion's revelation of a goalscorer who joined at the beginning of the season and has been a hit with the Throstletariat and the EPL alike.
By Dave Bowler
If the world is your oyster, don't be surprised if you sometimes come up with a pearl…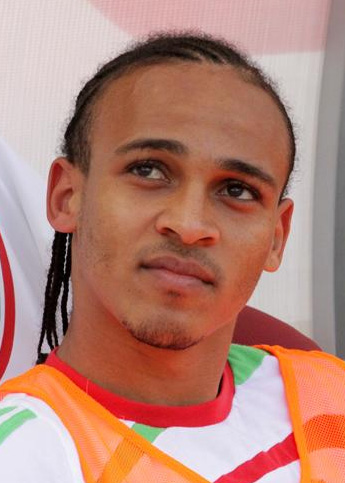 As a breed, the Brits have traditionally been a relatively insular bunch. By that I don't mean that we are unwelcoming to those who come here from beyond our orbit. Far from it, but in terms of us going out and exploring the big, wide world out there, it tends not to happen quite so much – not since the sun set on the Empire anyway.
There is of course, a whole world out there, but in the modern age, it's quite possible to get the mountain to come to Mohammad. It's something of an irony that it's football, a game all about local, tribal loyalties, that has broadened our horizons, bringing in men of all kinds of nations and cultures, giving us an eye opening window on the world.
Cosmopolitan
Today's Premier League side is a wholly cosmopolitan entity, featuring Europeans of every stripe, Africans, South Americans, Aussies and Americans, a veritable league of nations and all a long way removed from the game of 35 years ago when, if you fielded a chap from Cowdenbeath, he was looked upon as incredibly exotic.
The arrival of so many foreign footballers in their droves has, of course, caused plenty of controversy. The issue about whether it's stifling young English talent is a well rehearsed one, but equally, what aspiring English footballer wouldn't have had his education enhanced by exposure to Bergkamp, Cantona or Zola in training?
But it's not just footballing skills that they bring with them. Many players from abroad see football in a very different sense to the way we traditionally look at it in this island state.
Comparatively few of our footballers go abroad to sample the game elsewhere but those from other lands see the beautiful game as, quite literally, a passport, giving them the opportunity to experience the game all over the globe, but also to experience new cultures.
Melting Pot
As footballers and as men, they embody the American ideal of being a melting pot, taking on ideas and characteristics from all kinds of sources, creating something new out of that crucible.
Take the case of Peter Odemwingie, West Bromwich Albion's revelation of a goalscorer who joined us at the beginning of the season and has been such a hit with the Throstletariat and the Barclays Premier League alike.
Peter is a true child of his times, living a fascinating life, being in the right place at the right time to suck up some of history's turning point moments as a youngster, before going on and sampling the wider world beyond.
Born of Nigerian and Russian parents, he spent formative years in the Soviet Union as the communist system was coming under increasing pressure, then saw what it was like in the post glasnost era. He has lived in Nigeria, travelled extensively across Europe and has brought those experiences to bear in England. It's a long story…
School
"I was born in Russia in 1981, but we moved away after a year to live in Nigeria for a time. I returned to Russia, to Uzbekistan as it is now, when I was six or seven, and it was still during the time of communism. Looking back it was a special period in history, and my memory is of a time and place which had a very positive kind of atmosphere.
"I am not a pro-communist but as a child when I was growing up, things seemed to be very well organised. Schools for kids were very well run, it was a good time in my life. But most of the time, I was kicking a football! After school, it was straight to training. I loved to play sports and I even had a few months where I was boxing.
The school saw that I was athletic, that I was quick on my feet, so they called me in to do some boxing training, some sparring, but after a very short time, I decided that it was not for me! I preferred to stay with my football most of the time!
"I played football in the school, we had a team with a coach and within the grounds of the school I remember that there were two football fields, and there were very good facilities for other sports too like basketball, handball, athletics. When I arrived there, I went straight into the team for the school and started from there".
Events
Quite often, when people are caught up in the middle of tumultuous events, it's hard for them to see the word for the trees, or to grasp the wider significance of what is happening. Like all of us, they're so preoccupied with the business of day to day living that the bigger picture doesn't seem so important. But in hindsight, Peter agrees that he was a first hand witness to a fascinating moment in time.
"Looking back, it was a very important period in history and things were changing a lot in Russia, the Soviet Union. When the Berlin Wall fell in 1989, after that you could see that big changes were coming and of course in the 1990s, the Soviet Union broke up and I guess I was lucky to see these things happening.
These will always be remembered as very big moments in the history of the world, a special period.
"At that time, we moved to Kazan, inside the Russian Federation, when all the countries separated and had their independence. It was quite a difficult period of time because after such a massive country and system breaks apart, all of the organisation and the structure changes and breaks down a little bit and it has to be replaced, so it was not an easy time in that way. But we came through it like the rest of the country.
Black Sea
"It's a thing you look back on now and it is so interesting, but at the time I was just a boy and what I was interested in most of all was my football! I was always distracted by the game, by following football leagues at home and in other countries, training, working at my game, travelling around with my team to play games.
In the summer I remember we would go to the seaside, the Black Sea, with the team, we had a training camp there, we played some games against teams from other places, it was a lot of fun".
Odemwingie is a bright man, speaks several languages fluently and could doubtless have had a very good future in a "proper" job. But from the very outset, there was only one dream in his mind, to play football for a living. He was no different to millions of boys in that, but in his case, he made it happen.
Dedicated
"I have always been dedicated to the game for as long as I can remember. In my mind, I had decided that I wanted to play football as my career very young, very early on in my life, and so I did all the things that I could to try to make it happen. Lots of my teammates, my classmates, they also wanted to be footballers too, it is a dream for many boys.
Some even today are still hoping they can play, but they have never managed it. But it is still a dream! They are almost 30 but they still think they might make a career, because you do not want let go of football, it has such a strong hold on people!"
Having grown up and played his football under the Soviet system and the federation which followed in its wake, Peter's horizons were broadened yet further as the family uprooted itself again and returned to Nigeria to stay.
Nigeria
"After high school was finished in Russia, I went back to Nigeria to live for a time, I was 17 and the family moved back there again. I started to do some training there with a professional team for a few months but it was a very physical style of football and so I left there and went to the Pepsi Academy and I trained there with my age group. I wasn't so strong at 17, I was always smaller than my friends, so it took me time to show what I could do.
"I carried on with my education, learning to speak English which was a big thing because I wanted to interact with people and you have to learn the language quickly to be able to do that. After training, I tried to spend time with the rest of the boys somewhere, just trying to pick up the language from being around them.
"It was a very big change in my life and it took time to get used to it, a new language, a new culture. It was all very different but I was also excited by it in a way as well because it was a new challenge, a new test for me, and that is something I still enjoy in my life, experiencing new places.
Roots
"To go back and learn about my Nigerian roots was important after all the time in Russia, to pick up some words in my native language, to mix with the people, this was important for me to understand the other part of where I came from. It is another big part of my life and I got to know Nigeria during those three years that I was there.
I got to know a lot more about the tribes, the different areas of the country, the different languages so it was a very good part of my growing up and of my life. And football always played a part too, because I did a lot of travelling to play and so I got to know more of the country and the different cities".
By this stage, Peter's ability as a player was coming to the attention of scouts far beyond Nigeria and a move to his first major club was not long in coming.
Belgium
"I moved to Belgium when I was 18, that was my first experience of going to live in a country in Europe, it was my first time away from my family, and this was a big change. A different way of life, a different culture, different attitudes, and a different language again.
"I liked Belgium very much. Because the people were very nice there, the atmosphere was very good, very positive, and I was lucky because this was a very good place for me to start to be a professional footballer.
"The fact that I have been able to go and live in so many different countries and experience so many different cultures, this is a great blessing and I have enjoyed the experiences very much.
"The moves have been because I am a professional, not because I am, a tourist! But even so, it is nice to have the many opportunities to see so many different things because if I was not a footballer, my life would have been either in Nigeria or in Russia.
That's what I would have been looking at. I would have studied something, got a job and stayed in one place probably. Football has opened up the world for me, this is what it can give you, all of those opportunities, and I am very grateful for that. I am someone who loves to learn languages, and because of the moves I have made, that has been more and more possible.
France
"Because after I was in Belgium for a while, I had an offer to go to play for Lille in France. It was quite close, just 100km from where I was, on the border, to Lille in the north of the country, and I even lived most of the time in Belgium, but it was still a change. France is a very beautiful country,
"I saw a lot of it, but I also had to really learn how to speak French then because in Belgium, people spoke English, most of them were good English speakers so it was very easy.
In France, they speak French! In the dressing room in a French team, it is a completely new atmosphere, nobody speaks English there, everyone speaks French. But after a few months you pick it up quickly and you can make yourself understood to everyone. By then I could give an interview in French if the newspapers wanted to talk to me.
"You have to get used to new food, a new lifestyle. Most of all, Lille is a bigger club, they play in the Champions League, we had a chance to play in Milan in the San Siro in the competition, so there were more expectations, more pressure to achieve. The facilities were better, it was in a bigger league, bigger stadiums, the training ground was very nice and I think being there made me a better footballer.
Lokomotiv
It was a nice place to be, I enjoyed that very much but in football, nothing is forever. Most of my joy comes from playing the game and so you go wherever the game takes you! Lille was a very young team, there was a very good atmosphere, and we were successful. But when you are successful, other teams start to look at you and then I was offered a chance to go back to Russia, to play in Moscow for Lokomotiv.
"I had been to Moscow in one of the summer breaks, just to see what the country was like after my time away. The country had really changed for the better. I hadn't gone there for almost seven years but it was a very different country when I returned.
Because I had been back, my mind was changed and I thought that maybe if someone was interested in me, I could consider a move there in the future. Before that, there was no way I would have gone back because I remembered the country the way it was and how hard it was in the 1990s when I lived there.
I didn't think it was a good place for me to live, or a good league for me to play in. But they have spent lots of money on the clubs and on players. As a country too, things had changed a lot. Europe had had its big effect on Moscow and I liked the way the city was. So I had some offers and I considered them and I ended up by going back to my motherland!"
Background
Having such obvious dual nationalities could be a source of conflict for some, but as a genuine citizen of the world, Peter is happy to embrace his roots from both nations, albeit that for footballing considerations, he had to make a choice between the two, electing to represent Nigeria on the world stage.
"It is not difficult being from two countries, but it would be very hard for me to answer where my soul is, which country, because really it is in Nigeria and it is in Russia in different ways. Most of my childhood, my friends, my growing up is still associated with Russia so that is a very big part of me, I feel a part of that generation who have all grown up with the same things, and that is a part of who I am.
"But then of course when I was more conscious about life, at around 17, I was in Nigeria and I got to know my whole background from there too.
"It is different to most people but something I really am happy about because it formed me. The person I am today is a result of all those experiences in both of those countries, they gave me life lessons and my direction. And I suppose that having moved around when I was younger between those two countries, it has helped make me more adaptable when I have continued to do it as a footballer later on.
International
Maybe moving countries is not such a big thing for me because I am used to it. People do sometimes ask me how was it to move around and I reflect back and I think that it wasn't that difficult for me to do.
"I am happy that I could play in international football, it is a very exciting opportunity. In my first years with Nigeria I went back for all the home games, qualifying games, maybe the African Cup or something, so I always had opportunities to go back there and be a part of my country. I was far away from my family, and when it is like that, sometimes all of a sudden it hits you, you miss home, and that is hard.
But then you calculate, you look at the calendar, you see the next game in Nigeria is a few weeks away, the end of the season is coming or whatever it is, so you can plan and then you have something to look forward to. Because of the national team I had a chance to stay a little bit close to home so that did help me a lot.
Olympics
"And playing for Nigeria gave me one of the most memorable experiences in my life. Going to the Olympics in Beijing two years ago is one of the very best experiences in my life and my career. It is not on a senior level for internationals, but I think that those memories from that time there, they will keep making me happy for a long time, even after football.
Because it is a huge event and all the time we were there, I was just so grateful that I had the opportunity to be a part of it all, and so lucky to see it because it makes an impression on you for the rest of your life.
"You could feel the atmosphere, the people, being in China was a big experience. It was very colourful, Beijing is a very colourful city, the stadiums we played in were very good and they hosted a very strong Olympic Games.
"And as well, we were doing very well as a team too, we reached the final and lost to Argentina, so we got a silver medal, and that is one of the biggest souvenirs you can have from sports.
"At the start of the competition, we were living in the Olympic Village and we were looking at the stadium, the Bird's Nest. In the football, only the final game was going to be played there, all the others were somewhere else. So we kept going up to the stadium and we would say, "We are coming here!" And we did. It was a really nice experience.
World Cup
"I have played in the World Cup too, so I have been extremely lucky. The only difference is that the Olympics is not only about football, and so you get carried away yourself with all the other things that are going on.
"While we were there, we were following lots of sports, especially the athletics, the basketball and you get to see all the athletes walking around the Village so it is a different feeling, it was really nice to see that. Football is still football, it is very important in the sporting world, but at the Olympics, it isn't all about us, it is not the only focus of the weeks there.
"When you are at a World Cup, it is more intense maybe because all of the focus is on football, on the teams, you are in training camps, you don't see the other teams and you know everybody is watching you. It was very nice to be able to play in a World Cup in Africa, and now there is a World Cup coming up in Russia in 2018, maybe I will have to play long enough to play in one there too!
Seven years is a long time but you never know! Sometimes I hear about the ages of some players who are still playing at 37, 38, so that is inspiring. Maybe I can still do it! I am still fit, I'm not putting on any unnecessary extra weight, so maybe I could be still playing!
Kanu
"We have senior players like Kanu, he was at the last World Cup, so maybe why not? If I am lucky with injuries and if I look after myself, do the right things, eat the right things, train properly, then maybe I have lots more football ahead of me! It is still a dream to get to another World Cup in Brazil in three years time but after that, who knows. We will see how I feel".
The last staging post in Peter Odemwingie's global adventure is, of course, England, West Bromwich Albion and the Premier League. He can be forgiven for not knowing a huge amount about the Throstles before he got here.
West Brom
"I knew about the Premier League before I came to this country but not really very much about this club. The name rings a bell with me because of course I knew that Kanu had played here in the past, so it was not completely unknown to me.
"When the talks started, I was away with the national team so I spoke with him and with some players who have played in England and they were telling me about the club. They said it was a nice atmosphere, a nice stadium.
"Sam Sodje who played here for a little bit, the first thing he said to me was, "That club will take care of you! All you have to do is concentrate on playing your football. They will help you with everything else". So when I heard all these good things from all the Nigerian boys, it was very easy to make my mind up that this was a good place to come and play.
Nobody had anything bad to say about the place, they were all positive comments, Danny Shittu told me it was a good club to play at, so it all helped me make my decision to come here. With all of that as well as the chance to play football in the Premier League too, it was quite easy to decide to come to this football club.
Scoring
"Things went very well right from the start. It was a great way to begin my time here, to score the winning goal in the game against Sunderland. When you join a new club, you hope that it will be easy to settle in and that things go well from the beginning, but you can never know.
"But it was a nice feeling from the very start and to score a goal just made it perfect. But things could just as easily have gone the other way and sometimes change can be a negative thing, but I was lucky that it affected me positively.
"It was also very helpful that the supporters welcomed me very quickly and that is a big thing for a new player, a new coach, anyone at a new club. I had a special feeling straight away and after six months here, it feels as if I have been here a couple of years, I am already acclimatised and I feel a big part of the club".
Peter's goals have played a big part in helping Albion enjoy their best Premier League season thus far, even if the outcome to the season remains clouded in mystery. It's a cloud he wants to dispel as quickly as possible.
Special
"It is nice that we have had maybe the best Premier League season for the club so far but now we have to go and complete the job too. We have done something special so far this season, there have been some very memorable days and when you meet supporters in the street, there are many very nice comments.
From what they say, you can see that what we have done has really made them happy some times this season and we want to do that in the last three months of the season now. The only target is to stay in the Premier League and we hope to get it done before the end of the season so that we can maybe enjoy the last few games even more!
"If we stay in this league, then it will have been a very good season, we made some history by winning at Arsenal and Everton and maybe some more games to come too, getting to fourth position during the season, some beautiful games at home, having people say that we play nice football.
"These things are important but the thing that really matters is staying in this league. I hope we can enjoy ourselves in the last few games of the season with no pressure, but it will be very difficult to achieve this because things are very close".
Difficult
Albion have had their problems over the last couple of months, and Peter too suffered from a dip in confidence, something he finally resolved in the grand manner with two goals against Blackpool. He's quick to pay tribute to those at the club who helped through his barren patch.
"Personally, I had a difficult time after Christmas because I missed some chances and my confidence was low. But the people at the club here were very helpful to me, kept me in a positive mind and I was able to pay them back with my goals against Blackpool. I want to do that more and more this season".
To do that, he should heed the words of the greatest goalscorer in the club's history, Tony Brown. When you find yourself in times of trouble, "There's only one way to put it right.
"Keep making your runs, keep looking to get on the end of things, keep working hard and the ball will eventually drop for you, you'll stick one away and suddenly, all the weight of the world will drop off your shoulders. Then everything will start coming naturally again and you'll be up and running.
Believe
The good strikers keep going and even if you miss, you keep trying to score goals. Keep being brave, that's the mark of a goalscorer. Keep looking for chances, keep shooting".
"That is good advice" smiles Odemwingie. "You have to keep believing in your ability. Keep shooting for goal! One striker in Russia, that was his saying. "I was shooting, I am shooting and I will be shooting!" He did not pass the ball too often. So if you do not buy a lottery ticket, you cannot win the money!
"But I think as a team we are coming back to some form. I think against Blackpool, Blackburn, Wigan, West Ham and Wolves we played very well but we gave bad goals away and as a team we have to stop doing that.
"We have no suspended players, our injured players have come back, and if we can have the whole squad available, then we have an opportunity to get very good results because we have more competition for places and more concentration.
"I believe that this is a team that does better under pressure like when we got the good results earlier in the season, like when we fought back against Wigan and Blackpool. I think then we show our character and this is what we will need in these big games now.
"Now is the time again when we have to be very focused, to be present in each moment, we must not have any doubt in ourselves or in our abilities, and then we can maybe get the job done, in this period, in the next few weeks. It is a big chance for us and we must try to take it.
"And keep shooting, with both feet!"