While the rest of us are booking our holidays, plenty of football's finest will be looking towards a busy summer of football, not least those who will be out in Poland and the Ukraine for the European Championships. Among them should be Keith Andrews after Ireland's heroics in coming through qualifying and the play-offs in order to get there.

For Andrews, it completes a circle for as a youngster, he grew up during Ireland's glory years, regularly watching Jack Charlton's team taking part in the big competitions.
"As a boy, I was growing up during the times when Ireland were really starting to qualify for tournaments, a lot of big name players and obviously it was very exciting growing up and watching that.
I have some memory of Euro '88, but really it was Italia '90 that I really caught on to and it was great being able to watch all of that and feel the excitement growing in the country. My dad and my uncles would be off down the pub to watch it, I was watching it at home on the television.
"They were great times and now, all these years down the line, to be a part of an Ireland side that's going to a tournament again after a break for a while, to hopefully bring that sort of excitement back to the people at home is something I'm really looking forward to.
World Cup 1994
"I was lucky enough to go to the World Cup in America in 1994, I went to games with my uncle, so to have actually been at the games and had a taste of that – Luckily I was behind the goal when Ray Houghton scored against Italy. I count myself very fortunate to have been part of those good times. I went to see a lot of games in Dublin as well, I loved all of that, so I know very well what it means to those supporters.
"There will be some amazing backing for us out there, I think we can guarantee that. I've no idea how they're going to get out there, it'll be planes, trains and automobiles stuff, and they will make sure they have the time of their lives out there. It'll be fantastic being a fan in amongst it but hopefully, it'll be even better to be a player if I can get into the team".
The chance of going to the Championships is even more special for Keith given that his chance of playing international football came comparatively late in his career and that he had his hopes of going to the World Cup in South Africa so cruelly dashed, a subject we'll return to later. Keith has been an international for a little over here years now, but talking to him about playing his country, it's very apparent that there's still the same thrill that there was the first time he got the call.
First Call up
"I got my first game when I was 28 and you do wonder at that age if the chance will come. I'd had a good season at MK Dons and Giovanni Trapattoni had only just taken over, he was trying out a lot of players, but I'd been playing in League Two so I knew I needed to get a move to catch his attention.
I was aiming for a Championship club at least to give myself one last opportunity to play for my country, but the move to Blackburn happened, I was straight in their team and I was called up for Ireland within the space of a month.
"Then I played a B international and then a month later I was in the full squad and made my debut against Poland in a friendly. Lucky enough, I got a goal as well which was a great feeling, it certainly does help you settle in.
To be called up for Ireland was definitely the proudest moment of my career because you can't do better than be selected to play for your country. It means a hell of a lot to me. I've always been patriotic but perhaps with getting my chance a bit later in the day, it means I savour it even more I think.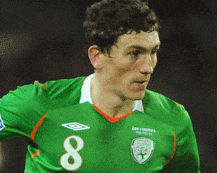 Tickets
"The biggest problem is getting enough tickets for family and friends at games! I tell you what, I don't get any match fees, it's all taken up in buying tickets! It's brilliant to be able to have them there at games. I'm from Dublin as well so I have lots of people who want come and watch me and that just adds to the occasion really, it makes me very proud.
"Because of the redeveloping of the stadium, I've had chance to play at Croke Park and now at the new Aviva Stadium, Lansdowne Road as it used to be, and it's been a real honour to do that because both are great venues. Croke Park was good, but I have to say it's been nice to get back to Lansdowne Road because that's the real home of Irish football.
"The fans are much closer to the action there than at Croke Park and it generates a great atmosphere which we lost a bit at Croke Park because they had to replace the standing section with seats for international football and it lost a bit because of that. Even then, it was still great to be able to say I've played there though given what it means to Ireland. Results haven't been that great at the Aviva so we need to address that and make it the way the old Lansdowne was, a bit of a fortress, but that will come with time I'm sure".
Trapattoni
If getting the international call up wasn't enough on its own, playing for Ireland now means having the chance to work with one of the grand old men of European football, Giovanni Trapattoni, a coaching legend whose CV can stand comparison with pretty well anyone in the game.
"Getting that first call up, to go and meet up with the squad and to be working with people of the stature of the manager, Marco Tardelli, that is a big honour. I didn't find it daunting going into the dressing room so much because even though it was a new experience, I was 28,
"I wasn't a young kid going in there and not knowing anybody. I'd played with and against a good few of the lads so that helped, but when you come across the coaching staff, people who have done everything there is to do, won World Cups, managed great clubs, the amount of knowledge and experience they have is frightening.
"To have a manager who backed me from the moment I came into the squad and has played me ever since, that gives you lots of confidence".
Down To Business
There was precious little time for Keith to acclimatise once he joined the Ireland squad because after that friendly with Poland, it was down to the serious stuff.
"As soon as I got the nod, we were into World Cup qualifiers and it was a very tough group being in there with Italy, but we got off to a strong start, we went through it unbeaten and we were pretty much always going to finish in the top two.
"At one point we were all guns blazing trying to finish top, we drew in Italy, we conceded against them in the last minute in Dublin for a draw, and those were games we took a lot from. We learned that we didn't close the games out as well as we should have done and that match in Dublin was one that stood us in good stead for the Euros campaign that followed.
"We got through to the play-offs and that led to that game against France in Paris which ended with us losing because of the famous Thierry Henry handball incident. It's funny, we had a few days off after the Wolves game and we went over to Paris for a couple of days and my wife was saying she never thought she'd get me back there after what had happened!
Stade de France
"As we went into Paris, we passed the Stade de France and looking back, it all seems a blur really – I've never watched the game back because I don't really want to! I suppose what it did do from a positive view was give us extra incentive to make sure that we didn't miss out on the European Championships.
"Again, we didn't get much help with the qualifying draw. It was a very strong group with us, Russia who have been there and done it, always qualify for things and Slovakia seen as the teams going for the top spots. But then Armenia came from nowhere really and pushed us all the way to the end, so it really mixed things up. We were pleased to finish second and thankfully, this time around we got a more favourable play-off draw against Estonia.
"People from the outside look at countries like Estonia and Armenia and write them off without thinking, but these are good footballing countries, they are well organised and they are hard to beat, especially when you go over and play in their back yard.
"There really are no mugs any more, all the sides know how to make it difficult for the opposition even if maybe they don't always have much to hurt you with going forward.
Eastern Europe
"The eastern European countries have a lot of tough boys in there, they make it hard for you, and they have some very good players who years ago would have been playing for Yugoslavia or the USSR or whoever, so I don't think supporters always appreciate just how hard these games can be.
"Travelling to Armenia, Estonia and places like that is tough, they can be an eye opener sometimes as well, but they're the games you relish. You know you're going into hostile environments and you have to be ready.
"We played Russia in Moscow and when we went on the pitch before the game, you look round and see all the police – actually, I think they were army guys – with the big dogs, the batons ready, practicing with each other what they'd do in a riot in case it kicks off! We were saying afterwards we were a bit disappointed it wasn't more hostile because actually it was fairly placid!
"In fact we were expecting something like "Rocky IV" when he goes off to face Dolph Lundgren!
Estonia
"Going into the games with Estonia, it did play on our mind, what had happened in Paris, and the fact that in a play-off, anything can happen, just a single mistake, a bad refereeing decision, whatever it is, and two years of work can go right down the drain. But as it turned out, nothing was going to stop us!
"I scored the first goal in the win in Estonia and it was massive for us to come through the tie because we'd been through such heartache in the World Cup play-offs against France. This time around, with largely the same bunch of players, it was important we put that behind us and so there was an added bit of incentive to go and get the job done and go one step further.
"To win by the margin that we did in Estonia was something we couldn't have dreamt of beforehand, not 4-0, you have to pinch yourself. Going into the game, it's not something you talk about, you don't have a meeting and say we want to win 4-0 here.
"Privately we'd said we wanted to win over there, it wasn't just a case of getting a clean sheet and bringing them back to Dublin to do the job, we wanted to try and get it done in the first game.
Poor Pitch
"We're at our best when we get at teams, put them under pressure, close them down high up the pitch. We knew they liked to play football in front of the home fans but the pitch was disgraceful, so we really put them under pressure and pounced on their errors in their own third and it was dream stuff.
"Going back to Dublin for the second leg, it was one of those where you know the job's done but you can't say it! You have to remain professional but the second game is always a bit of an anti-climax in a way because really you're just waiting to get it over so you can celebrate!
"The game was a little bit flat as a result, they were coming over knowing it was a hopeless cause and feeling despondent, we didn't play that well because the edge has gone out of it, so it was a funny 90 minutes. But the celebrations afterwards were fantastic, the fans were delirious and having been among the in the past, I know how much it means to them".
The Irish ethos is very much one based entirely around the team ethic, but even so, individuals do catch the eye and this year, it's been Keith that's done that.
Great Year
"I've had a really great year with Ireland, I've been nominated for the goal of the season with the one I scored in Estonia and for international player of the year, and to be nominated for that along with Robbie Keane and Richard Dunne, guys who have been the stalwarts of the team for ten years, record goalscorer, all that, that's just very flattering.
"I've been lucky to play with some great players with Ireland over the last four years, guys like Kevin Kilbane and Shay Given who is such a great goalkeeper and very underrated I think. Like a lot of players, you don't realise how good they are until you train with them and Shay is just such a calming influence, him and Richard Dunne are absolute rocks for us, and they're great lads around the place as well".
Ireland go into the Euros with great stability which could be a prime asset. Much of that stems from Trapattoni's steadying influence as Keith points out.
"The Italian coach seems to have worked better for us than it has for England I think! The impression I get is that Trapattoni and Capello are very different people but I can only speak about our manager and he has been fantastic ever since he came in.
Great Boss
"He still has fairly limited English I would say but that doesn't limit the way he interacts with the players, the way he treats us, looks after us. He has totally taken on board the Irish ethos I suppose, we do like to have a laugh and a joke and he's quite lenient, he trusts us to do things right and he has done superbly well since he joined us.
"On a personal note it's been a real pleasure to work for him and I wouldn't have missed the opportunity for the world".
Ireland will need all of Trapattoni's tactical wisdom and experience if they are to prevail in the summer because once again, their draw was not the kindest.
"The draw for the Euros couldn't be much tougher but maybe that will suit us because we can go there with no expectations on our shoulders and just see what we can achieve when we're there.
Tough Draw
"We've got three fantastic games to look forward to against three proper footballing countries. We've played Italy three times in the last couple of years and we're unbeaten against them so that's promising.
"They are a very good tournament side, they more often than not turn up for competitions and do really well, but if you can't look forward to playing against them, Croatia and Spain, the current World Cup holders and European Champions, there's something wrong with you. That's why we worked so hard to qualify for the competition in the first place.
"We tend to do better as the underdog with people writing negative things about us because then we can come out and try to prove people wrong because as I say, the biggest thing we have going for us is our togetherness as a group and the spirit we have between us.
Team Work
"We work really well as a team which is important because if you look at the individuals, we have players from all over the place, from the Championship, lower down the Premier League, guys playing in America now, so it's not as if we can choose from the top four teams in England.
"But when we get together, there's a great bond between us, everybody gets on and it really is a proper team effort. We enjoy ourselves, we have a good laugh, but when the time comes, we dig in for each other and more often than not we produce performances that are probably above and beyond what we should.
"Obviously we have a mix of boys who are born and bred in Ireland like myself and the others who are maybe second generation who qualify through parents and grandparents. That has never been an issue for us because as soon as somebody comes into the squad, they buy into what we do, the set up, the togetherness that we have as a team.
"I think if they're not genuine and they don't want to be there for the right reasons, they'd soon get found out. That doesn't seem to happen, I think once players get involved, they really do become a big part of it and it has to be that way. That togetherness is vital to us, just as it is with Albion actually".
World Cup Qualifiers
Of course, even with the Euros still months away, thoughts are already to turning to the next round of World Cup qualifiers that will be upon us in September. Keith's already looking forward to those.
"I hope that when the Euros are done and we start looking at the World Cup qualifiers, I can be involved. It's a really tough draw we've got because unfortunately the boost to the ranking we got from qualifying for the Euros doesn't kick in until the next qualifiers. We're in with Germany, Sweden, Austria, the Faroe Islands and Kazakhstan which is a tough one, isn't it!
"Obviously Germany always seem to qualify by winning pretty well all their games, but playing them would be a great experience and there are plenty of other good ones in there too, so I would love to be involved in that. Footballers look after themselves far better now than when I started playing, I've never felt this fit in my career, so hopefully I can stay in the picture all the way to Brazil in 2014!
"The manager gave me my chance at playing international football and there's no way I'd knock on his door and say "That's me, thanks". I'm sure he'll let me know when he thinks the time is right for me to make way. Making my debut at 28, there's no way I'm going to retire at 31, it's not going to happen!"