It's only February, but its getting serious at the top of Serie A. Both the title race and the battle to qualify for the Champions League are entering the business end of the season. There are still 12 games to play, and those include some key top of the table clashes. With Napoli still leading Juve by just one point at the top of the table and the three teams vying for 3rd and 4th spot within 2 points of each other, Serie A may be the most exciting league in Europe right now.
By Michael Ottolenghi
And this weekend will start a series of huge games that will determine not only the direction of the title but also the fate of quite a few top managers. This Sunday's key matchup will see third placed Roma host a rising Milan, who are in joint 6th place, 8 points from Lazio and Champions League qualification. It is a big game in many ways.
Most obviously, the stakes are high. Roma have to keep up their recent form if they want to be sure of Champions League qualification and a successful first season under manager Eusebio Di Francesco. Di Francesco has had an impressive impact on the often volatile club, perhaps helped by the fact that he has not had to deal with the headache of fitting the recently retired Francesco Totti into the side.
And on the other side of the pitch, Milan have been finding their form under new manager Gennaro Gattuso, having won 5 of their past 6 league games. They need to keep that streak alive if they have any chance of catching Lazio in fourth place.
Cengiz Under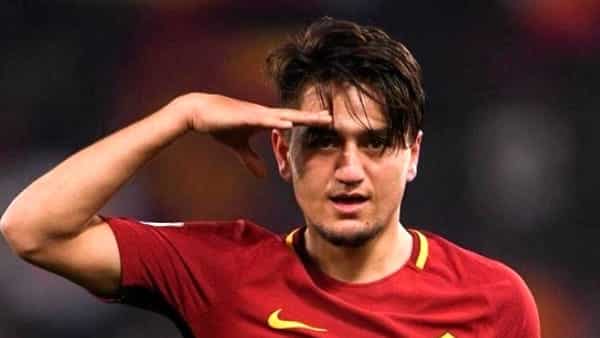 But it will also be a big game because of two exciting 20 year old strikers that should start the game in each team. Roma fans have fallen hard for Turkish  prodigy Cengiz Under, who has now scored four times in his last four league games, including the goal that broke the deadlock in last weekend's 2-0 home win against Udinese.
Under arrived as a fairly unknown quantity over the summer, hailing from the unfancied Turkish club Istanbul Baakehir to no acclaim from the fans. He struggled to settle in to his new environment at first and struggled with injuries as well. But Di Francesco proved adept at fitting the youngster into the new 4-2-3-1 formation he adopted in January, and now the fans are calling Under the new Mohammed Salah.
Milan's young attacking threat is Patrick Cutrone, who is a more conventional striker than Under but equally as effective of late. Although he made his league debut last season and featured under Vincenzo Montella, it is really under the guidance of Gattuso that the Italian striker has flourished.
Perhaps aided by the team's new found directness, Cutrone has scored three goals in the last four league games and kept bigger names like Nikola Kalinic and Andre Silva on the bench.  Having beaten Lazio already thanks to a goal from Cutrone in this recent run of form, Gattuso will hope his young striker will help him return from Rome with another three points.
Juve injury problem
The other big game of the round may have more direct consequences for the title, as second placed Juve host always tricky Atalanta on Sunday. In fact, Juventus will face Atalanta twice in the space of four days, as they also host them in the second leg of the Coppa Italia semi-final on Wednesday (having won 1-0 in Bergamo). Juve's injury problems, most notably the loss of Gonzalo Higuain in last weekend's derby, could start catching up to them as the games start coming thick and fast at this stage of the season.
Atalanta may have their own issues, however, as they will be coming from the second leg of their Europa League tie with Borussia Dortmund on Thursday, having lost a thrilling first leg 3-2 in Germany.  But Juve will need to stay on form as Napoli have a seemingly much more straightforward tie against Cagliari on Monday.  There is very little room for slip ups at the top of the table.