The new Major League Soccer season is just a few weeks old but the standings are already starting to take shape. Teams are pulling away in each Conference while others are playing catch up in their attempts to make the playoffs. For the defending champions, the opening exchanges have been slow. NYCFC ground their way to a shock MLS Cup win in 2021 but they've not had the best start to a title defense.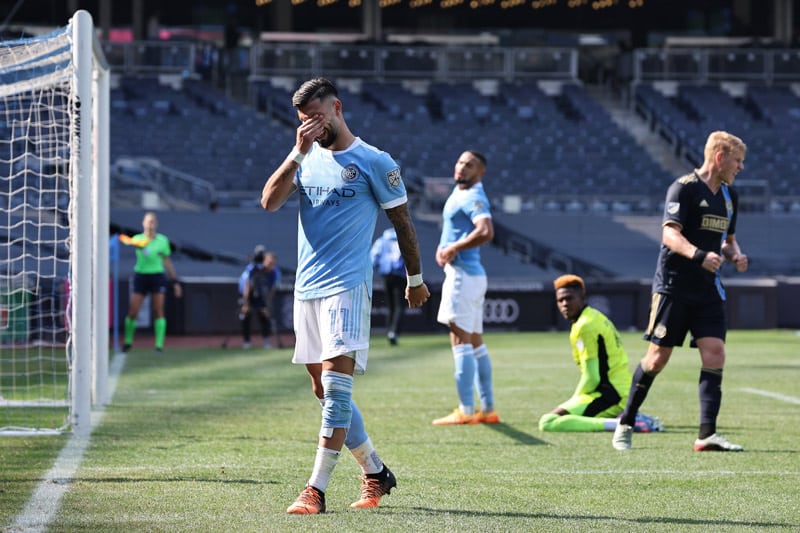 After four games, Ronny Deila's men have lost two games and have picked up just four points. Should the fans be concerned or is there plenty of time for The Blues to turn things around?
Cautious Opening
New York City FC began their defense of the MLS Trophy with a 1-0 defeat at LA Galaxy followed by a 0-0 draw away to Vancouver Whitecaps. Things looked far more positive in their follow up match as Deila's men recorded a comfortable, 4-1 win over Montreal. Goals were spread around the team and this victory gave NYCFC a platform to build on.
Since then, however, it's been a disappointing period for The Blues with two straight defeats in the Champions League and the MLS. The 2-0 reverse at the hands of Philadelphia Union leaves the team in ninth place in the Eastern Conference and with work to do.
It's not exactly a crisis but the international break has probably come at the right time for the franchise. The Head Coach and his players have time to regroup and figure out where things have gone wrong so far.
Can The Blues address their problems or have those opening exchanges suggested that a successful defense may be beyond them?
MLS Cup Contenders Rated
It may be early days but there is a full set of active betting markets available for the winner of the MLS Cup. The sportsbooks are ideally placed to offer a neutral standpoint so what's their verdict at this point of the campaign?
After those four games, the panel of online sports operators attached to Sbo.net are showing Los Angeles FC as the clear favorites for success in 2022. The MLS Cup winner market puts Seattle Sounders in second place followed by the New England Revolution.
There is some support for NYCFC: Despite that sluggish start, Deila's team are fourth favorites for glory at a relatively short price. When the MLS season picks up after the international break, those safe betting sites linking to Sbo.net will continue to update their prices.
Odds adjust after each match and the new markets will be clearly shown. With news articles and opinion pieces also published, readers can take that information forward and place a bet if they wish to do so.
It's possible to sign up with any of the recommended panel of bookmakers and many will have opening promotions to welcome customers on board. Those promos can also extend to be offered through the life of the account.
A set of deposit methods can add the necessary funds while efficient customer service, high levels of security and the option to bet via a mobile app will also be on the table. It's the site to follow in terms of betting on the MLS but have the sportsbooks made the right call on New York City FC?
Where do NYCFC need to Improve?
Aside from that 4-1 win over Montreal, New York City have been relatively quiet in front of goal. The key attackers certainly need to step up after a subdued start. Thiago Andrade and his strike partner Valentin Castellanos have both played four games and have managed just one goal between them.
At the other end of the pitch, the defense had kept things tight at the start of the campaign but have now shipped in six goals in their last two matches. Goalkeeper Sean Johnson will be among those under the microscope in the games that lie ahead.
In short, there are some issues across this NYCFC unit and that has to be a concern. Making the playoffs is well within the club's reach but fans will be anxious for some positive performances when Major League Soccer returns in April.